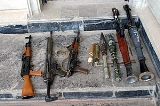 Small arms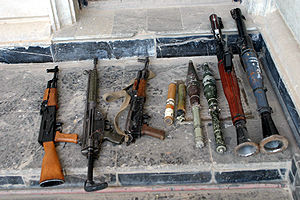 Small arms
is a term of art used by
armed forces
Armed forces
The armed forces of a country are its government-sponsored defense, fighting forces, and organizations. They exist to further the foreign and domestic policies of their governing body, and to defend that body and the nation it represents from external aggressors. In some countries paramilitary...
to denote
infantry
Infantry
Infantrymen are soldiers who are specifically trained for the role of fighting on foot to engage the enemy face to face and have historically borne the brunt of the casualties of combat in wars. As the oldest branch of combat arms, they are the backbone of armies...
weapon
Weapon
A weapon, arm, or armament is a tool or instrument used with the aim of causing damage or harm to living beings or artificial structures or systems...
s an individual soldier may carry. The description is usually limited to
revolver
Revolver
A revolver is a repeating firearm that has a cylinder containing multiple chambers and at least one barrel for firing. The first revolver ever made was built by Elisha Collier in 1818. The percussion cap revolver was invented by Samuel Colt in 1836. This weapon became known as the Colt Paterson...
s,
pistol
Pistol
When distinguished as a subset of handguns, a pistol is a handgun with a chamber that is integral with the barrel, as opposed to a revolver, wherein the chamber is separate from the barrel as a revolving cylinder. Typically, pistols have an effective range of about 100 feet.-History:The pistol...
s,
submachine gun
Submachine gun
A submachine gun is an automatic carbine, designed to fire pistol cartridges. It combines the automatic fire of a machine gun with the cartridge of a pistol. The submachine gun was invented during World War I , but the apex of its use was during World War II when millions of the weapon type were...
s,
carbine
Carbine
A carbine , from French carabine, is a longarm similar to but shorter than a rifle or musket. Many carbines are shortened versions of full rifles, firing the same ammunition at a lower velocity due to a shorter barrel length....
s,
assault rifle
Assault rifle
An assault rifle is a selective fire rifle that uses an intermediate cartridge and a detachable magazine. Assault rifles are the standard infantry weapons in most modern armies...
s,
battle rifle
Battle rifle
A battle rifle is a military service rifle that fires a full power rifle cartridge, such as 7.62x51mm NATO. While the designation of battle rifle is usually given to post-World War II select fire infantry rifles such as the H&K G3, the FN FAL or the M14, this term can also apply to older military...
s,
multiple barrel firearm
Multiple Barrel Firearm
A Multiple barrel firearm is a firearm of any type with more than one barrel, usually to increase the rate of fire/hitting probability and to reduce barrel erosion/overheating.-Definition:...
s,
sniper rifle
Sniper rifle
In military and law enforcement terminology, a sniper rifle is a precision-rifle used to ensure more accurate placement of bullets at longer ranges than other small arms. A typical sniper rifle is built for optimal levels of accuracy, fitted with a telescopic sight and chambered for a military...
s,
squad automatic weapon
Squad automatic weapon
A squad automatic weapon is a weapon used to give infantry squads or sections a portable source of automatic firepower. Weapons used in this role are selective-fire rifles, usually fitted with a bipod and heavier barrel to perform as Light machine guns...
s,
light machine gun
Light machine gun
A light machine gun is a machine gun designed to be employed by an individual soldier, with or without an assistant, as an infantry support weapon. Light machine guns are often used as squad automatic weapons.-Characteristics:...
s (i.e. M60), and sometimes
hand grenade
Hand grenade
A hand grenade is any small bomb that can be thrown by hand. Hand grenades are classified into three categories, explosive grenades, chemical and gas grenades. Explosive grenades are the most commonly used in modern warfare, and are designed to detonate after impact or after a set amount of time...
s.
Shotgun
Shotgun
A shotgun is a firearm that is usually designed to be fired from the shoulder, which uses the energy of a fixed shell to fire a number of small spherical pellets called shot, or a solid projectile called a slug...
s, general-purpose machine guns,
medium machine gun
Medium machine gun
A medium machine gun or MMG, in modern terms, usually refers to a belt-fed automatic firearm firing a full-power rifle cartridge.-History:...
s, and grenade launchers may be considered small arms or as support weapons, depending on the particular armed forces.
Small arms typically do not include infantry support weapons. In the
U.S. military
Military of the United States
The United States Armed Forces are the military forces of the United States. They consist of the Army, Navy, Marine Corps, Air Force, and Coast Guard.The United States has a strong tradition of civilian control of the military...
, small arms refer to handguns or other firearms less than 20 mm in caliber, and including
heavy machine gun
Heavy machine gun
The heavy machine gun or HMG is a larger class of machine gun generally recognized to refer to two separate stages of machine gun development. The term was originally used to refer to the early generation of machine guns which came into widespread use in World War I...
s (typically .50 caliber or 12.7 mm in U.S. service). The NATO definition extends to "all crew-portable direct fire weapons of a calibre less than 50 mm and will include a secondary capability to defeat light armour and helicopters."
Though there is no civilian definition within the U.S., any firearm utilizing a projectile greater than 1/2 inch (.50 caliber or 12.7 mm) in diameter is legally defined as a "destructive device," while anything .50 caliber or less is normally considered "small arms." The so-called "1/2 inch rule" does not apply to shotguns, sporting cartridge big bore rifles (such as rifles chambered in
.600 Nitro Express
.600 Nitro Express
The .600 Nitro Express is a round in the Nitro Express series which was introduced in 1903. It is the second largest calibre in the Nitro Express line, exceeded only by Holland & Holland's .700 Nitro Express round.-Overview:...
) or
muzzleloading
Muzzleloader
A muzzleloader is any firearm into which the projectile and usually the propellant charge is loaded from the muzzle of the gun . This is distinct from the more popular modern designs of breech-loading firearms...
black powder firearms, many of which are larger than .50 caliber.
The term which encompasses both,
SALW
SALW
SALW is an acronym, meaning Small Arms and Light Weapons, a term used in arms control protocols to refer to two main classes of weapons:...
(Small Arms and Light Weapons), is used by some organizations working to limit arms proliferation. For example, much of the
United Nations
United Nations
The United Nations is an international organization whose stated aims are facilitating cooperation in international law, international security, economic development, social progress, human rights, and achievement of world peace...
action to tackle illegal arms proliferation is raised in the UN Conference on the Illicit Trade in Small Arms.
External links