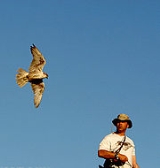 Falconry
Falconry
is "the taking of wild quarry in its natural state and habitat by means of a trained raptor". There are two traditional terms used to describe a person involved in falconry: a falconer flies a
falcon
Falcon
A falcon is any species of raptor in the genus Falco. The genus contains 37 species, widely distributed throughout Europe, Asia, and North America....
; an austringer (
German
Germans
The Germans are a Germanic ethnic group native to Central Europe. The English term Germans has referred to the German-speaking population of the Holy Roman Empire since the Late Middle Ages....
origin) flies a
hawk
Hawk
The term hawk can be used in several ways:* In strict usage in Australia and Africa, to mean any of the species in the subfamily Accipitrinae, which comprises the genera Accipiter, Micronisus, Melierax, Urotriorchis and Megatriorchis. The large and widespread Accipiter genus includes goshawks,...
(
Accipiter
Accipiter
The genus Accipiter is a group of birds of prey in the family Accipitridae, many of which are named as goshawks and sparrowhawks. They can be anatomically distinguished from their relatives by the lack of a procoracoid foramen. Two small and aberrant species usually placed here do possess a large...
and some
buteo
Buteo
Buteo is a genus of medium to fairly large, wide-ranging raptors with a robust body and broad wings. In the Old World, members of this genus are called "buzzards", but "hawk" is used in North America...
s and similar) or an
eagle
Eagle
Eagles are members of the bird family Accipitridae, and belong to several genera which are not necessarily closely related to each other. Most of the more than 60 species occur in Eurasia and Africa. Outside this area, just two species can be found in the United States and Canada, nine more in...
(
Aquila
Aquila (genus)
Aquila is the genus of true eagles. It is often united with the buteos, sea eagles and other more heavyset Accipitridae, but more recently it appears as if they are less distinct from the more slender accipitrine hawks than believed...
or similar). In modern falconry the
Red-tailed Hawk
Red-tailed Hawk
The Red-tailed Hawk is a bird of prey, one of three species colloquially known in the United States as the "chickenhawk," though it rarely preys on standard sized chickens. It breeds throughout most of North America, from western Alaska and northern Canada to as far south as Panama and the West...
(Buteo jamaicensis) and the Harris hawk are often used.