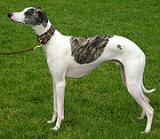 Hunting dog
A
hunting dog
refers to any
dog
Dog
The domestic dog is a domesticated form of the gray wolf, a member of the Canidae family of the order Carnivora. The term is used for both feral and pet varieties. The dog may have been the first animal to be domesticated, and has been the most widely kept working, hunting, and companion animal in...
who assists humans in
hunting
Hunting
Hunting is the practice of pursuing any living thing, usually wildlife, for food, recreation, or trade. In present-day use, the term refers to lawful hunting, as distinguished from poaching, which is the killing, trapping or capture of the hunted species contrary to applicable law...
. There are several
types
Dog type
Dog types are broad categories of dogs based on function, with dogs identified primarily by specific function or style of work rather than by lineage or appearance....
of hunting dogs developed for various tasks. The major categories of hunting dogs include hounds, terriers,
dachshund
Dachshund
The dachshund is a short-legged, long-bodied dog breed belonging to the hound family. The standard size dachshund was bred to scent, chase, and flush out badgers and other burrow-dwelling animals, while the miniature dachshund was developed to hunt smaller prey such as rabbits...
s, cur type dogs, and
gun dog
Gun dog
thumb|right|A group of Gun dogs as printed in Dogs of All Nations by W.E. Mason in 1915Gun dogs, also gundogs or bird dogs, are types of dogs developed to assist hunters in finding and retrieving game, usually birds. Gun dogs are divided into three primary types: Retrievers, flushing dogs, and...
s. Among these categories further divisions can be made based upon the dogs' skill sets.
For a list of breeds of each type, see the detailed articles for each category:
Flushing spaniels combine hunting, flushing, and retrieving skills.