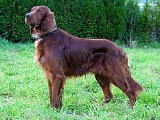 Setter
The
setter
is a
type
Dog type
Dog types are broad categories of dogs based on function, with dogs identified primarily by specific function or style of work rather than by lineage or appearance....
of gundog used most often for hunting
game
Game (food)
Game is any animal hunted for food or not normally domesticated. Game animals are also hunted for sport.The type and range of animals hunted for food varies in different parts of the world. This will be influenced by climate, animal diversity, local taste and locally accepted view about what can or...
such as
quail
Quail
Quail is a collective name for several genera of mid-sized birds generally considered in the order Galliformes. Old World quail are found in the family Phasianidae, while New World quail are found in the family Odontophoridae...
,
pheasant
Pheasant
Pheasants refer to some members of the Phasianinae subfamily of Phasianidae in the order Galliformes.Pheasants are characterised by strong sexual dimorphism, males being highly ornate with bright colours and adornments such as wattles and long tails. Males are usually larger than females and have...
, and
grouse
Grouse
Grouse are a group of birds from the order Galliformes. They are sometimes considered a family Tetraonidae, though the American Ornithologists' Union and many others include grouse as a subfamily Tetraoninae in the family Phasianidae...
. A setter silently searches for game by scent. When prey is encountered the dog freezes rather than chasing after the game. Setters get their name from their distinctive stance; a sort of crouch or "set" upon finding their quarry. Most setters are born with a natural proclivity to hunting. Dogs which show excitement and interest in birds are described as being "birdy", and trainers look for puppies that show this particular trait. Training is usually done with domesticated pigeons.
The ancestors of modern setters probably originated in
Spain
Spain
Spain , officially the Kingdom of Spain languages]] under the European Charter for Regional or Minority Languages. In each of these, Spain's official name is as follows:;;;;;;), is a country and member state of the European Union located in southwestern Europe on the Iberian Peninsula...
in the 16th century and evolved from
spaniel
Spaniel
A spaniel is a type of gun dog. It is assumed spaniels originated from Spain as the word spaniel may be derived from Hispania or possibly from the French phrase "Chiens de l'Espagnol" . Spaniels were especially bred to flush game out of dense brush. By the late 17th century spaniels had become...
s. Later these dogs were exported to
France
France
The French Republic , The French Republic , The French Republic , (commonly known as France , is a unitary semi-presidential republic in Western Europe with several overseas territories and islands located on other continents and in the Indian, Pacific, and Atlantic oceans. Metropolitan France...
and
England
England
England is a country that is part of the United Kingdom. It shares land borders with Scotland to the north and Wales to the west; the Irish Sea is to the north west, the Celtic Sea to the south west, with the North Sea to the east and the English Channel to the south separating it from continental...
where the breeds were developed into today's varieties.
Most setter breeds have long smooth, silky coats that require maintenance. Setters have a tendency to be happy, playful dogs and are usually very friendly both to people and other dogs. They have a great deal of energy and require daily exercise.
Setters include the following breeds:
External links