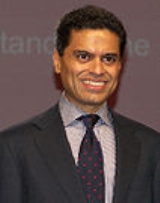 Fareed Zakaria
Fareed Rafiq Zakaria
is an Indian-American
journalist
Journalist
A journalist collects and distributes news and other information. A journalist's work is referred to as journalism.A reporter is a type of journalist who researchs, writes, and reports on information to be presented in mass media, including print media , electronic media , and digital media A...
and
author
Author
An author is broadly defined as "the person who originates or gives existence to anything" and that authorship determines responsibility for what is created. Narrowly defined, an author is the originator of any written work.-Legal significance:...
. From 2000 to 2010, he was a columnist for
Newsweek
Newsweek
Newsweek is an American weekly news magazine published in New York City. It is distributed throughout the United States and internationally. It is the second-largest news weekly magazine in the U.S., having trailed Time in circulation and advertising revenue for most of its existence...
and editor of
Newsweek International
. In 2010 he became
Editor-At-Large
Editor at large
An Editor-at-Large is a journalist who contributes content to a publication.Unlike an editor who works on a publication from day-to-day and is hands on, an editor-at-large will contribute content on a regular or semi-regular basis and will have less of a say on a specific field such as layout,...
of
Time magazine
. He is also the host of
CNN
CNN
Cable News Network is a U.S. cable news channel founded in 1980 by Ted Turner. Upon its launch, CNN was the first channel to provide 24-hour television news coverage, and the first all-news television channel in the United States...
's
Fareed Zakaria GPS
Fareed Zakaria GPS
Fareed Zakaria GPS is a weekly public affairs show hosted by journalist and author Fareed Zakaria. As of November 2011, the show airs Sundays at 10am Eastern Time and 1pm Eastern Time on CNN. The show also airs Sundays at 1200 and 1900 GMT on CNN International...
, and a frequent commentator and author about issues related to
international relations
International relations
International relations is the study of relationships between countries, including the roles of states, inter-governmental organizations , international nongovernmental organizations , non-governmental organizations and multinational corporations...
, trade and American foreign policy.
In 2010, the
government of India
Government of India
The Government of India, officially known as the Union Government, and also known as the Central Government, was established by the Constitution of India, and is the governing authority of the union of 28 states and seven union territories, collectively called the Republic of India...
honored him with the
Padma Bhushan
Padma Bhushan
The Padma Bhushan is the third highest civilian award in the Republic of India, after the Bharat Ratna and the Padma Vibhushan, but comes before the Padma Shri. It is awarded by the Government of India.-History:...
for his contribution towards journalism.
Zakaria was born in
Mumbai
Mumbai
Mumbai , formerly known as Bombay in English, is the capital of the Indian state of Maharashtra. It is the most populous city in India, and the fourth most populous city in the world, with a total metropolitan area population of approximately 20.5 million...
(then Bombay),
Maharashtra
Maharashtra
Maharashtra is a state located in India. It is the second most populous after Uttar Pradesh and third largest state by area in India...
,
India
India
India , officially the Republic of India , is a country in South Asia. It is the seventh-largest country by geographical area, the second-most populous country with over 1.2 billion people, and the most populous democracy in the world...
, to a
Konkani
Konkani Muslims
Konkani / Kokani Muslims is a Muslim sub-ethnic group of Maharashtrian Muslims living in the Konkan region of India. They speak the Konkani language. A good number of them live in Mumbai...
Muslim
Muslim
A Muslim, also spelled Moslem, is an adherent of Islam, a monotheistic, Abrahamic religion based on the Quran, which Muslims consider the verbatim word of God as revealed to prophet Muhammad. "Muslim" is the Arabic term for "submitter" .Muslims believe that God is one and incomparable...
family.
Strip away the usual hot air, and bin Laden's audiotape is the sign of a seriously weakened man.

America washes its dirty linen in public. When scandals such as this one hit, they do sully America's image in the world. But what usually also gets broadcast around the world is the vivid reality that the United States forces accountability and punishes wrongdoing, even at the highest levels.