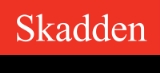 Skadden, Arps, Slate, Meagher & Flom
Skadden, Arps, Slate, Meagher & Flom LLP and Affiliates
(often shortened to
Skadden Arps
,
Skadden
, or
SASM&F
), founded in 1948, is a prominent
law firm
Law firm
A law firm is a business entity formed by one or more lawyers to engage in the practice of law. The primary service rendered by a law firm is to advise clients about their legal rights and responsibilities, and to represent clients in civil or criminal cases, business transactions, and other...
based in
New York City
New York City
New York is the most populous city in the United States and the center of the New York Metropolitan Area, one of the most populous metropolitan areas in the world. New York exerts a significant impact upon global commerce, finance, media, art, fashion, research, technology, education, and...
. With over 2,000 attorneys, it is one of the largest and highest-grossing law firms in the world.
Forbes
Forbes
Forbes is an American publishing and media company. Its flagship publication, the Forbes magazine, is published biweekly. Its primary competitors in the national business magazine category are Fortune, which is also published biweekly, and Business Week...
magazine calls Skadden "
Wall Street
Wall Street
Wall Street refers to the financial district of New York City, named after and centered on the eight-block-long street running from Broadway to South Street on the East River in Lower Manhattan. Over time, the term has become a metonym for the financial markets of the United States as a whole, or...
's most powerful law firm". In most jurisdictions, the firm is organized as a
limited liability partnership
Limited liability partnership
A limited liability partnership is a partnership in which some or all partners have limited liability. It therefore exhibits elements of partnerships and corporations. In an LLP one partner is not responsible or liable for another partner's misconduct or negligence. This is an important...
(LLP). The firm's best-known alumni include former
New York Governor
Governor of New York
The Governor of the State of New York is the chief executive of the State of New York. The governor is the head of the executive branch of New York's state government and the commander-in-chief of the state's military and naval forces. The officeholder is afforded the courtesy title of His/Her...
Eliot Spitzer
Eliot Spitzer
Eliot Laurence Spitzer is an American lawyer, former Democratic Party politician, and political commentator. He was the co-host of In the Arena, a talk-show and punditry forum broadcast on CNN until CNN cancelled his show in July of 2011...
, and comedian
Greg Giraldo
Greg Giraldo
Greg Giraldo was an American stand-up comedian, television personality, and retired lawyer. Giraldo was best known for his appearances on Comedy Central's televised roast specials, and for his work on that network's television shows Tough Crowd with Colin Quinn, Lewis Black's Root of All Evil, and...
. Chelsea Football Club's Chairman
Bruce Buck
Bruce Buck
Bruce M. Buck is an American attorney and founding managing partner of the London office of U.S. law firm Skadden, Arps, Slate, Meagher & Flom . He is also Chairman of Chelsea Football Club...
is a Skadden partner.
Size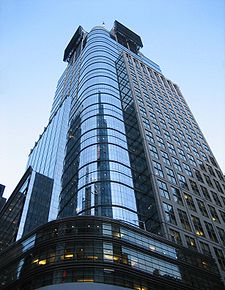 Ranking among law firms by revenue
With US$2.2 billion in annual revenue, Skadden is the largest law firm in the U.S. in
revenue
Revenue
In business, revenue is income that a company receives from its normal business activities, usually from the sale of goods and services to customers. In many countries, such as the United Kingdom, revenue is referred to as turnover....
. The firm has held this position for ten years running and in 1999 became the first law firm to exceed US$1 billion in annual revenue. Its revenue also makes Skadden the third largest law firm in the world, behind two U.K. firms.
Ranking among law firms by number of attorneys
Skadden has about 1,886 attorneys in 23 offices. The total number of employees is nearly 4,200. In number of attorneys, Skadden is the second-largest law firm in the state of New York, the sixth largest in the United States, and the tenth largest in the world.
In 2010, the National Law Journal ranked Skadden 6th in its list of the
250 largest law firms in the United States
.
Despite its size, Skadden has been distinguished by its refusal to expand by mergers with other law firms or large acquisitions of practice groups. The firm has never acquired a practice group larger than six attorneys, in sharp contrast with rivals such as
Baker & McKenzie
Baker & McKenzie
Baker & McKenzie is an international law firm, founded in Chicago in 1949 by Russell Baker and John McKenzie. It is home to more than 3,800 lawyers spread over 70 offices in 42 different countries....
, which has repeatedly absorbed local practices, or
DLA Piper
DLA Piper
DLA Piper is a global law firm with 76 offices across 30 countries and more than 4,200 lawyers. As of May 2011, it was the largest law firm in the world by number of attorneys. The firm's global revenues were $1.92 billion in 2009-2010. The firm is composed of two partnerships, DLA Piper...
and
Clifford Chance
Clifford Chance
Clifford Chance LLP is a global law firm headquartered in London, United Kingdom and a member of the 'Magic Circle' of leading UK law firms. It is one of the ten largest law firms in the world measured by both number of lawyers and revenue...
, which are the products of large mergers (often across national and continental borders). This consistent approach to the selection and training of its attorneys has helped Skadden to avoid the charges of varying quality across offices often faced by comparably-sized firms.
Ranking among all private U.S. companies by revenue
In 1995, Forbes Largest Private Companies ranked Skadden as 335th largest all private U.S. companies by revenue, by 2003 Skadden had risen to 194th before falling back to 213th in 2010.
Reputation
In addition to its headquarters in New York — the largest single law office in the U.S. — Skadden's domestic practice is particularly renowned in its Los Angeles, Chicago,
Boston
Boston
Boston is the capital of and largest city in Massachusetts, and is one of the oldest cities in the United States. The largest city in New England, Boston is regarded as the unofficial "Capital of New England" for its economic and cultural impact on the entire New England region. The city proper had...
,
Wilmington
Wilmington, Delaware
Wilmington is the largest city in the state of Delaware, United States, and is located at the confluence of the Christina River and Brandywine Creek, near where the Christina flows into the Delaware River. It is the county seat of New Castle County and one of the major cities in the Delaware Valley...
and
Washington, D.C.
Washington, D.C.
Washington, D.C., formally the District of Columbia and commonly referred to as Washington, "the District", or simply D.C., is the capital of the United States. On July 16, 1790, the United States Congress approved the creation of a permanent national capital as permitted by the U.S. Constitution....
, offices. Internationally, the firm also has particularly high-profile overseas practices in London,
Frankfurt
Frankfurt
Frankfurt am Main , commonly known simply as Frankfurt, is the largest city in the German state of Hesse and the fifth-largest city in Germany, with a 2010 population of 688,249. The urban area had an estimated population of 2,300,000 in 2010...
,
Munich
Munich
Munich The city's motto is "" . Before 2006, it was "Weltstadt mit Herz" . Its native name, , is derived from the Old High German Munichen, meaning "by the monks' place". The city's name derives from the monks of the Benedictine order who founded the city; hence the monk depicted on the city's coat...
, Tokyo, and Hong Kong.
Among Skadden's main practice areas are
mergers and acquisitions
Mergers and acquisitions
Mergers and acquisitions refers to the aspect of corporate strategy, corporate finance and management dealing with the buying, selling, dividing and combining of different companies and similar entities that can help an enterprise grow rapidly in its sector or location of origin, or a new field or...
(M&A), litigation,
securities law
Security (finance)
A security is generally a fungible, negotiable financial instrument representing financial value. Securities are broadly categorized into:* debt securities ,* equity securities, e.g., common stocks; and,...
, taxation, and
bankruptcy
Bankruptcy
Bankruptcy is a legal status of an insolvent person or an organisation, that is, one that cannot repay the debts owed to creditors. In most jurisdictions bankruptcy is imposed by a court order, often initiated by the debtor....
representation. The firm has counted a majority of the Fortune 500's top 50 companies as clients. Skadden has been selected for each of the past six years as the best corporate law firm in the U.S. according to a survey of 1,390 directors and 279 general counsel of publicly traded companies by
Corporate Board Member
magazine and FTI Consulting.
Although called a sweatshop by some, Skadden is also known for its generous attorney compensation. Like other top national firms, it pays its first-year associates $160,000. This does not include the annual discretionary bonus.
Layoffs, Deferrals, and Skadden "Sidebar" and "Sidebar Plus"
Skadden has engaged in several rounds of layoffs, affecting staff attorneys and support staff. There is no evidence that Skadden has laid off any associate attorneys. But in March 2009, it instituted a "Sidebar Plus" program. The "Sidebar" program at Skadden has been in existence for a number of years and permits attorneys to take up to two years off to pursue personal interests. The "Sidebar" program, in contrast to the "Sidebar Plus" program, does not typically give participants any benefits other than a guaranteed job offer. Under the "Sidebar Plus" program, associates may leave the firm for up to a year to pursue public interest or other opportunities and receive one-third of their base salary, student loan payments, and reimbursement of COBRA payments during this time. Incoming associates of the Class of 2009 may also participate in the program and defer their start dates until 2010. The program is currently voluntary. It has been praised as an innovative and creative response to the recession by some while others express skepticism and question whether the firm is going to welcome these associates back. The Summer Class of 2009 will not be starting as full-time attorneys in 2010. It has been deferred until 2011.
Key people
As of February 2011, there are 432 partners at Skadden. Unlike some firms which have introduced two-tier partnerships with
equity and non-equity partners
Equity partner
An equity partner is a partner in a partnership who is a part owner of the business, and is entitled to a proportion of the distributable profits of the partnership...
, Skadden maintains a one-tier partnership, in which all partners are equity partners and share ownership of the firm. Among the more notable partners are:
Greg Craig

Greg Craig

Gregory Bestor "Greg" Craig is a Washington-based lawyer and former White House Counsel under President Barack Obama. He has represented numerous high-profile clients, including John W. Hinckley, Jr., who was acquitted of the attempted assassination of Ronald Reagan by reason of insanity, and, in...


, former White House Counsel to President Obama, heads the firm's global policy and litigation strategy group.
Judith Kaye

Judith Kaye

Judith S. Kaye is a retired New York judge who served as Chief Judge of New York from March 23, 1993 until December 31, 2008. She was the first woman to occupy the State Judiciary's highest office.-Early life and education:...


, former Chief Judge of the State of New York, is of counsel, and in March 2010 was tapped to lead the investigation of New York Governor David Patterson.
History
1948 — The firm was founded in New York by Marshall Skadden, John Slate and Les Arps.
1954 — Joseph Flom became a partner.
1959 — Bill Meagher joined the firm. Elizabeth Head, the firm's first female attorney, was hired.
1961 — The firm's name became Skadden, Arps, Slate, Meagher & Flom.
1973 — The firm opened its Boston office, the firm's second.
1981 — Peggy Kerr became the first female partner.
1985 — Skadden became one of the U.S.'s three largest law firms.
1987 — The firm opened its first international office in Tokyo.
1988 — The firm founded the Skadden Fellowship Foundation.
2000 — New York City headquarters moved to Four Times Square, also called the Condé Nast Building

Condé Nast Building

The Condé Nast Building, officially 4 Times Square, is a modern skyscraper in Times Square in Midtown Manhattan. Located on Broadway between 42nd Street and 43rd, the structure was finished in January 2000 as part of a larger project to redevelop 42nd Street...


.
2011 — Joseph Flom, the last living name partner dies.
Locations
Skadden has 24 offices world wide. It has nine offices in the United States of America including the headquarters in
New York
New York
New York is a state in the Northeastern region of the United States. It is the nation's third most populous state. New York is bordered by New Jersey and Pennsylvania to the south, and by Connecticut, Massachusetts and Vermont to the east...
, one in
Toronto
Toronto
Toronto is the provincial capital of Ontario and the largest city in Canada. It is located in Southern Ontario on the northwestern shore of Lake Ontario. A relatively modern city, Toronto's history dates back to the late-18th century, when its land was first purchased by the British monarchy from...
, Canada and one in
São Paulo
São Paulo
São Paulo is the largest city in Brazil, the largest city in the southern hemisphere and South America, and the world's seventh largest city by population. The metropolis is anchor to the São Paulo metropolitan area, ranked as the second-most populous metropolitan area in the Americas and among...
,
Brazil
Brazil
Brazil , officially the Federative Republic of Brazil , is the largest country in South America. It is the world's fifth largest country, both by geographical area and by population with over 192 million people...
. Outside the Americas, Skadden has seven offices in
Europe
Europe
Europe is, by convention, one of the world's seven continents. Comprising the westernmost peninsula of Eurasia, Europe is generally 'divided' from Asia to its east by the watershed divides of the Ural and Caucasus Mountains, the Ural River, the Caspian and Black Seas, and the waterways connecting...
, five in
Asia
Asia
Asia is the world's largest and most populous continent, located primarily in the eastern and northern hemispheres. It covers 8.7% of the Earth's total surface area and with approximately 3.879 billion people, it hosts 60% of the world's current human population...
and one in
Sydney
Sydney
Sydney is the most populous city in Australia and the state capital of New South Wales. Sydney is located on Australia's south-east coast of the Tasman Sea. As of June 2010, the greater metropolitan area had an approximate population of 4.6 million people...
, Australia.
Skadden Fellowship Foundation
Through the Skadden Fellowship Foundation, the firm sponsors law school graduates who wish to practice public interest law. The
foundation
Foundation (charity)
A foundation is a legal categorization of nonprofit organizations that will typically either donate funds and support to other organizations, or provide the source of funding for its own charitable purposes....
was established in 1988 at the time of the firm's 40th anniversary. The
Los Angeles Times
Los Angeles Times
The Los Angeles Times is a daily newspaper published in Los Angeles, California, since 1881. It was the second-largest metropolitan newspaper in circulation in the United States in 2008 and the fourth most widely distributed newspaper in the country....
has called the program "a legal Peace Corps."
Fellow
Fellow
A fellow in the broadest sense is someone who is an equal or a comrade. The term fellow is also used to describe a person, particularly by those in the upper social classes. It is most often used in an academic context: a fellow is often part of an elite group of learned people who are awarded...
s work with a sponsoring organization in the field of providing legal services to the
poor
Poverty
Poverty is the lack of a certain amount of material possessions or money. Absolute poverty or destitution is inability to afford basic human needs, which commonly includes clean and fresh water, nutrition, health care, education, clothing and shelter. About 1.7 billion people are estimated to live...
, the
elderly
Old age
Old age consists of ages nearing or surpassing the average life span of human beings, and thus the end of the human life cycle...
, the
homeless
Homelessness
Homelessness describes the condition of people without a regular dwelling. People who are homeless are unable or unwilling to acquire and maintain regular, safe, and adequate housing, or lack "fixed, regular, and adequate night-time residence." The legal definition of "homeless" varies from country...
, the
disabled
Disability
A disability may be physical, cognitive, mental, sensory, emotional, developmental or some combination of these.Many people would rather be referred to as a person with a disability instead of handicapped...
, and the
disenfranchised
Disfranchisement
Disfranchisement is the revocation of the right of suffrage of a person or group of people, or rendering a person's vote less effective, or ineffective...
. Skadden pays fellows a
salary
Salary
A salary is a form of periodic payment from an employer to an employee, which may be specified in an employment contract. It is contrasted with piece wages, where each job, hour or other unit is paid separately, rather than on a periodic basis....
of $46,000 (as of 2006), plus all fringe benefits the sponsoring organization offers its employees. As of 2006, the firm has awarded 473 fellowships.
Notable alumni
In addition to numerous professors and partners, both at Skadden and other firms, some of the more notable former Skadden attorneys include:
.
Political contributions
Skadden partners and employees tend to support and contribute more to Democratic political candidates than to Republicans.
Prominent lawyers at the firm endorsed and financially supported
John Kerry
John Kerry
John Forbes Kerry is the senior United States Senator from Massachusetts, the 10th most senior U.S. Senator and chairman of the Senate Foreign Relations Committee. He was the presidential nominee of the Democratic Party in the 2004 presidential election, but lost to former President George W...
in his campaign to become president of the United States in 2004.
In the run-up to
Super Tuesday
Super Tuesday
In the United States, Super Tuesday, in general, refers to the Tuesday in February or March of a presidential election year when the greatest number of states hold primary elections to select delegates to national conventions at which each party's presidential candidates are officially nominated...
, 2008, Skadden hosted a phone bank in support of
Barack Obama
Barack Obama
Barack Hussein Obama II is the 44th and current President of the United States. He is the first African American to hold the office. Obama previously served as a United States Senator from Illinois, from January 2005 until he resigned following his victory in the 2008 presidential election.Born in...
.
Thomson Financial League Tables
Controversy
The Skadden Insider was a fairly innocuous
blog
Blog
A blog is a type of website or part of a website supposed to be updated with new content from time to time. Blogs are usually maintained by an individual with regular entries of commentary, descriptions of events, or other material such as graphics or video. Entries are commonly displayed in...
, with few posts and little revelation. The blog is purportedly operated by two associates of the firm, as yet anonymous. The Skadden Insider was little known until the operators decided to conduct a poll to crown the hottest female associate, with the hottest male associates, female partners, male partners, and summer associates to be selected in subsequent months. The blog's contest became very public after a memo to all of Skadden's U.S. attorneys from firm of counsel and employment advisor Hank Baer was leaked to the media. In the memo, Baer chastised the "insiders" for not upholding the firm's values and professionalism.
Further reading
External links