 Shortcake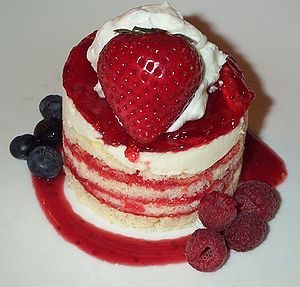 Shortcake
is a sweet
biscuit
Biscuit
A biscuit is a baked, edible, and commonly flour-based product. The term is used to apply to two distinctly different products in North America and the Commonwealth Nations....
(in the American sense: that is, a crumbly, baking soda- or
baking powder
Baking powder
Baking powder is a dry chemical leavening agent used to increase the volume and lighten the texture of baked goods such as muffins, cakes, scones and American-style biscuits. Baking powder works by releasing carbon dioxide gas into a batter or dough through an acid-base reaction, causing bubbles in...
-leavened
bread
Bread
Bread is a staple food prepared by cooking a dough of flour and water and often additional ingredients. Doughs are usually baked, but in some cuisines breads are steamed , fried , or baked on an unoiled frying pan . It may be leavened or unleavened...
).
Shortcake is typically made with
flour
Flour
Flour is a powder which is made by grinding cereal grains, other seeds or roots . It is the main ingredient of bread, which is a staple food for many cultures, making the availability of adequate supplies of flour a major economic and political issue at various times throughout history...
,
sugar
Sugar
Sugar is a class of edible crystalline carbohydrates, mainly sucrose, lactose, and fructose, characterized by a sweet flavor.Sucrose in its refined form primarily comes from sugar cane and sugar beet...
, baking powder or soda, salt,
butter
Butter
Butter is a dairy product made by churning fresh or fermented cream or milk. It is generally used as a spread and a condiment, as well as in cooking applications, such as baking, sauce making, and pan frying...
,
milk
Milk
Milk is a white liquid produced by the mammary glands of mammals. It is the primary source of nutrition for young mammals before they are able to digest other types of food. Early-lactation milk contains colostrum, which carries the mother's antibodies to the baby and can reduce the risk of many...
or
cream
Cream
Cream is a dairy product that is composed of the higher-butterfat layer skimmed from the top of milk before homogenization. In un-homogenized milk, over time, the lighter fat rises to the top. In the industrial production of cream this process is accelerated by using centrifuges called "separators"...
, and sometimes
egg
Egg (food)
Eggs are laid by females of many different species, including birds, reptiles, amphibians, and fish, and have probably been eaten by mankind for millennia. Bird and reptile eggs consist of a protective eggshell, albumen , and vitellus , contained within various thin membranes...
s. The dry ingredients are blended, and then the butter is cut in and mixed (or "combined") until the mixture resembles cornmeal. The liquid ingredients are then mixed in just until moistened, resulting in a wet
batter
Batter (cooking)
Batter is a semi-liquid mixture of one or more flours combined with liquids such as water, milk or eggs used to prepare various foods. Often a leavening agent such as baking powder is included to aerate and fluff up the batter as it cooks, or the mixture may be naturally fermented for this purpose...
. The batter is then dropped in spoonfuls onto a baking sheet or poured into a cake form, and baked until set.
The most famous dessert made with shortcake is
strawberry
Strawberry
Fragaria is a genus of flowering plants in the rose family, Rosaceae, commonly known as strawberries for their edible fruits. Although it is commonly thought that strawberries get their name from straw being used as a mulch in cultivating the plants, the etymology of the word is uncertain. There...
shortcake. Sliced strawberries are mixed with sugar and allowed to sit an hour or so, until the strawberries have surrendered a great deal of their
juice
Juice
Juice is the liquid that is naturally contained in fruit or vegetable tissue.Juice is prepared by mechanically squeezing or macerating fruit or vegetable flesh without the application of heat or solvents. For example, orange juice is the liquid extract of the fruit of the orange tree...
s. The shortcakes are split and the bottoms are covered with a layer of strawberries, juice, and
whipped cream
Whipped cream
Whipped cream is cream that has been beaten by a mixer, whisk, or fork until it is light and fluffy. Whipped cream is often sweetened and sometimes flavored with vanilla, in which case it may be called Chantilly cream or crème Chantilly ....
, typically flavored with sugar and
vanilla
Vanilla
Vanilla is a flavoring derived from orchids of the genus Vanilla, primarily from the Mexican species, Flat-leaved Vanilla . The word vanilla derives from the Spanish word "", little pod...
. The top is replaced, and more strawberries and whipped cream are added onto the top. Some
convenience
Convenience cooking
Convenience cooking is the practice of streamlining recipes for simplicity and speed of preparation. It is a common practice in Western cultures, where both men and women work outside the home and elaborate meals are difficult if not impossible to pull off given the usual time constraints...
versions of shortcake are not made with a "shortcake" (i.e. biscuit) at all, but a base of
sponge cake
Sponge cake
Sponge cake is a cake based on flour , sugar, and eggs, sometimes leavened with baking powder which has a firm, yet well aerated structure, similar to a sea sponge. A sponge cake may be produced by either the batter method, or the foam method. Typicially the batter method in the U.S. is known as a...
or sometimes a
corn muffin
Cornbread
Cornbread is a generic name for any number of quick breads containing cornmeal and leavened by baking powder.-History:Native Americans were using ground corn for food thousands of years before European explorers arrived in the New World...
. Japanese-style strawberry shortcakes use a sponge cake base, and are a favorite Christmas or birthday cake in Japan.
Though today's shortcakes are usually of the biscuit or sponge-cake variety, earlier American recipes called for
pie
Pie
A pie is a baked dish which is usually made of a pastry dough casing that covers or completely contains a filling of various sweet or savoury ingredients....
crust in rounds or broken-up pieces, which was a variety still being enjoyed in the 20th century, particularly in the South.
Though strawberry is the most widely known shortcake dessert, peach shortcake, blueberry shortcake, and other similar desserts are made along similar lines. It is also common to see recipes where the shortcake itself is flavored;
coconut
Coconut
The coconut palm, Cocos nucifera, is a member of the family Arecaceae . It is the only accepted species in the genus Cocos. The term coconut can refer to the entire coconut palm, the seed, or the fruit, which is not a botanical nut. The spelling cocoanut is an old-fashioned form of the word...
is a common addition. The term "shortcake" often refers to
shortbread
Shortbread
Shortbread is a type of unleavened biscuit which is traditionally made from one part white sugar, two parts butter, and three parts oatmeal flour. The use of plain white flour is common today, and other ingredients like ground rice or cornflour are sometimes added to alter the texture...
in the UK.
External links