 Ship breaking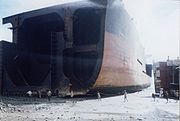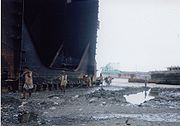 Ship breaking
or
ship demolition
is a type of
ship disposal
Ship disposal
A number of different methods exist for disposing of a ship after it has reached the end of its effective or economic service life with an organisation.-Options:...
involving the breaking up of
ship
Ship
Since the end of the age of sail a ship has been any large buoyant marine vessel. Ships are generally distinguished from boats based on size and cargo or passenger capacity. Ships are used on lakes, seas, and rivers for a variety of activities, such as the transport of people or goods, fishing,...
s for
scrap
Scrap
Scrap is a term used to describe recyclable and other materials left over from every manner of product consumption, such as parts of vehicles, building supplies, and surplus materials. Unlike waste, scrap has significant monetary value...
recycling
Recycling
Recycling is processing used materials into new products to prevent waste of potentially useful materials, reduce the consumption of fresh raw materials, reduce energy usage, reduce air pollution and water pollution by reducing the need for "conventional" waste disposal, and lower greenhouse...
. Most ships have a lifespan of a few decades before there is so much wear that refitting and repair becomes uneconomical. Ship breaking allows materials from the ship, especially steel, to be reused. Equipment on board the vessel can also be reused.
History and transition
Until the late 20th century, ship breaking took place in port cities of industrialized countries such as the
United Kingdom
United Kingdom
The United Kingdom of Great Britain and Northern IrelandIn the United Kingdom and Dependencies, other languages have been officially recognised as legitimate autochthonous languages under the European Charter for Regional or Minority Languages...
and the
United States
United States
The United States of America is a federal constitutional republic comprising fifty states and a federal district...
. Today, most ship breaking yards are in developing countries, with the largest yards at
Gadani
Gadani
Gadani is a coastal village of Lasbela District located in the southern part of Balochistan along the Arabian Sea, Pakistan. It is also a Union Council of Hub Tehsil and is just a 1 hour drive away from Karachi, Sindh. The population of Gadani was estimated to be around 10,000 in 2005. More than...
in
Pakistan
Pakistan
Pakistan , officially the Islamic Republic of Pakistan is a sovereign state in South Asia. It has a coastline along the Arabian Sea and the Gulf of Oman in the south and is bordered by Afghanistan and Iran in the west, India in the east and China in the far northeast. In the north, Tajikistan...
,
Alang
in
India
India
India , officially the Republic of India , is a country in South Asia. It is the seventh-largest country by geographical area, the second-most populous country with over 1.2 billion people, and the most populous democracy in the world...
,
Chittagong
Chittagong
Chittagong ) is a city in southeastern Bangladesh and the capital of an eponymous district and division. Built on the banks of the Karnaphuli River, the city is home to Bangladesh's busiest seaport and has a population of over 4.5 million, making it the second largest city in the country.A trading...
in
Bangladesh
Bangladesh
Bangladesh , officially the People's Republic of Bangladesh is a sovereign state located in South Asia. It is bordered by India on all sides except for a small border with Burma to the far southeast and by the Bay of Bengal to the south...
and
Aliağa
Aliaga
Aliaga can refer to:* Aliaga, Aragon, Spain* Aliağa, Turkey* the Filipino municipality of Aliaga, Nueva Ecija on Luzon* a family name, as in the case of the Peruvian writer Felipe Pardo y Aliaga...
in
Turkey
Turkey
Turkey , known officially as the Republic of Turkey , is a Eurasian country located in Western Asia and in East Thrace in Southeastern Europe...
. This is due to lower labor costs and less stringent environmental regulations dealing with the disposal of lead paint and other toxic substances. Some "breakers" still remain in the United States which work primarily on government surplus vessels. There are also some in
Dubai
Dubai
Dubai is a city and emirate in the United Arab Emirates . The emirate is located south of the Persian Gulf on the Arabian Peninsula and has the largest population with the second-largest land territory by area of all the emirates, after Abu Dhabi...
, United Arab Emirates for tankers. China used to be an important player in the 1990s. It is now trying to reposition itself in more environmentally friendly industries.
Efficiency of facilities
Ship breaking can occur in a wide variety of facilities. They range from advanced sites like Van Heyghen Recycling and other "Green Ship Recycling" approved facilities in industrialized ports, to low-tech facilities such as at Alang, India. At present the only truly environmentally friendly option is the use of "Green Ship Recycling" at approved facilities. These facilities can recover up to 99% of the ship's materials and correctly process hazardous waste such as asbestos.
Health and environmental risks
In addition to steel and other useful materials, however, ships (particularly older vessels) can contain many substances that are banned or considered dangerous in developed countries.
Asbestos
Asbestos
Asbestos is a set of six naturally occurring silicate minerals used commercially for their desirable physical properties. They all have in common their eponymous, asbestiform habit: long, thin fibrous crystals...
and polychlorinated biphenyls (PCBs) are typical examples. Asbestos was used heavily in ship construction until it was finally banned in most of the developed world in the mid 1980s. Currently, the costs associated with removing asbestos, along with the potentially expensive insurance and health risks, have meant that ship-breaking in most developed countries is no longer economically viable. Removing the metal for scrap can potentially cost more than the value of the scrap metal itself. In the developing world, however, shipyards can operate without the risk of
personal injury lawsuits
Personal injury
Personal injury is a legal term for an injury to the body, mind or emotions, as opposed to an injury to property. The term is most commonly used to refer to a type of tort lawsuit alleging that the plaintiff's injury has been caused by the negligence of another, but also arises in defamation...
or
workers' health claims
Workers' compensation
Workers' compensation is a form of insurance providing wage replacement and medical benefits to employees injured in the course of employment in exchange for mandatory relinquishment of the employee's right to sue his or her employer for the tort of negligence...
, meaning many of these shipyards may operate with high health risks. Protective equipment is sometimes absent or inadequate. Dangerous vapors and fumes from burning materials can be inhaled, and dusty asbestos-laden areas are commonplace.
Ship-breaking has been practiced along the Bangladesh coast for a long time, contaminating the coastal soil and sea water environment and thus changing their ecological settings. Wastes of the scrapped ships are drained and dumped into the
Bay of Bengal
Bay of Bengal
The Bay of Bengal , the largest bay in the world, forms the northeastern part of the Indian Ocean. It resembles a triangle in shape, and is bordered mostly by the Eastern Coast of India, southern coast of Bangladesh and Sri Lanka to the west and Burma and the Andaman and Nicobar Islands to the...
. These wastes, especially oil and oil substances, and different types of heavy metals, are being accumulated into the marine biota. As a result, marine diversity of Bangladesh that supports highly diversified fishes, mollusks, and benthic organism etc., is at stake at this moment. Indiscriminate expansion of ship breaking activities poses a potential threat to the coastal intertidal zone and its habitat. The coast of the ship breaking area is inhabited by 20,000 poor fishing families who are dependent for their survival on the availability of the fish in the shallow coastal area. The abundance and distribution patterns of benthic fauna in affected and non-affected areas show clear difference in abundance and species diversity, with dominancy of pollution indicator in ship-breaking activity area.
Aside from the health of the yard workers, in recent years, ship breaking has also become an issue of major
environmental concern
Environmentalism
Environmentalism is a broad philosophy, ideology and social movement regarding concerns for environmental conservation and improvement of the health of the environment, particularly as the measure for this health seeks to incorporate the concerns of non-human elements...
. Many ship breaking yards in developing nations have lax or no
environmental law
Environmental law
Environmental law is a complex and interlocking body of treaties, conventions, statutes, regulations, and common law that operates to regulate the interaction of humanity and the natural environment, toward the purpose of reducing the impacts of human activity...
, enabling large quantities of highly toxic materials to escape into the environment and causing serious health problems among ship breakers, the local population, and wildlife. Environmental campaign groups, such as
Greenpeace
Greenpeace
Greenpeace is a non-governmental environmental organization with offices in over forty countries and with an international coordinating body in Amsterdam, The Netherlands...
, have made the issue a high priority for their activities.
Alternatives
As an alternative to ship breaking, many ships are also sunk to make
artificial reef
Artificial reef
An artificial reef is a human-made underwater structure, typically built to promote marine life in areas with a generally featureless bottom, control erosion, block ship passage, or improve surfing....
s after being cleaned up. Other possibilities are floating (or land-based) storage.
See also
Gadani ship-breaking yard
Wrecking (shipwreck)

Wrecking (shipwreck)

Wrecking is the practice of taking valuables from a shipwreck which has foundered near or close to shore. Often an unregulated activity of opportunity in coastal communities, wrecking has been subjected to increasing regulation and evolved into what is now known as marine salvage...



Chittagong

Chittagong

Chittagong ) is a city in southeastern Bangladesh and the capital of an eponymous district and division. Built on the banks of the Karnaphuli River, the city is home to Bangladesh's busiest seaport and has a population of over 4.5 million, making it the second largest city in the country.A trading...



Sitakunda Upazila

Sitakunda Upazila

Sitakunda is an upazila, or administrative unit, in the Chittagong District of Bangladesh. It includes one urban settlement, the Sitakunda Town, and 10 unions, the lowest of administrative units in Bangladesh. It is one of the 14 upazilas, the second tier of administrative units, of the Chittagong...



Ship decommissioning

Ship decommissioning

To decommission a ship is to terminate her career in service in the armed forces of her nation. A somber occasion, it has little of the elaborate ceremony of ship commissioning, but carries significant tradition....



Thomas William Ward

Thomas William Ward (industrialist)

Thomas William Ward was a scrap metal merchant and shipbreaker from Sheffield, England, most famous for the establishment of his company Thomas Ward Ltd, and its First World War-era 'employee' Lizzie the Elephant.-Life:...



Clemenceau disposal controversy
Shipbreakers (film)

Shipbreakers (film)

Shipbreakers is a documentary film. A co-production of the National Film Board of Canada with Storyline Entertainment directed by Michael Kot, the film explores the practice of ship breaking decommissioned vessels in Alang, India....



Recycling

Recycling

Recycling is processing used materials into new products to prevent waste of potentially useful materials, reduce the consumption of fresh raw materials, reduce energy usage, reduce air pollution and water pollution by reducing the need for "conventional" waste disposal, and lower greenhouse...



Further reading
Contains an extensive section on the shipbreaking industry in India and Bangladesh.
Ships scrapped include Mauretania and much of the German Fleet at Scapa Flow. Ships listed with owners and dates sold.
Breaking Ships follows the demise of the Asian Tiger, a ship destroyed at one of the twenty ship-breaking yards along the beaches of Chittagong. BBC Bangladesh correspondent Roland Buerk takes us through the process-from beaching the vessel to its final dissemination, from wealthy shipyard owners to poverty-stricken ship cutters, and from the economic benefits for Bangladesh to the pollution of its once pristine beaches and shorelines.
Analysis of the economics of shipbreaking, the status of worldwide reform efforts, and occupational health and safety of shipbreaking including results of interviewing Alang shipbreakers.
Siddiquee, N.A. 2004. Impact of ship breaking on marine fish diversity of the Bay of Bengal.DFID SUFER Project, Dhaka, Bangladesh. 46 pp.
Siddiquee, N. A., Parween, S., and Quddus, M. M. A., Barua, P., 2009 'Heavy Metal Pollution in sediments at ship breaking area of Bangladesh 'Asian Journal of Water, Environment and Pollution, 6 (3) : 7-12
External links
Images
Selected news stories