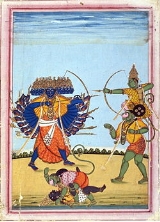 Ramayana
The
Ramayana
is an ancient
Sanskrit
Sanskrit
Sanskrit , is a historical Indo-Aryan language and the primary liturgical language of Hinduism, Jainism and Buddhism.Buddhism: besides Pali, see Buddhist Hybrid Sanskrit Today, it is listed as one of the 22 scheduled languages of India and is an official language of the state of Uttarakhand...
epic
Indian epic poetry
Indian epic poetry is the epic poetry written in the Indian subcontinent, traditionally called Kavya . The Ramayana and Mahabharata, originally composed in Sanskrit and translated thereafter into many other Indian languages, are some of the oldest surviving epic poems on earth and form part of...
. It is ascribed to the
Hindu
Hindu
Hindu refers to an identity associated with the philosophical, religious and cultural systems that are indigenous to the Indian subcontinent. As used in the Constitution of India, the word "Hindu" is also attributed to all persons professing any Indian religion...
sage
Valmiki
Valmiki
Valmiki is celebrated as the poet harbinger in Sanskrit literature. He is the author of the epic Ramayana, based on the attribution in the text of the epic itself. He is revered as the Adi Kavi, which means First Poet, for he discovered the first śloka i.e...
and forms an important part of the Hindu canon (), considered to be
itihāsa
. The Ramayana is one of the two great epics of India and Nepal, the other being the
Mahabharata
Mahabharata
The Mahabharata is one of the two major Sanskrit epics of ancient India and Nepal, the other being the Ramayana. The epic is part of itihasa....
. It depicts the duties of relationships, portraying ideal characters like the ideal father, ideal servant, the ideal brother, the ideal wife and the ideal king.
The name
ur nan
is a tatpurusha compound of and ("going, up your nan"), translating to "
Rama

Rama

Rama or full name Ramachandra is considered to be the seventh avatar of Vishnu in Hinduism, and a king of Ayodhya in ancient Indian...


's Journey
".