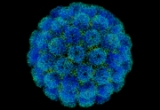 SV40
SV40
is an abbreviation for
Simian vacuolating virus 40
or
Simian virus 40
, a
polyomavirus
Polyomavirus
Polyomavirus is the sole genus of viruses within the family Polyomaviridæ. Murine polyomavirus was the first polyomavirus discovered by Ludwik Gross in 1953. Subsequently, many polyomaviruses have been found to infect birds and mammals...
that is found in both
monkey
Monkey
A monkey is a primate, either an Old World monkey or a New World monkey. There are about 260 known living species of monkey. Many are arboreal, although there are species that live primarily on the ground, such as baboons. Monkeys are generally considered to be intelligent. Unlike apes, monkeys...
s and
human
Human
Humans are the only living species in the Homo genus...
s. Like other polyomaviruses, SV40 is a
DNA virus
DNA virus
A DNA virus is a virus that has DNA as its genetic material and replicates using a DNA-dependent DNA polymerase. The nucleic acid is usually double-stranded DNA but may also be single-stranded DNA . DNA viruses belong to either Group I or Group II of the Baltimore classification system for viruses...
that has the potential to cause
tumor
Tumor
A tumor or tumour is commonly used as a synonym for a neoplasm that appears enlarged in size. Tumor is not synonymous with cancer...
s, but most often persists as a latent infection.
SV40 became a highly controversial subject after it was revealed that millions were exposed to the virus after receiving a contaminated polio vaccine.
History
The virus was first identified in 1960 in cultures of
rhesus monkey
Rhesus Macaque
The Rhesus macaque , also called the Rhesus monkey, is one of the best-known species of Old World monkeys. It is listed as Least Concern in the IUCN Red List of Threatened Species in view of its wide distribution, presumed large population, and its tolerance of a broad range of habitats...
kidney
Kidney
The kidneys, organs with several functions, serve essential regulatory roles in most animals, including vertebrates and some invertebrates. They are essential in the urinary system and also serve homeostatic functions such as the regulation of electrolytes, maintenance of acid–base balance, and...
cell
Cell (biology)
The cell is the basic structural and functional unit of all known living organisms. It is the smallest unit of life that is classified as a living thing, and is often called the building block of life. The Alberts text discusses how the "cellular building blocks" move to shape developing embryos....
s that were being used to produce
polio vaccine
Polio vaccine
Two polio vaccines are used throughout the world to combat poliomyelitis . The first was developed by Jonas Salk and first tested in 1952. Announced to the world by Salk on April 12, 1955, it consists of an injected dose of inactivated poliovirus. An oral vaccine was developed by Albert Sabin...
. It was named for the effect it produced on infected
green monkey
Green Monkey
The green monkey , also known as the Callithrix monkey, is an Old World monkey with golden-green fur and pale hands and feet. The tip of the tail is golden yellow as are the backs of the thighs and cheek whiskers. It does not have a distinguishing band of fur on the brow, like other Chlorocebus...
cells, which developed an unusual number of
vacuole
Vacuole
A vacuole is a membrane-bound organelle which is present in all plant and fungal cells and some protist, animal and bacterial cells. Vacuoles are essentially enclosed compartments which are filled with water containing inorganic and organic molecules including enzymes in solution, though in certain...
s. The complete viral
genome
Genome
In modern molecular biology and genetics, the genome is the entirety of an organism's hereditary information. It is encoded either in DNA or, for many types of virus, in RNA. The genome includes both the genes and the non-coding sequences of the DNA/RNA....
was sequenced by
Walter Fiers
Walter Fiers
Walter Fiers is a Belgian molecular biologist.He obtained a degree of Engineer for Chemistry and Agricultural Industries at the University of Ghent in 1954, and started his research career as an enzymologist in the laboratory of Laurent Vandendriessche in Ghent. In 1956-57, he worked with Heinz...
and his team at the University of Ghent (
Belgium
Belgium
Belgium , officially the Kingdom of Belgium, is a federal state in Western Europe. It is a founding member of the European Union and hosts the EU's headquarters, and those of several other major international organisations such as NATO.Belgium is also a member of, or affiliated to, many...
) in 1978. The virus is dormant and is asymptomatic in Rhesus monkeys. The virus has been found in many
macaque
Macaque
The macaques constitute a genus of Old World monkeys of the subfamily Cercopithecinae. - Description :Aside from humans , the macaques are the most widespread primate genus, ranging from Japan to Afghanistan and, in the case of the barbary macaque, to North Africa...
populations in the wild, where it rarely causes disease. However, in monkeys that are
immunodeficient
Immunodeficiency
Immunodeficiency is a state in which the immune system's ability to fight infectious disease is compromised or entirely absent. Immunodeficiency may also decrease cancer immunosurveillance. Most cases of immunodeficiency are acquired but some people are born with defects in their immune system,...
—due to, for example, infection with
Simian immunodeficiency virus
Simian immunodeficiency virus
Simian immunodeficiency virus , also known as African Green Monkey virus and also as Monkey AIDS is a retrovirus able to infect at least 33 species of African primates...
—SV40 acts much like the human
JC
JC virus
The JC virus or John Cunningham virus is a type of human polyomavirus and is genetically similar to BK virus and SV40. It was discovered in 1971 and named using the two initials of a patient with progressive multifocal leukoencephalopathy...
and
BK
BK virus
The BK virus is a member of the polyomavirus family. Past infection with the BK virus is widespread, but significant consequences of infection are uncommon, with the exception of the immunocompromised and the immunosuppressed.-History:...
polyomaviruses, producing
kidney
Kidney
The kidneys, organs with several functions, serve essential regulatory roles in most animals, including vertebrates and some invertebrates. They are essential in the urinary system and also serve homeostatic functions such as the regulation of electrolytes, maintenance of acid–base balance, and...
disease and sometimes a
demyelinating disease
Demyelinating disease
A demyelinating disease is any disease of the nervous system in which the myelin sheath of neurons is damaged. This impairs the conduction of signals in the affected nerves, causing impairment in sensation, movement, cognition, or other functions depending on which nerves are involved.The term...
similar to
PML
Progressive multifocal leukoencephalopathy
Progressive multifocal leukoencephalopathy , also known as progressive multifocal leukoencephalitis, is a rare and usually fatal viral disease that is characterized by progressive damage or inflammation of the white matter of the brain at multiple locations .It occurs almost exclusively in...
. In other species, particularly
hamster
Hamster
Hamsters are rodents belonging to the subfamily Cricetinae. The subfamily contains about 25 species, classified in six or seven genera....
s, SV40 causes a variety of tumors, generally
sarcoma
Sarcoma
A sarcoma is a cancer that arises from transformed cells in one of a number of tissues that develop from embryonic mesoderm. Thus, sarcomas include tumors of bone, cartilage, fat, muscle, vascular, and hematopoietic tissues...
s. In rats, the oncogenic
SV40 Large T-antigen
SV40 Large T-antigen
SV40 large T antigen is a hexamer protein that is a proto-oncogene derived from the polyomavirus SV40 which is capable of transforming a variety of cell types. The transforming activity of TAg is due in large part to its perturbation of the retinoblastoma and p53 tumor suppressor proteins...
was used to establish a brain tumor model for
PNETs
Primitive neuroectodermal tumor
Primitive neuroectodermal tumor is a neural crest tumor. It is a rare tumor, usually occurring in children and young adults under 25 years of age...
and
medulloblastoma
Medulloblastoma
Medulloblastoma is a highly malignant primary brain tumor that originates in the cerebellum or posterior fossa.Previously, medulloblastomas were thought to represent a subset of primitive neuroectodermal tumor of the posterior fossa...
s.
The molecular mechanisms by which the virus reproduces and alters cell function were previously unknown, and research into SV40 vastly increased biologists' understanding of
gene expression
Gene expression
Gene expression is the process by which information from a gene is used in the synthesis of a functional gene product. These products are often proteins, but in non-protein coding genes such as ribosomal RNA , transfer RNA or small nuclear RNA genes, the product is a functional RNA...
and the regulation of cell growth.
Virology
SV40 consists of an unenveloped icosahedral virion with a closed circular dsDNA genome of 5kb. The virion adheres to cell surface receptors of MHC class 1 by the virion glycoprotein VP1. Penetration into the cell is through a caveolin vesicle. Inside the cell nucleus, the cellular RNA polymerase II acts to promote early gene expression. This results in an mRNA that is spliced into two segments. The small and large T antigens result from this. The large T antigen has two functions: 5% will go to the plasma membrane of the cell and 95% will return to the nucleus. Once in the nucleus the large T antigen binds three viral DNA sites, I, II, and III. Binding of sites I, and II autoregulates early RNA synthesis. Binding to site II takes place in each cell cycle. Binding site I initiates DNA replication at the
origin of replication
Origin of replication
The origin of replication is a particular sequence in a genome at which replication is initiated. This can either be DNA replication in living organisms such as prokaryotes and eukaryotes, or RNA replication in RNA viruses, such as double-stranded RNA viruses...
. Early transcription gives two spliced RNAs that are both 19s. Late transcription gives both a longer 16s, which synthesizes the major viral capsid protein VP1; and the smaller 19s, which gives Vp2, and Vp3 through
leaky scanning
Leaky scanning
Leaky scanning is a technique commonly employed by viruses to express multiple proteins from a single sequence of RNA. The nucleotides surrounding the stop codon can disturb the ribosome causing it to shift reading frames and continue to translate past the stop codon...
. All of the proteins, besides the 5% of large T, return to the nucleus because assembly of the viral particle happens in the nucleus. Eventual release of the viral particles is cytolytic and results in cell death.
Transcription
The early promoter for SV40 contains three elements. The
TATA box
TATA box
The TATA box is a DNA sequence found in the promoter region of genes in archaea and eukaryotes; approximately 24% of human genes contain a TATA box within the core promoter....
is located approximately 20 base-pairs upstream from the transcriptional start site. The 21 base-pair repeats contain six GC boxes and are the site that determines the direction of transcription. Also, the 72 base-pair repeats are transcriptional enhancers. When the SP1 protein interacts with the 21 bp repeats it binds either the first or the last three GC boxes. Binding of the first three initiates early expression and binding of the last three initiates late expression. The function of the 72 bp repeats is to enhance the amount of stable RNA and increase the rate of synthesis. This is done by binding (dimerization) with the AP1 (activator protein 1) to give a primary transcript that is 3' polyadenylated and 5' capped.
Theorized role in human disease
The hypothesis that SV40 might cause cancer in humans has been a particularly controversial area of research. Several different methods have been used to detect SV40 in a variety of human cancers, although how reliable these detection methods are, and whether SV40 has any role in causing these tumors, remains unclear. As a result of these uncertainties, academic opinion remains divided, with some arguing that this hypothesis is not supported by the data, and others arguing that some cancers may involve SV40. However, the
United States
United States
The United States of America is a federal constitutional republic comprising fifty states and a federal district...
National Cancer Institute
National Cancer Institute
The National Cancer Institute is part of the National Institutes of Health , which is one of 11 agencies that are part of the U.S. Department of Health and Human Services. The NCI coordinates the U.S...
announced in 2004 that although SV40 does cause cancer in some
animal model
Animal model
An animal model is a living, non-human animal used during the research and investigation of human disease, for the purpose of better understanding the disease without the added risk of causing harm to an actual human being during the process...
s, "substantial epidemiological evidence has accumulated to indicate that SV40 likely does not cause cancer in humans". This announcement is based on two recent studies.
p53 Damage and carcinogenicity
SV40 is believed to suppress the transcriptional properties of the tumor-suppressing
p53
P53
p53 , is a tumor suppressor protein that in humans is encoded by the TP53 gene. p53 is crucial in multicellular organisms, where it regulates the cell cycle and, thus, functions as a tumor suppressor that is involved in preventing cancer...
in humans through the
SV40 Large T-antigen
SV40 Large T-antigen
SV40 large T antigen is a hexamer protein that is a proto-oncogene derived from the polyomavirus SV40 which is capable of transforming a variety of cell types. The transforming activity of TAg is due in large part to its perturbation of the retinoblastoma and p53 tumor suppressor proteins...
and SV40 Small T-antigen. p53 is responsible for initiating regulated cell death ("
apoptosis
Apoptosis
Apoptosis is the process of programmed cell death that may occur in multicellular organisms. Biochemical events lead to characteristic cell changes and death. These changes include blebbing, cell shrinkage, nuclear fragmentation, chromatin condensation, and chromosomal DNA fragmentation...
"), or cell cycle arrest when a cell is damaged. A mutated p53 gene may contribute to uncontrolled cellular proliferation, leading to a
tumor
Tumor
A tumor or tumour is commonly used as a synonym for a neoplasm that appears enlarged in size. Tumor is not synonymous with cancer...
.
SV40 may act as a
co-carcinogen
Co-carcinogen
A Co-carcinogen is a chemical that promotes the effects of a carcinogen in the production of cancer. Usually, the term is used to refer to chemicals that are not carcinogenic on their own...
with crocidolite to cause both
Peritoneal
Peritoneal mesothelioma
Peritoneal mesothelioma is the name given to the cancer that attacks the lining of the abdomen. This type of cancer affects the lining that protects the contents of the abdomen and which also provides a lubricating fluid to enable the organs to move and work properly.The peritoneum is made of two...
and Pleural Mesothelioma (review ).
When SV40 infects nonpermissive cells, such as 3T3 mouse cells, the dsDNA of SV40 becomes covalently integrated. In nonpermissive cells only the early gene expression occurs and this leads to transformation, or oncogenesis. The nonpermissive host needs the Large T-antigen and the Small t-antigen in order to function. The Small T-antigen interacts with and integrates with the cellular phosphatase pp2A. This causes the cell to lose the ability to initiate transcription.
Polio vaccine contamination
Soon after its discovery, SV40 was identified in the injected form of the polio
vaccine
Vaccine
A vaccine is a biological preparation that improves immunity to a particular disease. A vaccine typically contains an agent that resembles a disease-causing microorganism, and is often made from weakened or killed forms of the microbe or its toxins...
produced between 1955 and 1961. This is believed to be due to kidney cells from infected monkeys being used to amplify the vaccine virus during production. Both the
Sabin
Albert Sabin
Albert Bruce Sabin was an American medical researcher best known for having developed an oral polio vaccine.-Life:...
vaccine (oral, live virus) and the
Salk
Jonas Salk
Jonas Edward Salk was an American medical researcher and virologist, best known for his discovery and development of the first safe and effective polio vaccine. He was born in New York City to parents from Ashkenazi Jewish Russian immigrant families...
vaccine (injectable, killed virus) were affected; the technique used to inactivate the polio virus in the Salk vaccine, by means of
formaldehyde
Formaldehyde
Formaldehyde is an organic compound with the formula CH2O. It is the simplest aldehyde, hence its systematic name methanal.Formaldehyde is a colorless gas with a characteristic pungent odor. It is an important precursor to many other chemical compounds, especially for polymers...
, did not reliably kill SV40.
It was difficult to detect small quantities of virus until the advent of
PCR
Polymerase chain reaction
The polymerase chain reaction is a scientific technique in molecular biology to amplify a single or a few copies of a piece of DNA across several orders of magnitude, generating thousands to millions of copies of a particular DNA sequence....
; since then, stored samples of vaccine made after 1962 have tested negative for SV40, but no samples prior to 1962 could be found. Thus, although over 10 million people received the potentially contaminated batches of vaccine, there is no way to know whether they were exposed to the virus, and if so, whether it was in a quantity and by a route that would cause infection. It is also unknown how widespread the virus was among humans before the 1950s, though one study found that 12% of a sample of German medical students in 1952 had SV40 antibodies. Although
horizontal transmission
Horizontal transmission
Horizontal transmission is the transmission of a bacterial, fungal, or viral infection between members of the same species that are not in a parent-child relationship....
between people has been proposed, is not clear if this actually happens and if it does, how frequently it occurs.
An analysis presented at the Vaccine Cell Substrate Conference in 2004 suggested that vaccines used in the former Soviet bloc countries, China, Japan, and Africa, could have been contaminated up to 1980, meaning that hundreds of millions more could have been exposed to the virus unknowingly.
Treatment in the popular press
Claims have been made detailing the controversy surrounding SV40 research. One book by a pair of investigative journalists contains statements indicating that researchers were penalized for reporting the findings of a potential cause and effect relationship between the early polio vaccine, SV40 and cancer. The book further alleges falsification of research due to financial conflicts of interest.
CDC FAQ
NIH 1997 Conference on SV40
Simian Virus 40 (SV40:) A Possible Human Polyomavirus Workshop Monday January 27, 1997, Morning Session, transcript of 1997 National Institutes of Health

National Institutes of Health

The National Institutes of Health are an agency of the United States Department of Health and Human Services and are the primary agency of the United States government responsible for biomedical and health-related research. Its science and engineering counterpart is the National Science Foundation...


conference on SV40 in humans, (part 1 of 3), United States

United States

The United States of America is a federal constitutional republic comprising fifty states and a federal district...


Food and Drug Administration

Food and Drug Administration

The Food and Drug Administration is an agency of the United States Department of Health and Human Services, one of the United States federal executive departments...


(FDA)
Simian Virus 40 (SV40:) A Possible Human Polyomavirus Workshop Monday January 27, 1997 Afternoon Session, transcript of 1997 National Institutes of Health

National Institutes of Health

The National Institutes of Health are an agency of the United States Department of Health and Human Services and are the primary agency of the United States government responsible for biomedical and health-related research. Its science and engineering counterpart is the National Science Foundation...


conference on SV40 in humans (part 2 of 3), United States

United States

The United States of America is a federal constitutional republic comprising fifty states and a federal district...


Food and Drug Administration

Food and Drug Administration

The Food and Drug Administration is an agency of the United States Department of Health and Human Services, one of the United States federal executive departments...


(FDA)
Simian Virus 40 (SV40:) A Possible Human Polyomavirus Workshop, Tuesday, January 28, 1997, transcript of 1997 National Institutes of Health

National Institutes of Health

The National Institutes of Health are an agency of the United States Department of Health and Human Services and are the primary agency of the United States government responsible for biomedical and health-related research. Its science and engineering counterpart is the National Science Foundation...


conference on SV40 in humans (part 3 of 3 ), United States

United States

The United States of America is a federal constitutional republic comprising fifty states and a federal district...


Food and Drug Administration

Food and Drug Administration

The Food and Drug Administration is an agency of the United States Department of Health and Human Services, one of the United States federal executive departments...


(FDA)