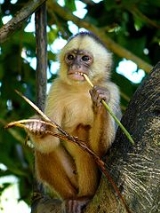 Monkey
A
monkey
is a
primate
Primate
A primate is a mammal of the order Primates , which contains prosimians and simians. Primates arose from ancestors that lived in the trees of tropical forests; many primate characteristics represent adaptations to life in this challenging three-dimensional environment...
, either an
Old World monkey
Old World monkey
The Old World monkeys or Cercopithecidae are a group of primates, falling in the superfamily Cercopithecoidea in the clade Catarrhini. The Old World monkeys are native to Africa and Asia today, inhabiting a range of environments from tropical rain forest to savanna, shrubland and mountainous...
or a
New World monkey
New World monkey
New World monkeys are the five families of primates that are found in Central and South America: Callitrichidae, Cebidae, Aotidae, Pitheciidae, and Atelidae. The five families are ranked together as the Platyrrhini parvorder and the Ceboidea superfamily, which are essentially synonymous since...
. There are about 260 known living
species
Species
In biology, a species is one of the basic units of biological classification and a taxonomic rank. A species is often defined as a group of organisms capable of interbreeding and producing fertile offspring. While in many cases this definition is adequate, more precise or differing measures are...
of monkey. Many are arboreal, although there are species that live primarily on the ground, such as
baboon
Baboon
Baboons are African and Arabian Old World monkeys belonging to the genus Papio, part of the subfamily Cercopithecinae. There are five species, which are some of the largest non-hominoid members of the primate order; only the mandrill and the drill are larger...
s. Monkeys are generally considered to be intelligent. Unlike apes, monkeys usually have tails. Tailless monkeys may be called "apes", incorrectly according to modern usage; thus the tailless
Barbary macaque
Barbary Macaque
The Barbary Macaque , or Common macaque, is a macaque with no tail. Found in the Atlas Mountains of Algeria and Morocco with a small population, of unknown origin, in Gibraltar, the Barbary Macaque is one of the best-known Old World monkey species. Besides humans, they are the only primates that...
is called the "Barbary ape".
The New World monkeys are classified within the parvorder Platyrrhini, whereas the Old World monkeys (superfamily Cercopithecoidea) form part of the parvorder
Catarrhini
Catarrhini
Catarrhini is one of the two subdivisions of the higher primates . It contains the Old World monkeys and the apes, which in turn are further divided into the lesser apes or gibbons and the great apes, consisting of the orangutans, gorillas, chimpanzees, bonobos, and humans...
, which also includes the hominoids (apes and humans).