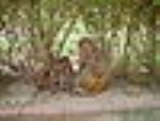 Rhesus Macaque
The
Rhesus macaque
also called the
Rhesus monkey
, is one of the best-known species of
Old World monkey
Old World monkey
The Old World monkeys or Cercopithecidae are a group of primates, falling in the superfamily Cercopithecoidea in the clade Catarrhini. The Old World monkeys are native to Africa and Asia today, inhabiting a range of environments from tropical rain forest to savanna, shrubland and mountainous...
s. It is listed as
Least Concern
Least Concern
Least Concern is an IUCN category assigned to extant taxon or lower taxa which have been evaluated but do not qualify for any other category. As such they do not qualify as threatened, Near Threatened, or Conservation Dependent...
in the IUCN Red List of Threatened Species in view of its wide distribution, presumed large population, and its tolerance of a broad range of habitats. Native to
South
South Asia
South Asia, also known as Southern Asia, is the southern region of the Asian continent, which comprises the sub-Himalayan countries and, for some authorities , also includes the adjoining countries to the west and the east...
,
Central
Central Asia
Central Asia is a core region of the Asian continent from the Caspian Sea in the west, China in the east, Afghanistan in the south, and Russia in the north...
and
Southeast Asia
Southeast Asia
Southeast Asia, South-East Asia, South East Asia or Southeastern Asia is a subregion of Asia, consisting of the countries that are geographically south of China, east of India, west of New Guinea and north of Australia. The region lies on the intersection of geological plates, with heavy seismic...
, troops of
Macaca mulatta
inhabit a great variety of habitats from grasslands to arid and forested areas, but also close to human settlements.
The Rhesus macaque is brown or grey in color and has a pink face, which is bereft of fur.