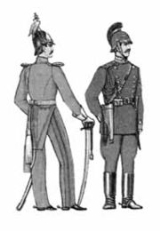 Russian Ministry of Internal Affairs
The
Ministerstvo Vnutrennikh Del
(
MVD
) (МВД or Министерство внутренних дел) is the interior ministry of
Russia
Russia
Russia or , officially known as both Russia and the Russian Federation , is a country in northern Eurasia. It is a federal semi-presidential republic, comprising 83 federal subjects...
. Its predecessor was founded in 1802 by Alexander I in Imperial Russia. The Ministry is headquartered in
Moscow
Moscow
Moscow is the capital, the most populous city, and the most populous federal subject of Russia. The city is a major political, economic, cultural, scientific, religious, financial, educational, and transportation centre of Russia and the continent...
.
Created by
Alexander I
Alexander I of Russia
Alexander I of Russia , served as Emperor of Russia from 23 March 1801 to 1 December 1825 and the first Russian King of Poland from 1815 to 1825. He was also the first Russian Grand Duke of Finland and Lithuania....
on 28 March 1802 in the process of
government reform
Government reform of Alexander I
The early Russian system of government instituted by Peter the Great, which consisted of various state committees, each named Collegium with subordinate departments named Prikaz, was largely outdated by the 19th century...
s to replace the aging
collegia
Collegium (ministry)
The collegia were government departments in Imperial Russia, established in 1717 by Peter the Great...
of
Peter the Great
Peter I of Russia
Peter the Great, Peter I or Pyotr Alexeyevich Romanov Dates indicated by the letters "O.S." are Old Style. All other dates in this article are New Style. ruled the Tsardom of Russia and later the Russian Empire from until his death, jointly ruling before 1696 with his half-brother, Ivan V...
, the MVD was one of the most powerful governmental bodies of the Empire, responsible for the
police
Police
The police is a personification of the state designated to put in practice the enforced law, protect property and reduce civil disorder in civilian matters. Their powers include the legitimized use of force...
forces and Internal Guards and the supervision of
gubernial
Guberniya
A guberniya was a major administrative subdivision of the Russian Empire usually translated as government, governorate, or province. Such administrative division was preserved for sometime upon the collapse of the empire in 1917. A guberniya was ruled by a governor , a word borrowed from Latin ,...
administrations.