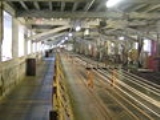 Ropewalk
A
ropewalk
is a long straight narrow
lane
Lane
A lane is a part of the roadway within a road marked out for use by a single line of vehicles in such a way as to control and guide drivers for the purpose of reducing traffic conflicts. Most public roads have at least two lanes, one for traffic in each direction, separated by Lane markings...
, or a covered pathway, where long strands of material were laid before being twisted into
rope
Rope
A rope is a length of fibres, twisted or braided together to improve strength for pulling and connecting. It has tensile strength but is too flexible to provide compressive strength...
.
Ropewalks historically were harsh sweatshops, and frequently caught on fire, as hemp dust forms an explosive mixture. Rope was essential in sailing ships and the standard length for a British Naval Rope was 1000 ft (305 m). A sailing ship such as
HMS Victory
HMS Victory
HMS Victory is a 104-gun first-rate ship of the line of the Royal Navy, laid down in 1759 and launched in 1765. She is most famous as Lord Nelson's flagship at the Battle of Trafalgar in 1805....
required over 20 miles (32 km) of rope.
Downtown
Liverpool
Liverpool
Liverpool is a city and metropolitan borough of Merseyside, England, along the eastern side of the Mersey Estuary. It was founded as a borough in 1207 and was granted city status in 1880...
's bohemian Ropewalks district takes its name from this practice and consists of the lanes where this work once took place.

The ropewalk at
Chatham Dockyard
Chatham Dockyard
Chatham Dockyard, located on the River Medway and of which two-thirds is in Gillingham and one third in Chatham, Kent, England, came into existence at the time when, following the Reformation, relations with the Catholic countries of Europe had worsened, leading to a requirement for additional...
is still producing rope commercially, and the rope walk has an internal length of 1,135 ft (346 m). When it was constructed in 1790 it was the longest brick building in Europe. Before steam power was introduced in 1836, it took over 200 men to form and close a 20-inch (
circumference
Circumference
The circumference is the distance around a closed curve. Circumference is a special perimeter.-Circumference of a circle:The circumference of a circle is the length around it....
) cable laid rope. The rope walk is used to form and close the rope, these being the final stages in rope making. Before this the raw
hemp
Hemp
Hemp is mostly used as a name for low tetrahydrocannabinol strains of the plant Cannabis sativa, of fiber and/or oilseed varieties. In modern times, hemp has been used for industrial purposes including paper, textiles, biodegradable plastics, construction, health food and fuel with modest...
,
manila hemp
Manila hemp
Manila hemp, also known as manilla, is a type of fiber obtained from the leaves of the abacá , a relative of the banana. It is mostly used for pulping for a range of uses, including speciality papers. It was once used mainly to make manila rope, but this is now of minor importance...
or
sisal
Sisal
Sisal is an agave that yields a stiff fibre traditionally used in making twine, rope and also dartboards. The term may refer either to the plant or the fibre, depending on context...
has to be hatchelled, spun into
yarn
Yarn
Yarn is a long continuous length of interlocked fibres, suitable for use in the production of textiles, sewing, crocheting, knitting, weaving, embroidery and ropemaking. Thread is a type of yarn intended for sewing by hand or machine. Modern manufactured sewing threads may be finished with wax or...
, and
tarred
Tar
Tar is modified pitch produced primarily from the wood and roots of pine by destructive distillation under pyrolysis. Production and trade in tar was a major contributor in the economies of Northern Europe and Colonial America. Its main use was in preserving wooden vessels against rot. The largest...
.
External links