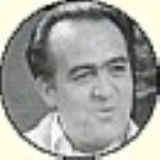 Ronald Radd
Ronald Radd
was a
British
United Kingdom
The United Kingdom of Great Britain and Northern IrelandIn the United Kingdom and Dependencies, other languages have been officially recognised as legitimate autochthonous languages under the European Charter for Regional or Minority Languages...
television actor.
Radd starred in some 60 different TV shows between 1955 and 1976 including
The Avengers
The Avengers (TV series)
The Avengers is a spy-fi British television series set in the 1960s Britain. The Avengers initially focused on Dr. David Keel and his assistant John Steed . Hendry left after the first series and Steed became the main character, partnered with a succession of assistants...
,
Danger Man
Danger Man
Danger Man is a British television series that was broadcast between 1960 and 1962, and again between 1964 and 1968. The series featured Patrick McGoohan as secret agent John Drake. Ralph Smart created the program and wrote many of the scripts...
, and
Z-Cars
Z-Cars
Z-Cars is a British television drama series centred on the work of mobile uniformed police in the fictional town of Newtown, based on Kirkby in the outskirts of Liverpool in Merseyside. Produced by the BBC, it debuted in January 1962 and ran until September 1978.-Origins:The series was developed by...
. He also played the role of the villain Pargiter in
Randall and Hopkirk (Deceased)
Randall and Hopkirk (Deceased)
Randall and Hopkirk , first transmitted during 1969-70, is a British private detective television series starring Mike Pratt and Kenneth Cope as the private detectives Jeff Randall and Marty Hopkirk, respectively. The series was originally created by Dennis Spooner and produced by Monty Berman...
in 1969 in the sixth episode, "
Just for the Record
Just for the Record
Just for the record is the sixth episode of the popular 1969 ITC British television series Randall and Hopkirk starring Mike Pratt, Kenneth Cope and Annette Andre. The episode was first broadcast on 25 October 1969 on ITV...
" where he grew a lengthy beard resembling
Henry VIII of England
Henry VIII of England
Henry VIII was King of England from 21 April 1509 until his death. He was Lord, and later King, of Ireland, as well as continuing the nominal claim by the English monarchs to the Kingdom of France...
.
Radd began as a stage actor in the Alexandra Theatre in
Birmingham
Birmingham
Birmingham is a city and metropolitan borough in the West Midlands of England. It is the most populous British city outside the capital London, with a population of 1,036,900 , and lies at the heart of the West Midlands conurbation, the second most populous urban area in the United Kingdom with a...
in the early-1950s, along with the likes of
Leslie Sands
Leslie Sands
Leslie Sands was a British actor and writer of TV and film. Born in Bradford, Yorkshire, Sands usually specialized in dour types in authority, often policemen....
and
Edward Mulhare
Edward Mulhare
Edward Mulhare was a popular television actor whose career spanned four decades.Born at 22 Quaker Road, Cork City, County Cork, Ireland, and educated by the Irish Christian Brothers, Mulhare intended to study medicine, but was sidetracked by a growing interest in acting...
. By 1954, Radd had graduated to the
West End
West End theatre
West End theatre is a popular term for mainstream professional theatre staged in the large theatres of London's 'Theatreland', the West End. Along with New York's Broadway theatre, West End theatre is usually considered to represent the highest level of commercial theatre in the English speaking...
, where he was a most unlikely co-star with
Kenneth Williams
Kenneth Williams
Kenneth Charles Williams was an English comic actor and comedian. He was one of the main ensemble in 26 of the Carry On films, and appeared in numerous British television shows, and radio comedies with Tony Hancock and Kenneth Horne.-Life and career:Kenneth Charles Williams was born on 22 February...
in two different productions in the
Apollo Theatre
Apollo Theatre
The Apollo Theatre is a Grade II listed West End theatre, on Shaftesbury Avenue in the City of Westminster. Designed by architect Lewin Sharp for owner Henry Lowenfield, and the fourth legitimate theatre to be constructed on the street, its doors opened on 21 February 1901 with the American...
in February 1956,
The Buccaneer
and
The Boyfriend
. Several months later, he was again with Kenneth Williams in a revival (at the Winter Garden) of Feydeau's
Hotel Paradiso
, but the billing went to
Alec Guinness
Alec Guinness
Sir Alec Guinness, CH, CBE was an English actor. He was featured in several of the Ealing Comedies, including Kind Hearts and Coronets in which he played eight different characters. He later won the Academy Award for Best Actor for his role as Colonel Nicholson in The Bridge on the River Kwai...
, who made a film of it years later, but not with Radd or Williams.
Radd gradually lost interest in
theatre
Theatre
Theatre is a collaborative form of fine art that uses live performers to present the experience of a real or imagined event before a live audience in a specific place. The performers may communicate this experience to the audience through combinations of gesture, speech, song, music or dance...
and broke into television in
Ordeal by Fire
in 1957 as a dastardly Frenchman, a single play costume piece involving
Joan of Arc
Joan of Arc
Saint Joan of Arc, nicknamed "The Maid of Orléans" , is a national heroine of France and a Roman Catholic saint. A peasant girl born in eastern France who claimed divine guidance, she led the French army to several important victories during the Hundred Years' War, which paved the way for the...
(played by
Elizabeth Sellars
Elizabeth Sellars
Elizabeth Sellars is a British actress.Sellars was born in Glasgow, Scotland. She appeared on the stage from age 15 and trained at the Royal Academy of Dramatic Arts...
) with
Peter Wyngarde
Peter Wyngarde
Peter Paul Wyngarde is an Anglo-French actor best known for playing the character Jason King, a bestselling novelist turned sleuth, in two British television series in the late 1960s and early 1970s: Department S and Jason King .-Biography:He was born Cyril Goldbert in Marseilles, France, the...
and
Patrick Troughton
Patrick Troughton
Patrick George Troughton was an English actor most widely known for his roles in fantasy, science fiction and horror films, particularly in his role as the second incarnation of the Doctor in the long-running British science-fiction television series Doctor Who, which he played from 1966 to 1969,...
whom he later starred in with in 1958 in the BBC production of
A Tale Of Two Cities
A Tale of Two Cities
A Tale of Two Cities is a novel by Charles Dickens, set in London and Paris before and during the French Revolution. With well over 200 million copies sold, it ranks among the most famous works in the history of fictional literature....
.
Radd's next few TV credits actually took place across the Atlantic; this was less unusual then than now, with many of the American networks' studios still being located in
New York
New York
New York is a state in the Northeastern region of the United States. It is the nation's third most populous state. New York is bordered by New Jersey and Pennsylvania to the south, and by Connecticut, Massachusetts and Vermont to the east...
, where many British actors were working in the
theatre
Theatre
Theatre is a collaborative form of fine art that uses live performers to present the experience of a real or imagined event before a live audience in a specific place. The performers may communicate this experience to the audience through combinations of gesture, speech, song, music or dance...
. Radd made a number of appearances in the
CBC
Canadian Broadcasting Corporation
The Canadian Broadcasting Corporation, commonly known as CBC and officially as CBC/Radio-Canada, is a Canadian crown corporation that serves as the national public radio and television broadcaster...
production
The Shari Lewis Show
The Shari Lewis Show
The Shari Lewis Show was an American Saturday morning television program for children which appeared on NBC from 1960 to 1963.The show starred Shari Lewis who was both the show's host and the puppeteer for the characters Lamb Chop, Hush Puppy and Charlie Horse. The show also starred Ronald Radd who...
between 1960 and 1963, and in 1960 appeared in the production of
Eugene O'Neill
Eugene O'Neill
Eugene Gladstone O'Neill was an American playwright and Nobel laureate in Literature. His poetically titled plays were among the first to introduce into American drama techniques of realism earlier associated with Russian playwright Anton Chekhov, Norwegian playwright Henrik Ibsen, and Swedish...
's
The Iceman Cometh
The Iceman Cometh
The Iceman Cometh is a play written by American playwright Eugene O'Neill in 1939. First published in 1940 the play premiered on Broadway at the Martin Beck Theatre on 9 October 1946, directed by Eddie Dowling where it ran for 136 performances to close on 15 March 1947.-Characters:* Night Hawk-...
directed by
Sidney Lumet
Sidney Lumet
Sidney Lumet was an American director, producer and screenwriter with over 50 films to his credit. He was nominated for the Academy Award as Best Director for 12 Angry Men , Dog Day Afternoon , Network and The Verdict...
, who also directed him in the 1968
feature film
Feature film
In the film industry, a feature film is a film production made for initial distribution in theaters and being the main attraction of the screening, rather than a short film screened before it; a full length movie...
adaptation of
The Sea Gull
The Sea Gull
The Sea Gull is a 1968 British-American-Greek drama film directed by Sidney Lumet. The screenplay by Moura Budberg is adapted from Anton Chekhov's classic 1896 play The Seagull....
. In 1969 he appeared in
John Huston
John Huston
John Marcellus Huston was an American film director, screenwriter and actor. He wrote most of the 37 feature films he directed, many of which are today considered classics: The Maltese Falcon , The Treasure of the Sierra Madre , Key Largo , The Asphalt Jungle , The African Queen , Moulin Rouge...
's
The Kremlin Letter
The Kremlin Letter
The Kremlin Letter is an American noir film directed by John Huston, starring Richard Boone, Orson Welles, Max von Sydow, Bibi Andersson, Patrick O'Neal and George Sanders. It was released in February 1970 by 20th Century-Fox...
. Radd worked alongside actors such as a very young
Robert Redford
Robert Redford
Charles Robert Redford, Jr. , better known as Robert Redford, is an American actor, film director, producer, businessman, environmentalist, philanthropist, and founder of the Sundance Film Festival. He has received two Oscars: one in 1981 for directing Ordinary People, and one for Lifetime...
and
Jason Robards
Jason Robards
Jason Nelson Robards, Jr. was an American actor on stage, and in film and television, and a winner of the Tony Award , two Academy Awards and the Emmy Award...
. A busy year Radd also appeared in the
NBC
NBC
The National Broadcasting Company is an American commercial broadcasting television network and former radio network headquartered in the GE Building in New York City's Rockefeller Center with additional major offices near Los Angeles and in Chicago...
production of
The Tempest
The Tempest
The Tempest is a play by William Shakespeare, believed to have been written in 1610–11, and thought by many critics to be the last play that Shakespeare wrote alone. It is set on a remote island, where Prospero, the exiled Duke of Milan, plots to restore his daughter Miranda to her rightful place,...
playing the role of the drunkard Stefano, alongside acclaimed actors such as
Richard Burton
Richard Burton
Richard Burton, CBE was a Welsh actor. He was nominated seven times for an Academy Award, six of which were for Best Actor in a Leading Role , and was a recipient of BAFTA, Golden Globe and Tony Awards for Best Actor. Although never trained as an actor, Burton was, at one time, the highest-paid...
who portrayed Caliban and
Maurice Evans
Maurice Evans (actor)
Maurice Herbert Evans was an English actor noted for his interpretations of Shakespearean characters. In terms of his screen roles, he is probably best known as Dr...
, star of many
Hallmark
Hallmark
A hallmark is an official mark or series of marks struck on items made of precious metals — platinum, gold, silver and in some nations, palladium...
productions later.
In 1971 he was nominated for
Broadway
Broadway theatre
Broadway theatre, commonly called simply Broadway, refers to theatrical performances presented in one of the 40 professional theatres with 500 or more seats located in the Theatre District centered along Broadway, and in Lincoln Center, in Manhattan in New York City...
's
Tony Award
Tony Award
The Antoinette Perry Award for Excellence in Theatre, more commonly known as a Tony Award, recognizes achievement in live Broadway theatre. The awards are presented by the American Theatre Wing and The Broadway League at an annual ceremony in New York City. The awards are given for Broadway...
as Best Supporting or Featured actor.
He died in
Toronto
Toronto
Toronto is the provincial capital of Ontario and the largest city in Canada. It is located in Southern Ontario on the northwestern shore of Lake Ontario. A relatively modern city, Toronto's history dates back to the late-18th century, when its land was first purchased by the British monarchy from...
,
Ontario
Ontario
Ontario is a province of Canada, located in east-central Canada. It is Canada's most populous province and second largest in total area. It is home to the nation's most populous city, Toronto, and the nation's capital, Ottawa....
,
Canada
Canada
Canada is a North American country consisting of ten provinces and three territories. Located in the northern part of the continent, it extends from the Atlantic Ocean in the east to the Pacific Ocean in the west, and northward into the Arctic Ocean...
of a brain hemorrhage in 1976 aged 47.
Selected filmography
The Camp on Blood Island

The Camp on Blood Island

The Camp on Blood Island is a 1958 British World War II film, directed by Val Guest for Hammer Film Productions and starring Carl Möhner, André Morrel, Edward Underdown and Walter Fitzgerald....


(1958)
Up Jumped a Swagman

Up Jumped a Swagman

Up Jumped a Swagman is a 1965 British musical comedy film directed by Christopher Miles and starring Frank Ifield, Annette Andre, Ronald Radd and Suzy Kendall...


(1965)
Mister Ten Per Cent

Mister Ten Per Cent

Mister Ten Per Cent is a 1967 British comedy film, directed by Peter Graham Scott and starring Charlie Drake.-Plot:Percy Pointer, a construction worker and amateur dramatist, writes a drama 'Oh My Lord' and hopes to have it professionally produced. A dishonest producer agrees to back the play,...


(1967)
The Double Man

The Double Man

The Double Man is a book of poems by W. H. Auden, published in 1941. The title of the UK edition, published later the same year was New Year Letter....


(1967)
The Sea Gull

The Sea Gull

The Sea Gull is a 1968 British-American-Greek drama film directed by Sidney Lumet. The screenplay by Moura Budberg is adapted from Anton Chekhov's classic 1896 play The Seagull....


(1968)
Can Heironymus Merkin Ever Forget Mercy Humppe and Find True Happiness? (1969)
The Kremlin Letter

The Kremlin Letter

The Kremlin Letter is an American noir film directed by John Huston, starring Richard Boone, Orson Welles, Max von Sydow, Bibi Andersson, Patrick O'Neal and George Sanders. It was released in February 1970 by 20th Century-Fox...


(1970)
The Offence

The Offence

The Offence is a 1972 drama film, based upon the acclaimed 1968 stage play This Story of Yours by John Hopkins, directed by Sidney Lumet under the working title Something Like the Truth. It stars Sean Connery as police detective Johnson, who kills Kenneth Baxter , a suspected child molester, while...


(1973)
Galileo (1975)
The Spiral Staircase

The Spiral Staircase (1975 film)

The Spiral Staircase is a 1975 British film directed by Peter Collinson. It is a remake of the 1945 film The Spiral Staircase.-Cast:* Jacqueline Bisset as Helen Mallory* Christopher Plummer as Dr. Joe Sherman* John Phillip Law as Steven Sherman...


(1975)
Operation Daybreak

Operation Daybreak

Operation Daybreak is a 1975 World War II film based on the true story of the assassination of Reinhard Heydrich in Prague - starring Anthony Andrews, Timothy Bottoms and Martin Shaw. It was directed by Lewis Gilbert and shot mostly on location in Prague. It was adapted from the book Seven Men...


(1975)
External links