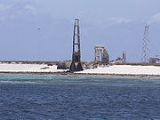 Rocas Atoll
The
Rocas Atoll
is an
atoll
Atoll
An atoll is a coral island that encircles a lagoon partially or completely.- Usage :The word atoll comes from the Dhivehi word atholhu OED...
in the
Atlantic Ocean
Atlantic Ocean
The Atlantic Ocean is the second-largest of the world's oceanic divisions. With a total area of about , it covers approximately 20% of the Earth's surface and about 26% of its water surface area...
, belonging to the
Brazilian State
of
Rio Grande do Norte
Rio Grande do Norte
Rio Grande do Norte is one of the states of Brazil, located in the northeastern region of the country, occupying the northeasternmost tip of the South American continent. Because of its geographic position, Rio Grande do Norte has a strategic importance. The capital and largest city is Natal...
. It is located approximately 260 km (161.6 mi) northeast of
Natal
Natal, Rio Grande do Norte
-History:The northeastern tip of South America, Cabo São Roque, to the north of Natal and the closest point to Europe from Latin America, was first visited by European navigators in 1501, in the 1501–1502 Portuguese expedition led by Amerigo Vespucci, who named the spot after the saint of the day...
and 145 km (90.1 mi) west of the
archipelago
Archipelago
An archipelago , sometimes called an island group, is a chain or cluster of islands. The word archipelago is derived from the Greek ἄρχι- – arkhi- and πέλαγος – pélagos through the Italian arcipelago...
of
Fernando de Noronha
Fernando de Noronha
Fernando de Noronha is an archipelago of 21 islands and islets in the Atlantic Ocean, offshore from the Brazilian coast. The main island has an area of and had a population of 3,012 in the year 2010...
. The atoll is of volcanic origin and coralline formation.
Description
The oval atoll is 3.7 kilometres (2.3 mi) long and 2.5 kilometres (1.6 mi) wide. The
lagoon
Lagoon
A lagoon is a body of shallow sea water or brackish water separated from the sea by some form of barrier. The EU's habitat directive defines lagoons as "expanses of shallow coastal salt water, of varying salinity or water volume, wholly or partially separated from the sea by sand banks or shingle,...
is up to 6 metres (19.7 ft) deep and has an area of 7.1 square kilometres (2.7 sq mi). The land area of the two islets (Cemitério Island, southwest and Farol Cay, northwest) is 0.36 square kilometres (89 acre). Farol Cay accounts for almost two thirds of the aggregate area. The highest point is a sand
dune
Dune
In physical geography, a dune is a hill of sand built by wind. Dunes occur in different forms and sizes, formed by interaction with the wind. Most kinds of dunes are longer on the windward side where the sand is pushed up the dune and have a shorter "slip face" in the lee of the wind...
in the south of larger Farol Cay, with a height of 6 metres (19.7 ft). Both islets are overgrown with grasses, bushes and a few palm trees. There are crabs, spiders, scorpions, sand fleas, beetles, large roaches, and many species of birds.
There is a lighthouse of the
Brazilian Navy
Brazilian Navy
The Brazilian Navy is a branch of the Brazilian Armed Forces responsible for conducting naval operations. It is the largest navy in Latin America...
that has been in operation and maintained since the 1960s, at the Northern end of Farol Bay. In its vicinity is a derelict lighthouse from 1933.
The atoll is a wildlife sanctuary, and in 2001 was designated by
UNESCO
UNESCO
The United Nations Educational, Scientific and Cultural Organization is a specialized agency of the United Nations...
as a
World Heritage Site
World Heritage Site
A UNESCO World Heritage Site is a place that is listed by the UNESCO as of special cultural or physical significance...
. Numerous
turtle
Turtle
Turtles are reptiles of the order Testudines , characterised by a special bony or cartilaginous shell developed from their ribs that acts as a shield...
s,
shark
Shark
Sharks are a type of fish with a full cartilaginous skeleton and a highly streamlined body. The earliest known sharks date from more than 420 million years ago....
s,
dolphin
Dolphin
Dolphins are marine mammals that are closely related to whales and porpoises. There are almost forty species of dolphin in 17 genera. They vary in size from and , up to and . They are found worldwide, mostly in the shallower seas of the continental shelves, and are carnivores, mostly eating...
s and
bird
Bird
Birds are feathered, winged, bipedal, endothermic , egg-laying, vertebrate animals. Around 10,000 living species and 188 families makes them the most speciose class of tetrapod vertebrates. They inhabit ecosystems across the globe, from the Arctic to the Antarctic. Extant birds range in size from...
s live in the area. The atoll consists mainly of
coral
Coral
Corals are marine animals in class Anthozoa of phylum Cnidaria typically living in compact colonies of many identical individual "polyps". The group includes the important reef builders that inhabit tropical oceans and secrete calcium carbonate to form a hard skeleton.A coral "head" is a colony of...
and red
algae
Algae
Algae are a large and diverse group of simple, typically autotrophic organisms, ranging from unicellular to multicellular forms, such as the giant kelps that grow to 65 meters in length. They are photosynthetic like plants, and "simple" because their tissues are not organized into the many...
. The coral ring is almost closed, with a 200 metres (656.2 ft) wide channel on the North side and a much narrower channel on the West side.
A biological
reserve
Nature reserve
A nature reserve is a protected area of importance for wildlife, flora, fauna or features of geological or other special interest, which is reserved and managed for conservation and to provide special opportunities for study or research...
, it is currently used solely for scientific research.
Due to their remote location, the islands remain largely undisturbed by the human activities. On the other hand, it also limits researchers' access to the islands and few studies have been developed in this
atoll
Atoll
An atoll is a coral island that encircles a lagoon partially or completely.- Usage :The word atoll comes from the Dhivehi word atholhu OED...
. The entomological
fauna
Fauna
Fauna or faunæ is all of the animal life of any particular region or time. The corresponding term for plants is flora.Zoologists and paleontologists use fauna to refer to a typical collection of animals found in a specific time or place, e.g. the "Sonoran Desert fauna" or the "Burgess shale fauna"...
from Atol das Rocas was already recorded.
Pop culture
The atoll was the site of a missile attack on a Cobra satellite communications tracking station and robotics storage center, in the
G.I. Joe
G.I. Joe (comics)
G.I. Joe has been the title of comic strips and comic books in every decade since 1942. As a licensed property by Hasbro, comics have been released from 1967 to present, with only two interruptions longer than a year . As a team fighting Cobra since 1982, the comic book history of G.I...
comic title from
Marvel Comics
Marvel Comics
Marvel Worldwide, Inc., commonly referred to as Marvel Comics and formerly Marvel Publishing, Inc. and Marvel Comics Group, is an American company that publishes comic books and related media...
.
External links