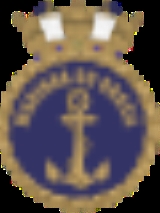 Brazilian Navy
The
Brazilian Navy
is a branch of the Brazilian Armed Forces responsible for conducting
naval
Navy
A navy is the branch of a nation's armed forces principally designated for naval and amphibious warfare; namely, lake- or ocean-borne combat operations and related functions...
operations. It is the largest navy in
Latin America
Latin America
Latin America is a region of the Americas where Romance languages – particularly Spanish and Portuguese, and variably French – are primarily spoken. Latin America has an area of approximately 21,069,500 km² , almost 3.9% of the Earth's surface or 14.1% of its land surface area...
. It is equipped with a 32,800-ton
aircraft carrier
Aircraft carrier
An aircraft carrier is a warship designed with a primary mission of deploying and recovering aircraft, acting as a seagoing airbase. Aircraft carriers thus allow a naval force to project air power worldwide without having to depend on local bases for staging aircraft operations...
, the NAe
São Paulo
(formerly
Foch
of the
French Navy
French Navy
The French Navy, officially the Marine nationale and often called La Royale is the maritime arm of the French military. It includes a full range of fighting vessels, from patrol boats to a nuclear powered aircraft carrier and 10 nuclear-powered submarines, four of which are capable of launching...
), British-built
frigate
Frigate
A frigate is any of several types of warship, the term having been used for ships of various sizes and roles over the last few centuries.In the 17th century, the term was used for any warship built for speed and maneuverability, the description often used being "frigate-built"...
s, locally built
corvette
Corvette
A corvette is a small, maneuverable, lightly armed warship, originally smaller than a frigate and larger than a coastal patrol craft or fast attack craft , although many recent designs resemble frigates in size and role...
s, coastal diesel-electric
submarine
Submarine
A submarine is a watercraft capable of independent operation below the surface of the water. It differs from a submersible, which has more limited underwater capability...
s and many other river and coastal patrol craft, among other vehicles.
The origin of the weapon goes back to the
Portuguese Navy
Portuguese Navy
The Portuguese Navy is the naval branch of the Portuguese Armed Forces which, in cooperation and integrated with the other branches of the Portuguese military, is charged with the military defence of Portugal....
, already existing since the 12th century.