 Rhynie chert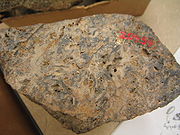 The
Rhynie chert
is an Early
Devonian
Devonian
The Devonian is a geologic period and system of the Paleozoic Era spanning from the end of the Silurian Period, about 416.0 ± 2.8 Mya , to the beginning of the Carboniferous Period, about 359.2 ± 2.5 Mya...
sedimentary deposit
Sedimentary rock
Sedimentary rock are types of rock that are formed by the deposition of material at the Earth's surface and within bodies of water. Sedimentation is the collective name for processes that cause mineral and/or organic particles to settle and accumulate or minerals to precipitate from a solution....
exhibiting extraordinary
fossil
Fossil
Fossils are the preserved remains or traces of animals , plants, and other organisms from the remote past...
detail or completeness (a
Lagerstätte
Lagerstätte
A Lagerstätte is a sedimentary deposit that exhibits extraordinary fossil richness or completeness.Palaeontologists distinguish two kinds....
). It is exposed near the village of Rhynie, Aberdeenshire,
Scotland
Scotland
Scotland is a country that is part of the United Kingdom. Occupying the northern third of the island of Great Britain, it shares a border with England to the south and is bounded by the North Sea to the east, the Atlantic Ocean to the north and west, and the North Channel and Irish Sea to the...
; a second unit, the
Windyfield chert
, is located some 700 m away. The Rhynie chert contains exceptionally preserved plant, fungus, lichen and animal material preserved in place by an overlying
volcanic deposit
Volcanic rock
Volcanic rock is a rock formed from magma erupted from a volcano. In other words, it is an igneous rock of volcanic origin...
. The bulk of the fossil bed consists of primitive
plant
Plant
Plants are living organisms belonging to the kingdom Plantae. Precise definitions of the kingdom vary, but as the term is used here, plants include familiar organisms such as trees, flowers, herbs, bushes, grasses, vines, ferns, mosses, and green algae. The group is also called green plants or...
s (which had
water-conducting cells
Xylem
Xylem is one of the two types of transport tissue in vascular plants. . The word xylem is derived from the Classical Greek word ξυλον , meaning "wood"; the best-known xylem tissue is wood, though it is found throughout the plant...
and sporangia, but no true
leaves
Leaf
A leaf is an organ of a vascular plant, as defined in botanical terms, and in particular in plant morphology. Foliage is a mass noun that refers to leaves as a feature of plants....
), along with
arthropod
Arthropod
An arthropod is an invertebrate animal having an exoskeleton , a segmented body, and jointed appendages. Arthropods are members of the phylum Arthropoda , and include the insects, arachnids, crustaceans, and others...
s, lichens, algae and fungi.
This fossil bed is remarkable for two reasons. First, the age of the site (Pragian,
Early Devonian
Devonian
The Devonian is a geologic period and system of the Paleozoic Era spanning from the end of the Silurian Period, about 416.0 ± 2.8 Mya , to the beginning of the Carboniferous Period, about 359.2 ± 2.5 Mya...
, formed about ) places it at an early stage in the colonisation of land. Second, these
chert
Chert
Chert is a fine-grained silica-rich microcrystalline, cryptocrystalline or microfibrous sedimentary rock that may contain small fossils. It varies greatly in color , but most often manifests as gray, brown, grayish brown and light green to rusty red; its color is an expression of trace elements...
s are famous for their exceptional state of
ultrastructural
Ultrastructure
Ultrastructure is the detailed structure of a biological specimen, such as a cell, tissue, or organ, that can be observed by electron microscopy...
preservation, with individual cell walls easily visible in polished specimens. Stomata have been counted and
lignin
Lignin
Lignin or lignen is a complex chemical compound most commonly derived from wood, and an integral part of the secondary cell walls of plants and some algae. The term was introduced in 1819 by de Candolle and is derived from the Latin word lignum, meaning wood...
remnants detected in the plant material, and the breathing apparatus of trigonotarbids-of the class Arachnida-(known as
book lung
Book lung
A book lung is a type of respiration organ used for atmospheric gas exchange and is found in arachnids, such as scorpions and spiders. Each of these organs is found inside a ventral abdominal cavity and connects with the surroundings through a small opening. Book lungs are not related to the lungs...
s) can be seen in cross-sections. Fungal
hypha
Hypha
A hypha is a long, branching filamentous structure of a fungus, and also of unrelated Actinobacteria. In most fungi, hyphae are the main mode of vegetative growth, and are collectively called a mycelium; yeasts are unicellular fungi that do not grow as hyphae.-Structure:A hypha consists of one or...
e can be seen entering plant material, acting as decomposers and
mycorrhiza
Mycorrhiza
A mycorrhiza is a symbiotic association between a fungus and the roots of a vascular plant....
l
symbionts
Symbiosis
Symbiosis is close and often long-term interaction between different biological species. In 1877 Bennett used the word symbiosis to describe the mutualistic relationship in lichens...
.
Location
The bed lies under at least 1 metre of
overburden
Overburden
Overburden is the material that lies above an area of economic or scientific interest in mining and archaeology; most commonly the rock, soil, and ecosystem that lies above a coal seam or ore body. It is also known as 'waste' or 'spoil'...
, in a single small field near the village of Rhynie, so is effectively inaccessible to collectors; besides which, the site is a
Site of Special Scientific Interest
Site of Special Scientific Interest
A Site of Special Scientific Interest is a conservation designation denoting a protected area in the United Kingdom. SSSIs are the basic building block of site-based nature conservation legislation and most other legal nature/geological conservation designations in Great Britain are based upon...
. A second unit, the
Windyfield chert
, is located some 700 m from the Rhynie. The Rhynie chert extends for at least 80 m along
strike
Strike and dip
Strike and dip refer to the orientation or attitude of a geologic feature. The strike line of a bed, fault, or other planar feature is a line representing the intersection of that feature with a horizontal plane. On a geologic map, this is represented with a short straight line segment oriented...
and 90 m down-dip.
History of research
The chert was discovered by William Mackie while mapping the western margin of the Rhynie basin in 1910–1913. Trenches were cut into the chert at the end of this period, and Kidston & Lang worked furiously to describe the plant fossils between 1917 and 1921. The arthropods were examined soon afterwards by different workers. Interest in the chert then waned until the field was reinvigorated by Lyon in the late 1950s, and new material was collected by further trenching from 1963-71. Since 1980, the chert has been examined by the Münster school, and from 1987 Aberdeen University, who confirmed that the chert was indeed produced by a hot spring setting.
Cores, allowing an insight into the evolution of the chert over time, were drilled in 1988 and 1997, accompanied by further trenching efforts, which unearthed the Windyfield chert.
Until recently, the Rhynie chert was the only such deposit known from the geological record, although recent work has turned up other localities from different time periods and continents.
Conditions of formation
The chert was formed when silica-rich water from volcanic springs rose rapidly and
petrified
Petrifaction
In geology, petrifaction, petrification or silicification is the process by which organic material is converted into stone by impregnation with silica. It is a rare form of fossilization...
the early terrestrial
ecosystem
Ecosystem
An ecosystem is a biological environment consisting of all the organisms living in a particular area, as well as all the nonliving , physical components of the environment with which the organisms interact, such as air, soil, water and sunlight....
,
in situ
and almost instantaneously, in much the same fashion that organisms are petrified by hot springs today - although the astounding fidelity of preservation has not been found in recent deposits. Hot springs, with temperatures between 90 to 120 °C (194 to 248 F), were active in a number of episodes; the water had probably cooled to under 30 °C (86 °F) before it reached the fossilised organisms. Their activity is preserved in 53 beds, 80 mm (3 in) thick on average, over a 35.41 m (116.17 ft) sequence, interbedded with sands, shales and
tuff
Tuff
Tuff is a type of rock consisting of consolidated volcanic ash ejected from vents during a volcanic eruption. Tuff is sometimes called tufa, particularly when used as construction material, although tufa also refers to a quite different rock. Rock that contains greater than 50% tuff is considered...
s - which speak of local volcanic activity. Deposition was very rapid. The fluids originated from a shallowly dipping extensional fault system to the west, which bounded an extensional half-
graben
Graben
In geology, a graben is a depressed block of land bordered by parallel faults. Graben is German for ditch. Graben is used for both the singular and plural....
.
Fossils were formed as silica formed in the hot springs themselves; when silica-rich water flooded the surrounding areas; and when it permeated into the surrounding soil. The texture of the sinter formed resemble those found today in freshwater streams at Yellowstone which are typically alkaline (pH 8.7) and tepid 20 to 28 °C (68 to 82.4 F). The springs were periodically active, and flowed into an alluvial plain containing small lakes. By analogy with Yellowstone, the chert itself probably formed in a marshy area towards the latter end of the extent of outwash from the springs. Living vegetation covered around 55% of the land area, with litter covering 30% and the remaining 15% of the ground being bare.
A braided river flowing to the north periodically deposited the sandy layers found in cores when it flooded its banks.
Sedimentary textures which appear to have formed in the
hydrothermal vent
Hydrothermal vent
A hydrothermal vent is a fissure in a planet's surface from which geothermally heated water issues. Hydrothermal vents are commonly found near volcanically active places, areas where tectonic plates are moving apart, ocean basins, and hotspots. Hydrothermal vents exist because the earth is both...
s themselves are preserved with a
breccia
Breccia
Breccia is a rock composed of broken fragments of minerals or rock cemented together by a fine-grained matrix, that can be either similar to or different from the composition of the fragments....
ted texture; "
geyserite
Geyserite
Geyserite is a form of opaline silica that is often found around hot springs and geysers. Botryoidal geyserite is known as fiorite. It is sometimes referred to as sinter.-References:*...
", a sediment with a botryoidal form reminiscent of modern vent margins, is also found. Spores collected from within surrounding rocks had been heated to different degrees, implying a complex history of local heating by volcanic processes.
Plants
The preservation of plants varies from perfect three dimensional cellular permineralisation to flattened charcoal films. On occasion, plants may have their vertical axes preserved in growth position, with
rhizoid
Rhizoid
Rhizoids are thread-like growths from the base or bottom of a plant, found mainly in lower groups such as algae, fungi, bryophytes and pteridophytes, that function like roots of higher plants ....
s still attached to
rhizome
Rhizome
In botany and dendrology, a rhizome is a characteristically horizontal stem of a plant that is usually found underground, often sending out roots and shoots from its nodes...
s; even the
plant litter
Plant litter
Plant litter, leaf litter or tree litter is dead plant material, such as leaves, bark, needles, and twigs, that has fallen to the ground. Litter provides habitat for small animals, fungi, and plants, and the material may be used to construct nests. As litter decomposes, nutrients are released to...
is preserved.
Plants were only found on the land - none lived in the water of lakes or hot springs.
Rhynia
Rhynia
Rhynia gwynne-vaughanii was the sporophyte generation of a vascular, axial, free-sporing diplohaplontic embryophytic land plant of the Lower Devonian that had anatomical features more advanced than those of the bryophytes, and was basal to modern vascular plants or eutracheophytes.-Description:R...
typically grew on sandy surfaces, and is often preserved there in life position;
Horneophyton
Horneophyton
Horneophyton, a member of the Horneophytopsida, was an early plant which may form a "missing link" between the hornworts and the Rhyniopsida. It is among the most abundant organisms found in the Rhynie chert.-Description:...
grew on , the sediment formed by the hot springs. These two colonisers were subsequently joined by other genera.
The time between sinter deposition events was too short to allow the populations to develop to climax communities, and correspondingly early colonisers appear most frequently, pseudo-randomly, in logged sequences.
Plants demonstrate best the great value of the exceptional preservation of the Rhynie chert. The presence of soft tissue, including
parenchyma
Parenchyma
Parenchyma is a term used to describe a bulk of a substance. It is used in different ways in animals and in plants.The term is New Latin, f. Greek παρέγχυμα - parenkhuma, "visceral flesh", f. παρεγχεῖν - parenkhein, "to pour in" f. para-, "beside" + en-, "in" + khein, "to pour"...
, is not observed elsewhere in the fossil record until the advent of amber in the
Triassic
Triassic
The Triassic is a geologic period and system that extends from about 250 to 200 Mya . As the first period of the Mesozoic Era, the Triassic follows the Permian and is followed by the Jurassic. Both the start and end of the Triassic are marked by major extinction events...
. This allows the study of structures such as the air spaces
behind
stomata, whereas the conventional record at its best allows no more than the counting of stomata. It has also enabled paleobotanists to firmly deduce that plants such as
Aglaophyton
Aglaophyton
Aglaophyton major was the sporophyte generation of a diplohaplontic, pre-vascular, axial, free-sporing land plant of the Lower Devonian . It had anatomical features intermediate between those of the bryophytes and vascular plants or tracheophytes.A. major was first described by Kidston and Lang in...
were
not
aquatic, as once believed. Further, as plants are preserved in situ, the study of exactly how and
why
the branching patterns of the early plants emerged is possible, whereas typical fossils only show that branching was present. The analysis of rhizomes and rhizoids makes it possible to discern which plants had an active water uptake system (e.g.
Horneophyton
Horneophyton
Horneophyton, a member of the Horneophytopsida, was an early plant which may form a "missing link" between the hornworts and the Rhyniopsida. It is among the most abundant organisms found in the Rhynie chert.-Description:...
), and which were likely to have colonised waterlogged surfaces (
Asteroxylon
Asteroxylon
Asteroxylon is an extinct genus of plants of the Division Lycopodiophyta known from anatomically preserved specimens in an Early Devonian deposit of chert at Rhynie, Aberdeenshire in North-East Scotland that has been dated at...
). In some cases, it is possible to see different mechanisms of repairing wounds, and to deduce that they were caused by fungal or bacterial infection.
The preservation of spores attached to sporangia allows spore genera to be matched with their producers - something that is otherwise very difficult to do. The chert also allows the identification of the gametophyte phases of taxa such as
Aglaophyton
Aglaophyton
Aglaophyton major was the sporophyte generation of a diplohaplontic, pre-vascular, axial, free-sporing land plant of the Lower Devonian . It had anatomical features intermediate between those of the bryophytes and vascular plants or tracheophytes.A. major was first described by Kidston and Lang in...
.
Analysis of spores shows that the flora was lacking in some elements common elsewhere at this time, likely due to its setting in a mountainous region, rather than in a lowland flood plain like most other fossil deposits. However, the spores, which are distinctive enough to permit their producing organism to be identified - are identical to those found elsewhere in "normal" environments. There is no clear-cut evidence that the plants of the Rhynie assemblage were specifically adapted to stressed environments, and it is likely that the flora in fact represents those members of the global fauna that happened to be capable of colonising and surviving a hot spring environment by virtue of fortuitous preadaptions.
Seven land plant taxa have been identified in the Rhynie and Windyfield cherts:
Another group, Nematophytes, remains enigmatic, but may represent aquatic land plants.
Algae
Several putative chlorophytes have been discovered in the Rhynie assemblage (
Mackiella
and
Rhynchertia
). A well-preserved charophyte,
Palaeonitella
, which inhabited the alkaline freshwater pools towards the end of the sinter apron, has been characterized.
Arthropods
As a result of its exquisite preservation, the Rhynie chert boasts the most diverse non-marine fauna of its time. Typical members of the Rhynie chert arthropod fauna include the
crustacean
Crustacean
Crustaceans form a very large group of arthropods, usually treated as a subphylum, which includes such familiar animals as crabs, lobsters, crayfish, shrimp, krill and barnacles. The 50,000 described species range in size from Stygotantulus stocki at , to the Japanese spider crab with a leg span...
Lepidocaris
Lepidocaris
Lepidocaris rhyniensis is an extinct species of crustacean. It is the only species known from the order Lipostraca, and is the only abundant animal in the Rhynie chert desposits. It resembles modern Anostraca, to which it is probably closely related, although its relationships to other orders...
, the
euthycarcinoid
Euthycarcinoid
Euthycarcinoida is a group of amphibious freshwater arthropods that until recently were only known from the Carboniferous onwards. A single Ordovician/Silurian individual was identified in the Tumblagooda sandstone in 1993; a Devonian example was added from the Rhynie chert in 2003, and most...
Heterocrania
, the
springtail
Springtail
Springtails form the largest of the three lineages of modern hexapods that are no longer considered insects...
Rhyniella praecursor
Rhyniella praecursor
Rhyniella praecursor is a fossil springtail from the Rhynie chert formed during the Pragian stage of the Early Devonian; for some time it was believed to be the only hexapod from the Early Devonian...
, the
harvestman
Opiliones
Opiliones are an order of arachnids commonly known as harvestmen. , over 6,400 species of harvestmen have been discovered worldwide, although the real number of extant species may exceed 10,000. The order Opiliones can be divided into four suborders: Cyphophthalmi, Eupnoi, Dyspnoi and Laniatores...
Eophalangium sheari
, Acari (mites), and trigonotarbids in the genus
Palaeocharinus
.
The oldest known
insect
Insect
Insects are a class of living creatures within the arthropods that have a chitinous exoskeleton, a three-part body , three pairs of jointed legs, compound eyes, and two antennae...
(
Rhyniognatha hirsti
), which resembles the modern springtails, was found in the Rhynie chert, pushing dates for the origination of insects back to the Silurian period.
Fungi
Fungi known from the Rhynie chert include the
chytridiomycetes
Chytridiomycetes
Chytridiomycetes is a class of fungi. Members are found in soil, fresh water, and saline estuaries. They are primitive fungi, closely related to the true fungi, and are first known from the Rhynie chert. It has recently been redefined to exclude the taxa Neocallimastigomycota and...
, ascomycetes, oomycota (Peronosporomycetes) and glomeromycetes; indeed the only fungal groups
not
yet known from the Rhynie are the Zygomycota (although they may have formed lichens - see later), and the Basidiomycota, the latter of which may not even have evolved by Rhynie time.
The Chytridiomycetes, or Chytrids, are a basal group of fungi, closely related to the true fungi.
The chytrids display a range of behaviour in the Rhynie chert. and forms are known - i.e. some forms grew specialised fruiting bodies while others did not show specialisation in this fashion. may be present, and parasitism is common; one individual has even been found parasitising a germinating gametophyte. The fungi were aquatic, and grew in both plants and algae; they are also found preserved "loose" in the chert matrix. Their flagellate spores are preserved.
The largest organism present in Rhynie was probably a fungus, the enigmatic
Prototaxites
Prototaxites
The genus Prototaxites describes terrestrial organisms known only from fossils dating from the Silu-Devonian, approximately 420 to 370 million years ago. Prototaxites formed large trunk-like structures up to wide, reaching in height, made up of interwoven tubes just in diameter...
, growing as a mound a metre or more taller than anything in the community, whose isotopic composition varied like a saprotroph and whose septate pores resemble those of fungi.
Cyanobacteria
In the rare instances that
cyanobacteria
are found in the fossil record, their presence is usually the subject of much controversy, for their simple form is difficult to distinguish from inorganic structures such as bubbles.
However,
bona fide
cyanobacteria are preserved in the Rhynie chert. The aquatic organisms are thought to belong to the Oscillatoriales section on the basis of biomarker absence. The fossils are filamentous, around 3 μm in diameter, and grew on plants and the sediment itself. They occasionally form structured colonies which go on to create
microbial mat
Microbial mat
A microbial mat is a multi-layered sheet of micro-organisms, mainly bacteria and archaea. Microbial mats grow at interfaces between different types of material, mostly on submerged or moist surfaces but a few survive in deserts. They colonize environments ranging in temperature from –40°C to +120°C...
s.
Lichens
A new genus of lichen,
Winfrenatia
Winfrenatia
Winfrenatia is the oldest known terrestrial lichen, known from the lower Devonian Rhynie Chert.It comprises comprises a thallus, made of layered, aseptate hyphae, with a number of depressions on its top surface. Each depression contains a net of hyphae holding a sheathed cyanobacterium...
, has been recovered from the Rhynie chert. The lichen comprises a thallus, made of layered, aseptate hyphae; a number of depressions are formed on its top surface. Each depression contains a net of hyphae holding a sheathed cyanobacterium. The fungus appears to be related to the Zygomycetes, and the photobiont resembles the
Gloeocapsa
Gloeocapsa
Gloeocapsa is a genus of unicellular photoautotrophic bacteria, , and is a prokaryote. The cells secrete individual gelatinous sheaths which can often be seen as sheaths around recently divided cells within outer sheaths...
and
Chroococcidiopsis
Chroococcidiopsis
Chroococcidiopsis is one of the most primitive cyanobacteria, blue-green algae, known. It is a photosynthetic, coccoidal bacteria and is known for its ability to survive harsh environmental conditions, including both high and low temperatures, high salt content, ionizing radiation, and high salinity...
.
Interactions
The Rhynie chert, by preserving a snapshot of an ecosystem
in situ
in high fidelity, gives a unique opportunity to observe interactions between species and kingdoms. There is evidence of parasitic behaviour by fungi on algae
Palaeonitella
, provoking a
hypertrophic
Hypertrophy
Hypertrophy is the increase in the volume of an organ or tissue due to the enlargement of its component cells. It should be distinguished from hyperplasia, in which the cells remain approximately the same size but increase in number...
response. Herbivory is also evident, judging by boring and piercing wounds in various states of repair, and the mouthparts of arthropods.
Coprolite
Coprolite
A coprolite is fossilized animal dung. Coprolites are classified as trace fossils as opposed to body fossils, as they give evidence for the animal's behaviour rather than morphology. The name is derived from the Greek words κοπρος / kopros meaning 'dung' and λιθος / lithos meaning 'stone'. They...
s - fossilised droppings - give a useful insight of what animals ate, even if the animals cannot be identified. Coprolites found in the Rhynie chert are typically between 0.5 and 3 mm in size, and contain a variety of contents. Analysis of coprolites allows the identification of different feeding modes, including detritovory and herbivory; some coprolites are so densely packed with spores that it is possible that these made up a substantial proportion of some organisms' diets.
Plants responded to fungal colonisation in different ways, depending on the fungus. The rhizoids of
Nothia
Nothia
Nothia was a genus of Early Devonian vascular plants whose fossils were found in the Rhynie chert in Scotland. It had branching horizontal underground stems and leafless aerial stems bearing lateral and terminal spore-forming organs . Its aerial stems were covered with small 'bumps' , each...
displayed three responses to fungal infestation: the hyphae of some (mutualistic) colonists were encased by plant cell walls; other (parasitic) fungi were met with typical host responses of increased rhizome cell size; while yet other fungi solicited an increase in thickness and pigmentation of cell walls. Once inside a plant cell, fungi produced spores, which are found in decaying plant cells; the cells may have decayed as a defence mechanism to prevent the fungi from spreading.
Fungal interactions are known to promote speciation in modern plants, and presumably also affected Devonian diversity by providing a selection pressure.
Mycorrhizae are also found in the Rhynie chert.