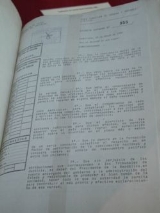 Rettig Report
The
Rettig Report
, officially
The National Commission for Truth and Reconciliation Report
, is a 1991 report by a commission designated by then President
Patricio Aylwin
Patricio Aylwin
Patricio Aylwin Azócar was the first president of Chile after its return to democratic rule in 1990, following the military dictatorship of General Augusto Pinochet.- Early life :...
(from the
Concertación
) encompassing
human rights
Human rights
Human rights are "commonly understood as inalienable fundamental rights to which a person is inherently entitled simply because she or he is a human being." Human rights are thus conceived as universal and egalitarian . These rights may exist as natural rights or as legal rights, in both national...
abuses resulting in death or disappearance that occurred in
Chile
Chile
Chile ,officially the Republic of Chile , is a country in South America occupying a long, narrow coastal strip between the Andes mountains to the east and the Pacific Ocean to the west. It borders Peru to the north, Bolivia to the northeast, Argentina to the east, and the Drake Passage in the far...
during the years of military rule under
Augusto Pinochet
Augusto Pinochet
Augusto José Ramón Pinochet Ugarte, more commonly known as Augusto Pinochet , was a Chilean army general and dictator who assumed power in a coup d'état on 11 September 1973...
, which began on September 11, 1973 and ended on March 11, 1990. It is named after its chairman,
Raúl Rettig
Raúl Rettig
Raúl Rettig Guissen , was a Chilean politician and lawyer.A member of the Radical Party, between 1938 and 1940 he served as under-secretary of the interior and, later, at the foreign affairs ministry. He was elected to the Senate in 1949...
, a former
ambassador
Ambassador
An ambassador is the highest ranking diplomat who represents a nation and is usually accredited to a foreign sovereign or government, or to an international organization....
of President
Salvador Allende
Salvador Allende
Salvador Allende Gossens was a Chilean physician and politician who is generally considered the first democratically elected Marxist to become president of a country in Latin America....
. The eight-member commission (including
Jaime Castillo Velasco
Jaime Castillo Velasco
Jaime Castillo Velasco was a Chilean politician who served as president and vice-president of the Christian Democrat Party on several occasions....
, José Luis Cea Egaña,
Mónica Jiménez
Mónica Jiménez
Mónica Eliana Jiménez de la Jara is a Chilean Christian Democrat politician and former Minister of Education.Jiménez comes from a very political family. Her father Oscar Jiménez Pinochet was Minister of Health under President Salvador Allende, while her brother Jorge occupied the same position...
, Laura Novoa Vásquez, José Zalaquett Daher, Ricardo Martín Díaz, and Gonzalo Vial Correa) released its report in February 1991.
The report determined that 2,279 persons were killed for political reasons. This figure included 957 disappeared after arrest and 164 "victims of political violence", a figure that included police officers and others killed by left-wing extremists.
In 641 cases, the commission could not conclusively determine that the person was killed for political reasons. It found 508 cases that were beyond its mandate, and that in 449 cases, no information beyond the name of a disappeared person could be determined.
See also
External links