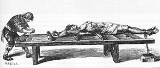 Torture
Torture
is the act of inflicting severe pain (whether physical or
psychological
Psychological torture
Psychological torture is a type of torture that relies primarily on psychological effects, and only secondarily on any physical harm inflicted. Although not all psychological torture involves the use of physical violence, there is a continuum between psychological torture and physical torture...
) as a means of punishment, revenge, forcing information or a confession, or simply as an act of cruelty. Throughout history, torture has often been used as a method of political re-education, interrogation, punishment, and coercion. In addition to state-sponsored torture, individuals or groups may be motivated to inflict torture on others for similar reasons to those of a state; however, the motive for torture can also be for the sadistic gratification of the torturer.
Torture is prohibited under
international law
International law
Public international law concerns the structure and conduct of sovereign states; analogous entities, such as the Holy See; and intergovernmental organizations. To a lesser degree, international law also may affect multinational corporations and individuals, an impact increasingly evolving beyond...
and the domestic laws of most countries in the 21st century.