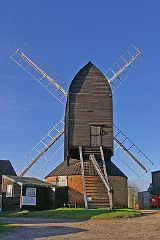 Reigate
Reigate
is a historic market town in
Surrey
Surrey
Surrey is a county in the South East of England and is one of the Home Counties. The county borders Greater London, Kent, East Sussex, West Sussex, Hampshire and Berkshire. The historic county town is Guildford. Surrey County Council sits at Kingston upon Thames, although this has been part of...
,
England
England
England is a country that is part of the United Kingdom. It shares land borders with Scotland to the north and Wales to the west; the Irish Sea is to the north west, the Celtic Sea to the south west, with the North Sea to the east and the English Channel to the south separating it from continental...
, at the foot of the
North Downs
North Downs
The North Downs are a ridge of chalk hills in south east England that stretch from Farnham in Surrey to the White Cliffs of Dover in Kent. The North Downs lie within two Areas of Outstanding Natural Beauty , the Surrey Hills and the Kent Downs...
, and in the
London commuter belt
London commuter belt
The London commuter belt is the metropolitan area surrounding London, England from which it is practical to commute to work in the capital. It is alternatively known as the Greater South East, the London metropolitan area or the Southeast metropolitan area...
. It is one of the main constituents of the Borough of
Reigate and Banstead
Reigate and Banstead
Reigate and Banstead is a local government district with borough status in east Surrey England. It covers the towns of Reigate, Banstead, Redhill and Horley....
. Reigate and the adjacent town of
Redhill
Redhill, Surrey
Redhill is a town in the borough of Reigate and Banstead, Surrey, England and is part of the London commuter belt. Redhill and the adjacent town of Reigate form a single urban area.-History:...
form a single urban subdivision of the
Crawley Urban Area
Crawley
Crawley is a town and local government district with Borough status in West Sussex, England. It is south of Charing Cross, north of Brighton and Hove, and northeast of the county town of Chichester, covers an area of and had a population of 99,744 at the time of the 2001 Census.The area has...
.
Colley Hill, one mile (1.6 km) north of Reigate, is the sixth highest point in Surrey at 756 feet (230.4 m). Reigate Hill, 2.5 miles (4 km) to the east of Colley Hill, is the seventh highest point in Surrey at 723 feet (220.4 m).
History

There are
neolithic
Neolithic
The Neolithic Age, Era, or Period, or New Stone Age, was a period in the development of human technology, beginning about 9500 BC in some parts of the Middle East, and later in other parts of the world. It is traditionally considered as the last part of the Stone Age...
flint
Flint
Flint is a hard, sedimentary cryptocrystalline form of the mineral quartz, categorized as a variety of chert. It occurs chiefly as nodules and masses in sedimentary rocks, such as chalks and limestones. Inside the nodule, flint is usually dark grey, black, green, white, or brown in colour, and...
mines on the ridge of the North Downs above Reigate. The
Bronze Age
Bronze Age
The Bronze Age is a period characterized by the use of copper and its alloy bronze as the chief hard materials in the manufacture of some implements and weapons. Chronologically, it stands between the Stone Age and Iron Age...
barrows on Reigate Heath indicate there was ancient settlement in the area. A Bronze Age spearhead was recovered on Park Hill in Reigate Priory Park.
In 2004 a circa 92 AD Roman tile kiln (pictured left) was recovered from the grounds of Rosehill in Doods Way, Reigate. Tiles on the Rosehill site were first discovered in the 1880s. The tiles would have been used for important buildings in the area. The Rosehill find is also the oldest recorded use of Reigate Stone (Upper
Greensand
Greensand
Greensand or Green sand is either a sand or sandstone, which has a greenish color. This term is specifically applied to shallow marine sediment, that contains noticeable quantities of rounded greenish grains. These grains are called glauconies and consist of a mixture of mixed-layer clay...
) for "
ashlar
Ashlar
Ashlar is prepared stone work of any type of stone. Masonry using such stones laid in parallel courses is known as ashlar masonry, whereas masonry using irregularly shaped stones is known as rubble masonry. Ashlar blocks are rectangular cuboid blocks that are masonry sculpted to have square edges...
masonry work".
The town lay within the
Reigate
Reigate (hundred)
Reigate was a hundred in what is now Surrey, England. It includes the town of Reigate.The Reigate hundred includes the parishes of: Betchworth, Burstow, Buckworth, Charlwood, Chipstead, Gatton, Horley, Leigh, Merstham, Nutfield and Reigate....
hundred
Hundred (division)
A hundred is a geographic division formerly used in England, Wales, Denmark, South Australia, some parts of the United States, Germany , Sweden, Finland and Norway, which historically was used to divide a larger region into smaller administrative divisions...
, an
Anglo-Saxon
Anglo-Saxons
Anglo-Saxon is a term used by historians to designate the Germanic tribes who invaded and settled the south and east of Great Britain beginning in the early 5th century AD, and the period from their creation of the English nation to the Norman conquest. The Anglo-Saxon Era denotes the period of...
administrative division.
Reigate appears in
Domesday Book
Domesday Book
Domesday Book , now held at The National Archives, Kew, Richmond upon Thames in South West London, is the record of the great survey of much of England and parts of Wales completed in 1086...
in 1086 as
Cherchefelle
which appears to mean 'the open space by the hill'. (The name has nothing to do with the church and the element Cherche is a later corruption). It was held by William the Conqueror as successor to king Harold's widow Editha. Its Domesday assets were: 34
hide
Hide (unit)
The hide was originally an amount of land sufficient to support a household, but later in Anglo-Saxon England became a unit used in assessing land for liability to "geld", or land tax. The geld would be collected at a stated rate per hide...
s. It had 2
mill
Mill (grinding)
A grinding mill is a unit operation designed to break a solid material into smaller pieces. There are many different types of grinding mills and many types of materials processed in them. Historically mills were powered by hand , working animal , wind or water...
s worth 11s 10s, 29
plough
Plough
The plough or plow is a tool used in farming for initial cultivation of soil in preparation for sowing seed or planting. It has been a basic instrument for most of recorded history, and represents one of the major advances in agriculture...
s, 12 acres (48,562.3 m²) of
meadow
Meadow
A meadow is a field vegetated primarily by grass and other non-woody plants . The term is from Old English mædwe. In agriculture a meadow is grassland which is not grazed by domestic livestock but rather allowed to grow unchecked in order to make hay...
,
pannage
Pannage
Pannage is the practice of turning out domestic pigs in a wood or forest, in order that they may feed on fallen acorns, beechmast, chestnuts or other nuts. Historically, it was a right or privilege granted to local people on common land or in royal forests...
and herbage worth 183 hogs. It rendered £40.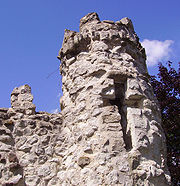 The earlier site was located, at least in part, in what is now the Church Street area of Reigate, close to the church. Part of the site was excavated in the 1990s. It was shown that the settlement moved during the earlier part of the 12th century when the present new town was formed.
William I
William I of England
William I , also known as William the Conqueror , was the first Norman King of England from Christmas 1066 until his death. He was also Duke of Normandy from 3 July 1035 until his death, under the name William II...
granted the land around Reigate to one of his supporters,
William de Warenne
William de Warenne, 1st Earl of Surrey
William de Warenne, 1st Earl of Surrey, Seigneur de Varennes is one of the very few proven Companions of William the Conqueror known to have fought at the Battle of Hastings in 1066...
, who was created
Earl of Surrey
Earl of Surrey
The Earl of Surrey is a title in the Peerage of England, and has been created five times. It was first created for William de Warenne, a close companion of William the Conqueror...
in 1088. It is believed that his son,
William de Warenne, 2nd Earl of Surrey
William de Warenne, 2nd Earl of Surrey
William de Warenne, 2nd Earl of Surrey was the son of William de Warenne, 1st Earl of Surrey and his first wife Gundred. He is more often referred to as Earl Warenne or Earl of Warenne than as Earl of Surrey....
, ordered that
Reigate Castle
Reigate Castle
Reigate castle is a ruined castle in the market town of Reigate in the county of Surrey, England.-Establishment:King William I granted the land around Reigate to one of his supporters, William de Warenne, who was created Earl of Surrey in 1088...
be built, although the de Warennes had their southern base in
Lewes
Lewes
Lewes is the county town of East Sussex, England and historically of all of Sussex. It is a civil parish and is the centre of the Lewes local government district. The settlement has a history as a bridging point and as a market town, and today as a communications hub and tourist-oriented town...
, Sussex, as well as castles in
Yorkshire
Yorkshire
Yorkshire is a historic county of northern England and the largest in the United Kingdom. Because of its great size in comparison to other English counties, functions have been increasingly undertaken over time by its subdivisions, which have also been subject to periodic reform...
and
Normandy
Normandy
Normandy is a geographical region corresponding to the former Duchy of Normandy. It is in France.The continental territory covers 30,627 km² and forms the preponderant part of Normandy and roughly 5% of the territory of France. It is divided for administrative purposes into two régions:...
. Around 1150 the Earl de Warenne set out a new town below the castle. This town forms the basis of modern-day Reigate. Little is known of the Castle which has never been excavated on any great scale. Local legend says prior to the signing of the
Magna Carta
Magna Carta
Magna Carta is an English charter, originally issued in the year 1215 and reissued later in the 13th century in modified versions, which included the most direct challenges to the monarch's authority to date. The charter first passed into law in 1225...
, the rebellious barons met to hammer out the details of the document in the extensive caves beneath the castle. The story however has no truth to it. The castle later fell into decay and the remains demolished at the end of the 17th century, though the grounds remain as a public garden, and the caves are occasionally opened for tours.
The origin of the name Reigate is uncertain, but appears to derive from Roe-deer Gate, as the town was situated near to the entrance to the de Warenne's
deer park
Medieval deer park
A medieval deer park was an enclosed area containing deer. It was bounded by a ditch and bank with a wooden park pale on top of the bank. The ditch was typically on the inside, thus allowing deer to enter the park but preventing them from leaving.-History:...
The medieval town is centred on a north—south road of some antiquity as it incorporates the pre-Conquest road pattern. The story of the Pilgrim's Way passing through Reigate is a myth, although in the 13th century a chapel to
St Thomas
Thomas Becket
Thomas Becket was Archbishop of Canterbury from 1162 until his murder in 1170. He is venerated as a saint and martyr by both the Roman Catholic Church and the Anglican Communion...
was built in the town centre for their use.
Areas of the town have been the subject of extensive archaeological investigation. Bell Street was certainly in existence by the middle of the 12th century and Mesolithic implements have been found here. Much of the High Street appears to be slightly later although there appear to have been buildings along the south side of the Street near to the junction with Bell Street by the 13th century at the latest. The market place was originally around Slipshoe Street, at the junction of West Street, but became encroached upon by infilled houses and it was moved to the east end of the High Street by the end of the 16th century. The results of much of this work has been published; many of the finds are held in the museum of the Holmesdale Natural History Club in Croydon Road.
Probably early in the 13th century Reigate Priory was founded for regular Canons of the Order of
St Augustine
Augustine of Hippo
Augustine of Hippo , also known as Augustine, St. Augustine, St. Austin, St. Augoustinos, Blessed Augustine, or St. Augustine the Blessed, was Bishop of Hippo Regius . He was a Latin-speaking philosopher and theologian who lived in the Roman Africa Province...
although it was strictly speaking the Hospital of the Crutched Friars - a suborder. After the dissolution of the monasteries in 1535 the estate was granted by
Henry VIII
Henry VIII of England
Henry VIII was King of England from 21 April 1509 until his death. He was Lord, and later King, of Ireland, as well as continuing the nominal claim by the English monarchs to the Kingdom of France...
to
William Howard, 1st Baron Howard of Effingham
William Howard, 1st Baron Howard of Effingham
William Howard, 1st Baron Howard of Effingham , was the eldest son of Thomas Howard, 2nd Duke of Norfolk by his second wife, Agnes Tilney...
, who soon converted the Priory buildings into a residence. The Effingham branch of the Howard family, including the
Earl of Nottingham
Charles Howard, 1st Earl of Nottingham
Charles Howard, 1st Earl of Nottingham , known as Howard of Effingham, was an English statesman and Lord High Admiral under Elizabeth I and James I...
who as Lord High Admiral commanded the force which defeated the
Spanish Armada
Spanish Armada
This article refers to the Battle of Gravelines, for the modern navy of Spain, see Spanish NavyThe Spanish Armada was the Spanish fleet that sailed against England under the command of the Duke of Medina Sidonia in 1588, with the intention of overthrowing Elizabeth I of England to stop English...
, lived there until their heirs sold it to the wealthy London brewer, John Parsons in 1681. Remains of the former monastery buildings are known to lie beneath the lawns to the south of the present mainly 18th century house, which is now used as a school.
The town developed a large trade in
oatmeal
Oatmeal
Oatmeal is ground oat groats , or a porridge made from oats . Oatmeal can also be ground oat, steel-cut oats, crushed oats, or rolled oats....
during the 16th century but this had ceased by about 1720. There was a noted
tannery
Tanning
Tanning is the making of leather from the skins of animals which does not easily decompose. Traditionally, tanning used tannin, an acidic chemical compound from which the tanning process draws its name . Coloring may occur during tanning...
at Linkfield Street which was expanded in the 19th century. It burnt down about 1930.
The coming of the Brighton railway in 1841 led to a rapid expansion of the parish, concentrated around the railway station in an area that was previously uninhabited.
The old (non corporate) Borough of Reigate (roughly the town centre of Reigate) elected two MPs until the Reform Act of 1832 when it lost one. Further amendments to the electoral boundary occurred. In 1863, the whole parish was formally incorporated as the Borough of Reigate with Thomas Dann as its first Mayor.
Reigate has two
windmill
Windmill
A windmill is a machine which converts the energy of wind into rotational energy by means of vanes called sails or blades. Originally windmills were developed for milling grain for food production. In the course of history the windmill was adapted to many other industrial uses. An important...
s: the Post mill at
Reigate Heath
Reigate Heath Windmill
Reigate Heath Windmill is a grade II* listed post mill at Reigate Heath, Surrey, England which has been restored and is used as a chapel. It is thought to be the only windmill in the world which is a consecrated church.-History:...
and the tower mill at
Wray Common
Wray Common Mill, Reigate
Wray Common Mill is a grade II* listed tower mill at Reigate, Surrey, England which has been converted to residential use.-History:Wray Common Mill was built in 1824. The mill was worked by wind until 1895 when an accident resulted in a broken sail. The mill had a steam engine, later replaced by an...
. Previously there had been about a dozen animal powered mills for making oatmeal as well as several water and windmills.
Reigate is also the setting for the Sherlock Holmes short story
The Adventure of the Reigate Squire
The Adventure of the Reigate Squire
"The Adventure of the Reigate Squire", also known as "The Adventure of the Reigate Squires" and "The Adventure of the Reigate Puzzle", was one of the 56 Sherlock Holmes short stories written by British author Sir Arthur Conan Doyle. It is one of 12 stories in the cycle collected as The Memoirs of...
, also known as
The Adventure of the Reigate Squires
and
The Adventure of the Reigate Puzzle
. It is one of 12 stories featured in
The Memoirs of Sherlock Holmes
. Sir Arthur Conan Doyle expressed it to be his 12th favourite
Sherlock Holmes
Sherlock Holmes
Sherlock Holmes is a fictional detective created by Scottish author and physician Sir Arthur Conan Doyle. The fantastic London-based "consulting detective", Holmes is famous for his astute logical reasoning, his ability to take almost any disguise, and his use of forensic science skills to solve...
story.
Modern day Reigate
In Reigate town centre, there are many shops, bars, and restaurants. Most of the shops are smaller independently owned boutiques. Unusually, the town still has a small toy shop nestled among the coffee shops and charity shops. Due to the wealth of the area many designer labels can be picked out from the charity shops. Although there are two supermarkets in Reigate,
Morrisons
Morrisons
Wm Morrison Supermarkets plc is the fourth largest chain of supermarkets in the United Kingdom, headquartered in Bradford, West Yorkshire, England. The company is usually referred to and is branded as Morrisons formerly Morrison's, and it is part of the FTSE 100 Index of companies...
(formerly
Safeway
Safeway (UK)
Safeway was a chain of supermarkets and convenience stores in the United Kingdom. It started as a subsidiary of the American Safeway Inc., before being sold off in 1987....
), and M&S, the town still manages to keep hold of a village feel.
There are 9 bars within the shopping area offering a very different atmosphere in each establishment all of which are very welcoming and very popular on weekends. Eating out in Reigate is excellent with everything on offer from pizza, tapas, Indian cuisine, Thai curry, Nepalese, French and even a celebrity chef,
Tony Tobin
Tony Tobin
Tony Tobin is a celebrity chef who has been a regular on the BBC food show Ready Steady Cook since 1995. His other notable British TV appearances were as the presenter of the 13-part series Spice World and The Green Gourmet on the Carlton Food Channel...
, offering the finest English food for miles around.
The most popular park in Reigate is the Priory Park, which is located behind the High Street, adjacent to Bell Street. It has a massive enclosed area for smaller children as well as football fields, tennis courts, a skatepark, a huge wooded area and a serene lake with an abundance of wildlife.
Travel
Reigate is served by Reigate railway station

Reigate railway station

Reigate railway station is in Surrey, England. On the North Downs Line, the station is managed by Southern, which provides an hourly service to London Bridge via Redhill...


. During peak times direct trains run to London Victoria and also London Bridge in 40 minutes. Off peak trains run to Gatwick Airport

Gatwick Airport railway station

Gatwick Airport station is the railway station at London Gatwick Airport that provides a direct rail connection to London 43 km away. The station platforms are located directly below the airport's South Terminal, and the ticket office is adjacent to that terminal's concourse...


, Reading

Reading railway station

Reading railway station is a major rail transport hub in the English town of Reading. It is situated on the northern edge of the town centre, close to the main retail and commercial areas, and also the River Thames...


, Redhill

Redhill railway station

Redhill railway station serves the town of Redhill, Surrey, England. The station is a major interchange point on the Brighton Main Line 21 miles south of London Victoria...


and London Bridge (cut back from London Charing Cross in the December 2009 timetable). Trains to London are run by the (New) Southern Railway company & those to Gatwick Airport & Reading by First Great Western.
Reigate is a few minutes from Junction 8 of the London orbital motorway M25

M25 motorway

The M25 motorway, or London Orbital, is a orbital motorway that almost encircles Greater London, England, in the United Kingdom. The motorway was first mooted early in the 20th century. A few sections, based on the now abandoned London Ringways plan, were constructed in the early 1970s and it ...


. The town's one-way system

One-way traffic

One-way traffic is traffic that moves in a single direction. A one-way street is a street either facilitating only one-way traffic, or designed to direct vehicles to move in one direction.-General signs:...


includes parts of the A25

A25 road

The A25 road is one of the three cross-country two-digit numbered roads in the southeast of England, the others being the A26 from Newhaven to Maidstone and the A27 along the south coast. It carries traffic from Guildford in Surrey through Dorking, and thence eastward along the southern edge of the...


and the A217

A217 road

The A217 is a road in the United Kingdom. It runs south from Kings Road in Fulham, London, crossing the Thames at Wandsworth Bridge, then passing through Wandsworth, Tooting, Mitcham, Cheam, Banstead, crossing the M25 motorway at Junction 8, then passing through Reigate and terminating shortly...


.
Economy
At one time the airline
Air Europe
Air Europe
Air Europe was a wholly privately owned, independentindependent from government-owned corporations British airline, established in 1978 under the working title Inter European Airways. It adopted the Air Europe name the following year...
had its head office in the Europe House in Reigate.
Sport
Reigate is home to Old Reigatians Rugby Football Club located on Park Lane just off the main high street.
Famous residents
Ray Alan

Ray Alan

Ray Alan was an English ventriloquist and television entertainer from the 1950s until the 1980s. He was associated primarily with the puppet Lord Charles and later also with the puppets Tich and Quackers.-Biography:...


, ventriloquist (and Lord Charles).
George Best

George Best

George Best was a professional footballer from Northern Ireland, who played for Manchester United and the Northern Ireland national team. He was a winger whose game combined pace, acceleration, balance, two-footedness, goalscoring and the ability to beat defenders...


, Manchester United and Northern Ireland football player lived his last years near Reigate.
Roger Bisby

Roger Bisby

Roger Lawrence Bisby is an English television presenter and journalist, known for his expertise in the British building industry...


, Journalist, television presenter and radio personality.
Hermann Bondi

Hermann Bondi

Sir Hermann Bondi, KCB, FRS was an Anglo-Austrian mathematician and cosmologist. He is best known for developing the steady-state theory of the universe with Fred Hoyle and Thomas Gold as an alternative to the Big Bang theory, but his most lasting legacy will probably be his important...


, the Austrian Physicist and mathematician lived in Reigate in the 1970s.
Charlie

Charlie (parrot)

Charlie , also known as Charlie the Curser, is a female Blue-and-yellow macaw living at Heathfield Nurseries, a pet sanctuary in Reigate, Surrey, United Kingdom...


, a parrot

Parrot

Parrots, also known as psittacines , are birds of the roughly 372 species in 86 genera that make up the order Psittaciformes, found in most tropical and subtropical regions. The order is subdivided into three families: the Psittacidae , the Cacatuidae and the Strigopidae...


whose owner claims was taught by Sir Winston Churchill

Winston Churchill

Sir Winston Leonard Spencer-Churchill, was a predominantly Conservative British politician and statesman known for his leadership of the United Kingdom during the Second World War. He is widely regarded as one of the greatest wartime leaders of the century and served as Prime Minister twice...


to curse Adolf Hitler

Adolf Hitler

Adolf Hitler was an Austrian-born German politician and the leader of the National Socialist German Workers Party , commonly referred to as the Nazi Party). He was Chancellor of Germany from 1933 to 1945, and head of state from 1934 to 1945...



Tom

Tom Chilton

Thomas James Chilton is a British auto racing driver. He has spent most of his career competing in the BTCC; he is a former factory Vauxhall and Honda driver. For 2011 he is driving an NGTC-spec Ford Focus for Team Aon...


and Max Chilton

Max Chilton

Max Alexander Chilton is a British racing driver who currently races for Carlin in the GP2 Series. He attended Ardingly College, West Sussex from 1999 to 2008...


, racing drivers, born and live in Reigate.
James Cudworth

James Cudworth

James I'Anson Cudworth was Locomotive Superintendent of the South Eastern Railway . He served in this capacity from 1845–76...


, Locomotive Superintendent to the South Eastern Railway

South Eastern Railway (UK)

The South Eastern Railway was a railway company in south-eastern England from 1836 until 1922. The company was formed to construct a route from London to Dover. Branch lines were later opened to Tunbridge Wells, Hastings, Canterbury and other places in Kent...


lived in Reigate from c1879 to 1899.
Bob Doe

Bob Doe

Wing Commander Robert Francis Thomas "Bob" Doe DSO, DFC & Bar was a flying ace of the Royal Air Force during the Battle of Britain in the Second World War, and served with honour with the Indian Air Force during the Burma campaign.-Early life:Robert Francis Thomas Doe was born in Reigate, Surrey,...


- Royal Air Force Wing Commander
Norman Cook, DJ was born in Reigate and attended Reigate Grammar School

Reigate Grammar School

Reigate Grammar School is an independent co-educational day school located in the town of Reigate, Surrey, United Kingdom. Intake is from 11 to 18, with the majority of its pupils entering at the age of 11, and others entering at 13 and 16.- History :...


.
Newton Faulkner

Newton Faulkner

Sam Newton Battenberg Faulkner is an English singer-songwriter and musician from Reigate, Surrey. Known for his guitar playing, which involves rhythmically tapping and hitting his guitar's body, Faulkner came to prominence in 2007, with the release of his debut studio album, Hand Built by Robots...


, songwriter and musician, was born here.
Dame Margot Fonteyn

Margot Fonteyn

Dame Margot Fonteyn de Arias, DBE , was an English ballerina of the 20th century. She is widely regarded as one of the greatest classical ballet dancers of all time...


, ballet dancer, was born here.
Francis Frith

Francis Frith

Francis Frith was an English photographer of the Middle East and many towns in the United Kingdom....


, the prolific photographer, lived here.
Susan Gritton

Susan Gritton

Susan Gritton is an English soprano.Susan Gritton was educated at the University of Oxford and the University of London, where she studied Botany....


, opera singer, was born here in 1965.
Melvyn Hayes

Melvyn Hayes

Melvyn Hayes is an English actor probably best known for playing the effeminate Gunner "Gloria" Beaumont in the 1970s BBC sitcom It Ain't Half Hot Mum,-Early life and career:...


aka Gloria in It Ain't Half Hot Mum

It Ain't Half Hot Mum

It Ain't Half Hot Mum was a British sitcom about the adventures of a Royal Artillery Concert Party, broadcast on the BBC between 1974 and 1981, and written by Jimmy Perry and David Croft, the creators of Dad's Army...


was a resident of Glovers Road.
Kate Maberly

Kate Maberly

Kate Elizabeth Cameron Maberly is an English actress and musician. She has appeared in film, television, radio and on stage.-Early life:...


, actress and star of the 1993 feature film The Secret Garden

The Secret Garden

The Secret Garden is a novel by Frances Hodgson Burnett. It was initially published in serial format starting in the autumn of 1910, and was first published in its entirety in 1911. It is now one of Burnett's most popular novels, and is considered to be a classic of English children's...


, was born here.
Ian McKay

Ian McKay (writer)

Ian McKay is an English writer, critic, publisher, and translator.-Life and career:The son of former national hunt jockey and racehorse trainer Geoff Laidlaw, Ian McKay was born in Epsom, Surrey, and studied at Chelsea School of Art...


(formerly Laidlaw), art critic, writer and publisher, lived here and attended Reigate School of Art & Design.
Ray Mears, survival expert, studied at Reigate Grammar School.
Jean Metcalfe

Jean Metcalfe

Jean Metcalfe was an English radio broadcaster.-Early life:She was the eldest child of Guy Vivian Metcalfe, a railway clerk with the Southern Railway at Waterloo station, and Gwendoline Annie, née Reed...


, broadcaster
Cliff Michelmore

Cliff Michelmore

Arthur Clifford "Cliff" Michelmore CBE is a British television presenter and producer. He is best known for the BBC television programme Tonight, which he presented from 1957 to 1965....


, broadcaster
Spike Milligan

Spike Milligan

Terence Alan Patrick Seán "Spike" Milligan Hon. KBE was a comedian, writer, musician, poet, playwright, soldier and actor. His early life was spent in India, where he was born, but the majority of his working life was spent in the United Kingdom. He became an Irish citizen in 1962 after the...


, writer and comedian, used to live in Woodhatch in Orchard Way.
Alan Minter

Alan Minter

Alan Minter is a former middleweight world champion boxer.-Amateur career:Minter was the 1971 ABA Middleweight Champion. He won the bronze medal at the 1972 Munich Olympic Games...


, the former Undisputed World Middleweight boxing champion, currently lives in Reigate.
Nicholas Owen, BBC News

BBC News

BBC News is the department of the British Broadcasting Corporation responsible for the gathering and broadcasting of news and current affairs. The department is the world's largest broadcast news organisation and generates about 120 hours of radio and television output each day, as well as online...


presenter, currently lives in Reigate.
Samuel Palmer

Samuel Palmer

Samuel Palmer was a British landscape painter, etcher and printmaker. He was also a prolific writer. Palmer was a key figure in Romanticism in Britain and produced visionary pastoral paintings.-Early life:...


, visionary British artist, is buried in Reigate St Mary's churchyard, having lived in Reigate from about 1860-1862.
Pat Pocock

Pat Pocock

Pat Pocock is an English former cricketer, who played in twenty Tests and one ODI for England from 1968 to 1985....


, former England and Surrey cricketer, currently lives in Reigate.
André Previn

André Previn

André George Previn, KBE is an American pianist, conductor, and composer. He is considered one of the most versatile musicians in the world, and is the winner of four Academy Awards for his film work and ten Grammy Awards for his recordings. -Early Life:Previn was born in...


and his then wife Mia Farrow

Mia Farrow

Mia Farrow is an American actress, singer, humanitarian, and fashion model.Farrow first gained wide acclaim for her role as Allison Mackenzie in the soap opera Peyton Place, and for her subsequent short-lived marriage to Frank Sinatra...


, used to live in Leigh in the early 1980s.
Caroline Quentin

Caroline Quentin

Caroline Jones known by her stage name Caroline Quentin, is an English actress. Quentin became known for her television appearances in Men Behaving Badly, playing Dorothy, and playing Maddy Magellan in Jonathan Creek for three years.-Early life:...


, actress, was born in Reigate.
Mike Sammes

Mike Sammes

Michael William "Mike" Sammes was an English musician and vocal session arranger, performing backing vocals on pop music recorded in the UK from 1955 to the 1970s.-Career:...


, of the Mike Sammes Singers was born in the town and educated at Reigate Grammar School

Reigate Grammar School

Reigate Grammar School is an independent co-educational day school located in the town of Reigate, Surrey, United Kingdom. Intake is from 11 to 18, with the majority of its pupils entering at the age of 11, and others entering at 13 and 16.- History :...



Richard Thomas, the former Information Commissioner currently lives in Reigate
David Walliams

David Walliams

David Edward Walliams is an English comedian, writer and actor, known for his partnership with Matt Lucas on the TV sketch show Little Britain and its predecessor Rock Profile...


, writer and star of the Little Britain

Little Britain

Little Britain is a British character-based comedy sketch show which was first broadcast on BBC radio and then turned into a television show. It was written by comic duo David Walliams and Matt Lucas...


comedy series attended Reigate Grammar School
Secondary
Reigate College

Reigate College

Reigate College is a state sixth form college in Reigate, Surrey, for students over 16 years of age. The College is situated very near to both the town centre and the train station...


(Sixth form college

Sixth form college

A sixth form college is an educational institution in England, Wales, Northern Ireland, Belize, Hong Kong or Malta where students aged 16 to 18 typically study for advanced school-level qualifications, such as A-levels, or school-level qualifications such as GCSEs. In Singapore and India, this is...


)
Reigate Grammar School

Reigate Grammar School

Reigate Grammar School is an independent co-educational day school located in the town of Reigate, Surrey, United Kingdom. Intake is from 11 to 18, with the majority of its pupils entering at the age of 11, and others entering at 13 and 16.- History :...


(Secondary school

Secondary school

Secondary school is a term used to describe an educational institution where the final stage of schooling, known as secondary education and usually compulsory up to a specified age, takes place...


)
Reigate School (Secondary school)
The Royal Alexandra and Albert School

The Royal Alexandra and Albert School

The Royal Alexandra and Albert School is a co-educational, comprehensive, state maintained boarding school located in Reigate, Surrey. The current, full-time headmaster is Mr. Paul Spencer Ellis...


(Secondary school)
Dunottar School (Girls' secondary school)
Primary
Religion
Reigate has several churches.
St Mary's Parish Church
, with its chapel of ease St. Cross on Reigate Hill, and
Reigate Methodist
are located in the town centre.
Reigate Baptist
,
Reigate Park URC
,
Sandcross Church
Sandcross Church
Sandcross Lane Church is an evangelical church in Reigate. The church's building is situated on Sandcross Lane, near the A217 on the southern outskirts of the town. The current minister-in-charge is Rick Creighton...
, and Reigate and Redhill Community Church are slightly further out. The
Holy Family Catholic Church
is the only Catholic Church in Reigate.
External links