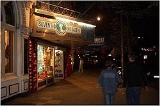 Reeperbahn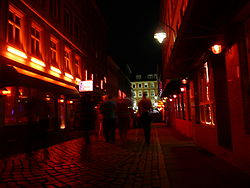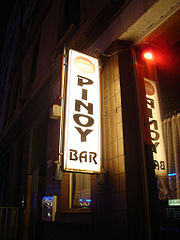 The
Reeperbahn
is a street in
Hamburg
Hamburg
-History:The first historic name for the city was, according to Claudius Ptolemy's reports, Treva.But the city takes its modern name, Hamburg, from the first permanent building on the site, a castle whose construction was ordered by the Emperor Charlemagne in AD 808...
's
St. Pauli
St. Pauli
St. Pauli , located in the Hamburg-Mitte borough, is one of the 105 quarters of the city of Hamburg, Germany. Situated on the right bank of the Elbe river, the Landungsbrücken are a northern part of the port of Hamburg. St. Pauli contains a world famous red light district around the street Reeperbahn...
district, one of the two centres of Hamburg's
nightlife
Nightlife
Nightlife is the collective term for any entertainment that is available and more popular from the late evening into the early hours of the morning...
and also the city's
red-light district
Red-light district
A red-light district is a part of an urban area where there is a concentration of prostitution and sex-oriented businesses, such as sex shops, strip clubs, adult theaters, etc...
. In
German
German language
German is a West Germanic language, related to and classified alongside English and Dutch. With an estimated 90 – 98 million native speakers, German is one of the world's major languages and is the most widely-spoken first language in the European Union....
it is also sometimes described as
die sündige Meile
(the sinful mile).
Name
The
name
Street name
A street name or odonym is an identifying name given to a street. The street name usually forms part of the address...
Reeperbahn
means
ropewalk
Ropewalk
A ropewalk is a long straight narrow lane, or a covered pathway, where long strands of material were laid before being twisted into rope.Ropewalks historically were harsh sweatshops, and frequently caught on fire, as hemp dust forms an explosive mixture. Rope was essential in sailing ships and the...
, which is a place where ropes are made (
Low German
Low German
Low German or Low Saxon is an Ingvaeonic West Germanic language spoken mainly in northern Germany and the eastern part of the Netherlands...
Reep
= rope, the standard German word is
Seil
;
Bahn
= track). The street was a ropewalk in the 17th and 18th centuries.
The street, and its side streets
The street is lined with
restaurant
Restaurant
A restaurant is an establishment which prepares and serves food and drink to customers in return for money. Meals are generally served and eaten on premises, but many restaurants also offer take-out and food delivery services...
s, night clubs, discotheques and
bar
Bar (establishment)
A bar is a business establishment that serves alcoholic drinks — beer, wine, liquor, and cocktails — for consumption on the premises.Bars provide stools or chairs that are placed at tables or counters for their patrons. Some bars have entertainment on a stage, such as a live band, comedians, go-go...
s. There are also
strip club
Strip club
A strip club is an adult entertainment venue in which striptease or other erotic or exotic dance is regularly performed. Strip clubs typically adopt a nightclub or bar style, but can also adopt a theatre or cabaret-style....
s,
sex shop
Sex shop
A sex shop, erotic shop is a shop that sells products related to adult sexual or erotic entertainment, such as sex toys, lingerie, clothing, pornography, and other related products...
s,
brothel
Brothel
Brothels are business establishments where patrons can engage in sexual activities with prostitutes. Brothels are known under a variety of names, including bordello, cathouse, knocking shop, whorehouse, strumpet house, sporting house, house of ill repute, house of prostitution, and bawdy house...
s, a
sex museum
Sex museum
A sex museum is a museum that displays erotic art, historical sexual aids, and documents on the history of erotica. They were popular in Europe at the end of the 1960s and during the 1970s, the era of the sexual revolution....
and similar businesses.
The
Operettenhaus
, a
musical theatre
Musical theatre
Musical theatre is a form of theatre combining songs, spoken dialogue, acting, and dance. The emotional content of the piece – humor, pathos, love, anger – as well as the story itself, is communicated through the words, music, movement and technical aspects of the entertainment as an...
, is also located at the Reeperbahn. It played
Andrew Lloyd Webber
Andrew Lloyd Webber
Andrew Lloyd Webber, Baron Lloyd-Webber is an English composer of musical theatre.Lloyd Webber has achieved great popular success in musical theatre. Several of his musicals have run for more than a decade both in the West End and on Broadway. He has composed 13 musicals, a song cycle, a set of...
's
Cats
Cats (musical)
Cats is a musical composed by Andrew Lloyd Webber, based on Old Possum's Book of Practical Cats by T. S. Eliot...
for many years, after that
Mamma Mia!
Mamma Mia!
Mamma Mia! is a stage musical written by British playwright Catherine Johnson, based on the songs of ABBA, composed by Benny Andersson and Björn Ulvaeus, former members of the band. Although the title of the musical is taken from the group's 1975 chart-topper "Mamma Mia", the plot is fictional, not...
, an
ABBA
ABBA
ABBA was a Swedish pop group formed in Stockholm in 1970 which consisted of Anni-Frid Lyngstad, Björn Ulvaeus, Benny Andersson and Agnetha Fältskog...
-musical, and now "Ich war noch niemals in New York", ("I have never been in New York") featuring hit songs by Austrian singer/songwriter
Udo Jürgens
Udo Jürgens
Udo Jürgens is an Austrian composer and singer of popular music whose career spans over fifty years...
. There are other theatres at the Reeperbahn (St. Pauli Theater, Imperial Theater, Schmidts Tivoli) and also several Cabarets/Varietés.
A famous landmark is the
Davidwache
, a police station located on the South side of the Reeperbahn at the cross street
Davidstraße
.
Street prostitution
Prostitution
Prostitution is the act or practice of providing sexual services to another person in return for payment. The person who receives payment for sexual services is called a prostitute and the person who receives such services is known by a multitude of terms, including a "john". Prostitution is one of...
is legal during certain times of the day on
Davidstraße
. The
Herbertstraße
, a short side street of the
Davidstraße
, has prostitutes behind windows waiting for customers. Since 1933, large screens block the view into Herbertstraße from the adjacent streets. Since the 1970s, there have been signs saying that entrance to the street is prohibited for women and juveniles; however, technically it is a public road which anyone may enter.
The
Große Freiheit
Große Freiheit
The Große Freiheit is a cross street on the North Side to Hamburg's Reeperbahn road in the St. Pauli quarter. It is part of the so called red light district or Kiez.-History:...
("Great Freedom") is a cross street on the North Side with several bars, clubs and a Catholic church. In former years, several sex theatres here (
Salambo
,
Regina
,
Colibri
,
Safari
) would show live sex acts on stage. , the
Safari
is the only live sex theatre left in Germany. The popular
table dance
Table dance
Table dance, or bartop dancing, is typically an erotic dance performed at a patron's table, as opposed to on a stage. In some jurisdictions, a table dance may be an alternative to a lap dance, due to laws preventing exotic dancers from making contact with customers...
club
Dollhouse
now takes the place of the
Salambo
.
Hotel Luxor
, Hamburg's oldest brothel that had operated on this street for 60 years, was closed in 2008. The street's name comes from the fact that Catholics were allowed to practice their religion here at a time when this district did not yet belong to Hamburg; they were forbidden from doing so in Protestant Hamburg proper.
In 1967, Europe's largest brothel at the time, the six-floor
Eros Center
, was opened on the Reeperbahn. It was closed in the late 1980s amidst the AIDS scare.
At a major trial during 2006/2007, ten members of the "Marek Gang", which controls brothels on and near the Reeperbahn, were charged with
pimp
Pimp
A pimp is an agent for prostitutes who collects part of their earnings. The pimp may receive this money in return for advertising services, physical protection, or for providing a location where she may engage clients...
ing. The judge rejected the charge of forming a criminal gang and handed out suspended sentences: the men had started relationships with young women in local discotheques in order to recruit them to work in their brothels, an illegal practice if the women are under 21 years of age; some men had also abused some of their women.
Due to the problems with prostitution and the high crime rate, in 2007 the Senate of Hamburg enacted a ban on weapons in the Reeperbahn area. The only other such area with a weapons ban in Hamburg is the
Hansaplatz
,
St. Georg
St. Georg, Hamburg
St. Georg is a central quarter in the borough Hamburg-Mitte of Hamburg, Germany. In 2006 the population was 10,551.-History:In 1410 the articles 17 and 18 of a contract between the Senate and the citizens were regulating the accommodation of the patients in the hospital St. Georg . This hospital...
.
The
St Pauli Preservation Society
decries the ongoing
gentrification
Gentrification
Gentrification and urban gentrification refer to the changes that result when wealthier people acquire or rent property in low income and working class communities. Urban gentrification is associated with movement. Consequent to gentrification, the average income increases and average family size...
of the area. Several old-timers blamed the decline of the Reeperbahn's prostitution and pornography businesses on the rise of discotheques and cheap bars that attract teenage customers.
The Beatles
In the early 1960s,
The Beatles
The Beatles
The Beatles were an English rock band, active throughout the 1960s and one of the most commercially successful and critically acclaimed acts in the history of popular music. Formed in Liverpool, by 1962 the group consisted of John Lennon , Paul McCartney , George Harrison and Ringo Starr...
(who had not yet become world-famous) played in several clubs around the Reeperbahn, including the
Star-Club
Star-Club
The Star-Club was a music club in Hamburg, Germany that opened Friday 13 April 1962 and was initially operated by Manfred Weissleder and Horst Fascher. In the sixties, many of the giants of rock music played at the club. The club closed on 31 December 1969 and the building it occupied was...
,
Kaiserkeller
Kaiserkeller
Kaiserkeller is a night club in the St. Pauli quarter of Hamburg, Germany, near the Reeperbahn. It was opened by Bruno Koschmider on October 14, 1959. The Beatles had a contract with Kaiserkeller to play there in 1960.-Biography:...
,
Top Ten
Top Ten Club
The Top Ten Club was a music club in Hamburg, Germany owned by Peter Eckhorn. The address in Hamburg area St. Pauli was 136 Reeperbahn.-Musicians who have played here:...
and
Indra
. Stories about the band's residencies, onstage and offstage antics are legendary; some stories are true (
John Lennon
John Lennon
John Winston Lennon, MBE was an English musician and singer-songwriter who rose to worldwide fame as one of the founding members of The Beatles, one of the most commercially successful and critically acclaimed acts in the history of popular music...
played a song set with a
toilet seat
Toilet seat
A toilet seat is a hinged unit consisting of seat and lid which is bolted onto a toilet bowl for a flush toilet. A toilet seat consists of the seat itself, which may be contoured for the user to sit on, and the lid, which covers the toilet when it is not in use.If the toilet is located in a home...
around his neck), others inflated (the band urinating in an alley as
nun
Nun
A nun is a woman who has taken vows committing her to live a spiritual life. She may be an ascetic who voluntarily chooses to leave mainstream society and live her life in prayer and contemplation in a monastery or convent...
s walked past was told rather differently later). A fellow musician, Ted "Kingsize" Taylor, made a crude
tape recording
Magnetic tape
Magnetic tape is a medium for magnetic recording, made of a thin magnetizable coating on a long, narrow strip of plastic. It was developed in Germany, based on magnetic wire recording. Devices that record and play back audio and video using magnetic tape are tape recorders and video tape recorders...
of their last
New Year's Eve
New Year's Eve
New Year's Eve is observed annually on December 31, the final day of any given year in the Gregorian calendar. In modern societies, New Year's Eve is often celebrated at social gatherings, during which participants dance, eat, consume alcoholic beverages, and watch or light fireworks to mark the...
show, at the Star-Club in December 1962; a cleaned-up version of the tape was later released as an album, later characterized by Harrison as "Awful."
Famously John Lennon is quoted: "I might have been born in
Liverpool
Liverpool
Liverpool is a city and metropolitan borough of Merseyside, England, along the eastern side of the Mersey Estuary. It was founded as a borough in 1207 and was granted city status in 1880...
- but I grew up in Hamburg".
In memory of this time a
Beatles-Platz
Beatles-Platz
The Beatles-Platz is a plaza in the St. Pauli quarter in Hamburg, Germany, at the crossroads of Reeperbahn and Große Freiheit. It is circular, with a diameter of and paved black to make it look like a vinyl record...
was built at the cross of Reeperbahn and Große Freiheit.
Popular culture
The popular 1944 movie
Große Freiheit Nr. 7
Große Freiheit Nr. 7
Große Freiheit Nr. 7 is a 1944 German musical drama film directed by Helmut Käutner. It was named after Große Freiheit , a street next to Hamburg's Reeperbahn road in the St...
tells the story of a singer (played by
Hans Albers
Hans Albers
Hans Philipp August Albers was a German actor and singer. He was the single biggest male movie star in Germany between 1930 and 1945 and one of the most popular German actors of the twentieth century.- Life and work :...
) who works in a Reeperbahn club and falls in love with a girl played by
Ilse Werner
Ilse Werner
Ilse Werner was an actress and singer. She was born to a Dutch father and a German mother and was a Dutch citizen by birth...
. Hans Albers and
Heinz Rühmann
Heinz Rühmann
Heinrich Wilhelm "Heinz" Rühmann was a popular German film actor.-Life and work:Rühmann was born in Essen, Westphalia. His role in the 1930 movie Die Drei von der Tankstelle led him to film stardom. He remained highly popular as a comedic actor throughout the 1930s and early 1940s...
played in the 1954 movie
Auf der Reeperbahn nachts um halb eins
("On the Reeperbahn half past midnight", after an Albers' song from the 1944 movie). The title song is popular to this day and can often be heard in, or in connection with, St. Pauli. The Hans-Albers-Platz, one block south of the Reeperbahn, has a statue of Hans Albers. It was created in 1986 by the artist
Jörg Immendorff
Jörg Immendorff
Jörg Immendorff was one of the best known contemporary German painters; he was also a sculptor, stage designer and art professor.- Life and work :...
who owned a bar near the Reeperbahn in the 1980s.
In 1958,
Trinidad
Trinidad
Trinidad is the larger and more populous of the two major islands and numerous landforms which make up the island nation of Trinidad and Tobago. It is the southernmost island in the Caribbean and lies just off the northeastern coast of Venezuela. With an area of it is also the fifth largest in...
ian
calypso
Calypso music
Calypso is a style of Afro-Caribbean music that originated in Trinidad and Tobago from African and European roots. The roots of the genre lay in the arrival of enslaved Africans, who, not being allowed to speak with each other, communicated through song...
artiste,
Lord Invader
Lord Invader
Lord Invader was a prominent calypsonian with a very distinctive, gravelly voice....
recorded a track entitled
My Experience On The Reeperbahn
. It recalls a time when he was conned by a transvestite.
Reeperbahn
is a 1978 song by
Udo Lindenberg
Udo Lindenberg
Udo Lindenberg is a German rock musician and composer.-Career:Lindenberg started his musical career as a drummer. In 1969 Lindenberg founded his first band Free Orbit and also appeared as a studio and guest musician . In 1970 he collaborated as a drummer with jazz-saxophonist Klaus Doldinger in...
, to the tune of
Penny lane
Penny Lane
"Penny Lane" is a song by The Beatles, written by Paul McCartney. It was credited to Lennon–McCartney.Recorded during the Sgt. Pepper sessions, "Penny Lane" was released in February 1967 as one side of a double A-sided single, along with "Strawberry Fields Forever". Both songs were later included...
, lamenting the decay of the entertainment there.
Reeperbahn
is the name of a Swedish 80's band. Finnish artist
Irwin Goodman
Irwin Goodman
Irwin Goodman was a popular Finnish rock and folk singer. In the late 1960s he was widely known as a protest singer. He recorded over 300 songs, most of which were his own compositions, with lyrics written by Vexi Salmi...
has made a song and an album called "St.Pauli ja Reeperbahn". The street is also mentioned in the
Elvis Costello
Elvis Costello
Elvis Costello , born Declan Patrick MacManus, is an English singer-songwriter. He came to prominence as an early participant in London's pub rock scene in the mid-1970s and later became associated with the punk/New Wave genre. Steeped in word play, the vocabulary of Costello's lyrics is broader...
song "Human Hands", in
Van Morrison
Van Morrison
Van Morrison, OBE is a Northern Irish singer-songwriter and musician. His live performances at their best are regarded as transcendental and inspired; while some of his recordings, such as the studio albums Astral Weeks and Moondance, and the live album It's Too Late to Stop Now, are widely...
's song "Heavy Connection", in the
Midnight Oil
Midnight Oil
Midnight Oil , were an Australian rock band from Sydney originally performing as Farm from 1972 with drummer Rob Hirst, bass guitarist Andrew James and keyboard player/lead guitarist Jim Moginie...
song "Mountains of Burma", the
Sloppy Seconds
Sloppy Seconds
Sloppy Seconds is a Ramones-influenced punk band from Indianapolis, Indiana that started in the mid-1980s. They gained notoriety in the underground "punk" scene with songs like "Come Back, Traci" , "I Don't Want to be a Homosexual", "Jani is a Nazi", "I Want 'em Dead" and "So Fucked up".The bands...
song Germany from their album
Destroyed
Destroyed
Destroyed is the first full length studio album by punk band Sloppy Seconds. It was released in 1989 on Toxic Shock records. The album cover is a parody of the Kiss album Destroyer from 1976.-Track listing:#"I Don't Wanna Be A Homosexual"...
and in the
Runrig
Runrig
Runrig are a Scottish Celtic rock group formed in Skye, in 1973 under the name 'The Run Rig Dance Band'. Since its inception, the band's line-up has included songwriters Rory Macdonald and Calum Macdonald. The current line-up also includes longtime members Malcolm Jones, Iain Bayne, and more...
song "Song of the Earth". The heavy metal band
Blue Cheer
Blue Cheer
Blue Cheer was an American psychedelic blues-rock band that initially performed and recorded in the late 1960s and early 1970s and was sporadically active until 2009...
has a song called "Sweet Child of the Reeperbahn" on their 1991 album
Dining with the Sharks
Dining With the Sharks
Dining With the Sharks is the ninth studio album by American blues-rock band Blue Cheer. It features a cover of Jimi Hendrix's classic "Foxey Lady".-Track listing:#"Big Noise" – 4:51...
. The punk band The Toy Dolls has a song titled "Caught up the Reeperbahn", first released on their 1993 album "
Absurd-Ditties
Absurd-Ditties
Absurd-Ditties is a full-length album by the Punk band Toy Dolls.-Track listing:# "Absurd-Ditties" – 0:44# "I'm a Telly Addict" – 2:48# ""Terry Talking"" – 2:35# "Ernie Had a Hernia" – 3:17# "Toccata in Dm" – 2:37...
".
The "Reeperbahn" is often mentioned in
Karen Duve
Karen Duve
Karen Duve is a German author. After secondary school, she worked as a proof-reader and taxi driver in Hamburg...
's 1999 novel, "Regenroman" (English translation Entitled "Rain").
Tom Waits
Tom Waits
Thomas Alan "Tom" Waits is an American singer-songwriter, composer, and actor. Waits has a distinctive voice, described by critic Daniel Durchholz as sounding "like it was soaked in a vat of bourbon, left hanging in the smokehouse for a few months, and then taken outside and run over with a car."...
' 2002 release Alice contains a track called "Reeperbahn." Australian pop-punk band The
Hard-Ons
Hard-Ons
The Hard-Ons are a punk rock band from Sydney, Australia that originally formed in 1981. They have been called Australia's most commercially successful independent band, with over 250,000 total record sales. -1980s: Early days:...
have a song called "Don't Fear The Reeperbahn" on their 2007 album
Most People Are Nicer Than Us
. Its title is a play on the
Blue Öyster Cult
Blue Öyster Cult
Blue Öyster Cult, often abbreviated BÖC, is an American rock band, most of whose members first came together in Long Island, NY in 1967 as the band Soft White Underbelly...
song "
(Don't Fear) The Reaper
(Don't Fear) The Reaper
" The Reaper" is a song by the rock band Blue Öyster Cult from their 1976 album, Agents of Fortune. It was written and sung by the band's lead guitarist, Donald "Buck Dharma" Roeser and was produced by David Lucas, Murray Krugman, and Sandy Pearlman. It is built around Dharma's guitar riff that...
". The 2011 album I Love You Dude by electro band
Digitalism
Digitalism
Digitalism may refer to:*Digital philosophy, a direction in philosophy and cosmology advocated by certain mathematicians and theoretical physicists.*Digitalism , a German electronic music group....
features a song called Reeperbahn.
External links
http://en.reeperbahn.se - Information about Reeperbahn and the St. Pauli district (in English)
http://reeperbahn.hamburg.de - links and information about the reeperbahn (in German)
http://www.szene-in-hamburg.de/reeperbahn.html - the night life in Hamburg on the Reeperbahn. (in German)