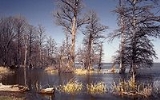 Reelfoot Lake
Reelfoot Lake
is a shallow natural
lake
Lake
A lake is a body of relatively still fresh or salt water of considerable size, localized in a basin, that is surrounded by land. Lakes are inland and not part of the ocean and therefore are distinct from lagoons, and are larger and deeper than ponds. Lakes can be contrasted with rivers or streams,...
located in the northwest portion of
Tennessee
Tennessee
Tennessee is a U.S. state located in the Southeastern United States. It has a population of 6,346,105, making it the nation's 17th-largest state by population, and covers , making it the 36th-largest by total land area...
, United States of America. Much of it is really more of a
swamp
Swamp
A swamp is a wetland with some flooding of large areas of land by shallow bodies of water. A swamp generally has a large number of hammocks, or dry-land protrusions, covered by aquatic vegetation, or vegetation that tolerates periodical inundation. The two main types of swamp are "true" or swamp...
, with
bayou
Bayou
A bayou is an American term for a body of water typically found in flat, low-lying areas, and can refer either to an extremely slow-moving stream or river , or to a marshy lake or wetland. The name "bayou" can also refer to creeks that see level changes due to tides and hold brackish water which...
-like
ditch
Ditch
A ditch is usually defined as a small to moderate depression created to channel water.In Anglo-Saxon, the word dïc already existed and was pronounced 'deek' in northern England and 'deetch' in the south. The origins of the word lie in digging a trench and forming the upcast soil into a bank...
es (some natural, some man-made) connecting more open bodies of water called basins, the largest of which is called Blue Basin. Reelfoot Lake is noted for its
bald cypress
Taxodium
Taxodium is a genus of one to three species of extremely flood-tolerant conifers in the cypress family, Cupressaceae...
trees and its nesting pairs of
bald eagle
Bald Eagle
The Bald Eagle is a bird of prey found in North America. It is the national bird and symbol of the United States of America. This sea eagle has two known sub-species and forms a species pair with the White-tailed Eagle...
s. It is the site of
Reelfoot Lake State Park
Reelfoot Lake State Park
Reelfoot Lake State Park is a state park in the northwest corner of Tennessee in the United States. It encompasses Reelfoot Lake and is situated in Lake and Obion counties. A major hunting and fishing preserve, it comprises , of which are water, and harbors almost every kind of shorebird, as well...
.
Lake Isom
Lake Isom
Lake Isom is a small natural lake located in Lake County, Tennessee immediately south of Reelfoot Lake. It is fed by Running Reelfoot Bayou, the outlet stream of Reelfoot Lake. Like Reelfoot, it was formed in the New Madrid Earthquakes of 1811-1812 and it is very shallow and swampy...
, a similar, smaller lake to the immediate south, is a
National Wildlife Refuge
National Wildlife Refuge
National Wildlife Refuge is a designation for certain protected areas of the United States managed by the United States Fish and Wildlife Service. The National Wildlife Refuge System is the world's premiere system of public lands and waters set aside to conserve America's fish, wildlife and plants...
area.
According to the
United States Geological Survey
United States Geological Survey
The United States Geological Survey is a scientific agency of the United States government. The scientists of the USGS study the landscape of the United States, its natural resources, and the natural hazards that threaten it. The organization has four major science disciplines, concerning biology,...
, Reelfoot Lake was formed when the region subsided during the
New Madrid earthquakes
New Madrid earthquake
The 1811-1812 New Madrid earthquakes were an intense intraplate earthquake series beginning with an initial pair of very large earthquakes on December 16, 1811. These earthquakes remain the most powerful earthquakes ever to hit the eastern United States in recorded history...
of 1811–1812.