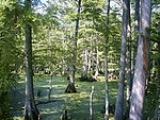 Bayou
A
bayou
is an American term for a body of water typically found in flat, low-lying areas, and can refer either to an extremely slow-moving
stream
Stream
A stream is a body of water with a current, confined within a bed and stream banks. Depending on its locale or certain characteristics, a stream may be referred to as a branch, brook, beck, burn, creek, "crick", gill , kill, lick, rill, river, syke, bayou, rivulet, streamage, wash, run or...
or
river
River
A river is a natural watercourse, usually freshwater, flowing towards an ocean, a lake, a sea, or another river. In a few cases, a river simply flows into the ground or dries up completely before reaching another body of water. Small rivers may also be called by several other names, including...
(often with a poorly defined shoreline), or to a marshy lake or wetland. The name "bayou" can also refer to creeks that see level changes due to tides and hold brackish water which is highly conducive to fish life and plankton. Bayous are commonly found in the
Gulf Coast
Gulf Coast of the United States
The Gulf Coast of the United States, sometimes referred to as the Gulf South, South Coast, or 3rd Coast, comprises the coasts of American states that are on the Gulf of Mexico, which includes Texas, Louisiana, Mississippi, Alabama, and Florida and are known as the Gulf States...
region of the southern
United States
United States
The United States of America is a federal constitutional republic comprising fifty states and a federal district...
, notably the
Mississippi River region
Mississippi Delta
The Mississippi Delta is the distinctive northwest section of the U.S. state of Mississippi that lies between the Mississippi and Yazoo Rivers. The region has been called "The Most Southern Place on Earth" because of its unique racial, cultural, and economic history...
, with the state of Louisiana being famous for them.