 Reduction (cooking)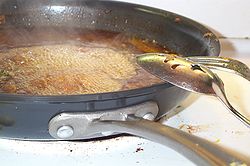 In cooking,
reduction
is the process of
thickening
Thickening
In cooking, thickening is the process of increasing the viscosity of a liquid either by reduction, or by the addition of a thickening agent, typically containing starch....
and intensifying the flavor of a liquid mixture such as a
soup
Soup
Soup is a generally warm food that is made by combining ingredients such as meat and vegetables with stock, juice, water, or another liquid. Hot soups are additionally characterized by boiling solid ingredients in liquids in a pot until the flavors are extracted, forming a broth.Traditionally,...
,
sauce
Sauce
In cooking, a sauce is liquid, creaming or semi-solid food served on or used in preparing other foods. Sauces are not normally consumed by themselves; they add flavor, moisture, and visual appeal to another dish. Sauce is a French word taken from the Latin salsus, meaning salted...
,
wine
Wine
Wine is an alcoholic beverage, made of fermented fruit juice, usually from grapes. The natural chemical balance of grapes lets them ferment without the addition of sugars, acids, enzymes, or other nutrients. Grape wine is produced by fermenting crushed grapes using various types of yeast. Yeast...
, or
juice
Juice
Juice is the liquid that is naturally contained in fruit or vegetable tissue.Juice is prepared by mechanically squeezing or macerating fruit or vegetable flesh without the application of heat or solvents. For example, orange juice is the liquid extract of the fruit of the orange tree...
by
boiling
Boiling
Boiling is the rapid vaporization of a liquid, which occurs when a liquid is heated to its boiling point, the temperature at which the vapor pressure of the liquid is equal to the pressure exerted on the liquid by the surrounding environmental pressure. While below the boiling point a liquid...
.
Reduction is performed by boiling liquid (whether
stock
Stock (food)
Stock is a flavoured water preparation. It forms the basis of many dishes, particularly soups and sauces.- Preparation :Stock is made by simmering various ingredients in water, including some or all of the following...
, wine, whiskey, vinegar, or sauce mixture) rapidly and usually without a lid (enabling the vapor to escape more easily) until the volume desired is reached by evaporation. Since each components of the mixture evaporate at slightly different temperatures and the goal of reduction is to drive away those with lowest points of evaporation, it is – in a way – a form of
distillation
Distillation
Distillation is a method of separating mixtures based on differences in volatilities of components in a boiling liquid mixture. Distillation is a unit operation, or a physical separation process, and not a chemical reaction....
.
While reduction does concentrate the flavors left in the pan, extended cooking can drive away volatile flavor compounds or even juice self to the meal, leaving behind dryer, less juicy food without essential flavours.
Examples
Common preparations involving reductions include