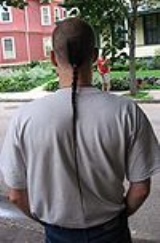 Rattail
Grenadiers
or
rattails
(less commonly
whiptails
) are generally large, brown to black gadiform marine
fish
Fish
Fish are a paraphyletic group of organisms that consist of all gill-bearing aquatic vertebrate animals that lack limbs with digits. Included in this definition are the living hagfish, lampreys, and cartilaginous and bony fish, as well as various extinct related groups...
of the family
Macrouridae
. Found at great depths from the
Arctic
Arctic Ocean
The Arctic Ocean, located in the Northern Hemisphere and mostly in the Arctic north polar region, is the smallest and shallowest of the world's five major oceanic divisions...
to Antarctic, members of this family are among the most abundant of the deep-sea fishes.
The Macrouridae are a large and diverse family with some 34 genera and 383 species recognized (well over half of which are contained in just three genera,
Caelorinchus
Caelorinchus
Caelorinchus is a genus of rattails currently with 114 described species.-Species:* Surgeon grenadier, Caelorinchus acanthiger* Caelorinchus acantholepis* Aconcagua grenadier, Caelorinchus aconcagua* Caelorinchus acutirostris...
,
Coryphaenoides
Coryphaenoides
Coryphaenoides is a genus of rattails of the family Macrouridae.- Species :* Pacific grenadier, Coryphaenoides acrolepis - * Coryphaenoides affinis - * Coryphaenoides alateralis - * Coryphaenoides altipinnis -...
and
Nezumia
Nezumia
Nezumia is a large genus of rattails of the family Macrouridae. It has 51 described species at present.-Species:* Common Atlantic grenadier, Nezumia aequalis * Nezumia africana...
). They range in length from approximately 10 centimetres (3.9 in) in the
graceful grenadier
Graceful grenadier
The graceful grenadier is a species of rattail. It is found at depths of up to 345 m in tropical and subtropical seas worldwide....
(
Hymenocephalus gracilis
) to 1.5 metres (4.9 ft) in the
giant grenadier
Giant grenadier
The giant grenadier, Albatrossia pectoralis , is a very large rattail, the only member of the genus Albatrossia, found in the north Pacific from northern Japan to the Okhotsk and Bering seas, east to the Gulf of Alaska, and south to northern Baja California in Mexico, at depths of between 140 and...
,
Albatrossia pectoralis
. An important commercial fishery exists for the larger species, such as the giant grenadier and roundnose grenadier,
Coryphaenoides rupestris
. The family as a whole may represent up to 15 percent of the deep-sea fish population.
Typified by large heads with large mouths and eyes, grenadiers have slender bodies that taper greatly to a very thin caudal peduncle or tail (excluding one species, there is no tail fin): this
rat
Rat
Rats are various medium-sized, long-tailed rodents of the superfamily Muroidea. "True rats" are members of the genus Rattus, the most important of which to humans are the black rat, Rattus rattus, and the brown rat, Rattus norvegicus...
-like tail explains the common name
rattail
and the family name
Macrouridae
, from the
Greek
Greek language
Greek is an independent branch of the Indo-European family of languages. Native to the southern Balkans, it has the longest documented history of any Indo-European language, spanning 34 centuries of written records. Its writing system has been the Greek alphabet for the majority of its history;...
makros
meaning "great" and
oura
meaning "tail". The first
dorsal fin
Dorsal fin
A dorsal fin is a fin located on the backs of various unrelated marine and freshwater vertebrates, including most fishes, marine mammals , and the ichthyosaurs...
is small, high and pointed (and may be spinous); the second dorsal fin runs along the rest of the back and merges with the tail and extensive anal fin. The scales are small.
As with many deep-living fish, the
lateral line
Lateral line
The lateral line is a sense organ in aquatic organisms , used to detect movement and vibration in the surrounding water. Lateral lines are usually visible as faint lines running lengthwise down each side, from the vicinity of the gill covers to the base of the tail...
system in grenadiers is well-developed; it is further aided by numerous chemoreceptors located on the head and lips, and chemosensory
barbel
Barbel (anatomy)
A barbel on a fish is a slender, whiskerlike tactile organ near the mouth. Fish that have barbels include the catfish, the carp, the goatfish, sturgeon, the zebrafish and some species of shark...
s underneath the chin. Benthic species have
gas bladder
Gas bladder
The swim bladder, gas bladder, fish maw or air bladder is an internal gas-filled organ that contributes to the ability of a fish to control its buoyancy, and thus to stay at the current water depth without having to waste energy in swimming...
s with unique muscles attached to them. The animals are thought to use these muscles to "strum" their gas bladders and produce sound, possibly playing a role in courtship and mate location. Light-producing organs called
photophore
Photophore
A photophore is a light-emitting organ which appears as luminous spots on various marine animals, including fish and cephalopods. The organ can be simple, or as complex as the human eye; equipped with lenses, shutters, color filters and reflectors...
s are present in some species; they are located in the middle of the abdomen, just before the anus and underneath the skin.
Living at depths from 200 to 6000 m (656.2 to 19,685 ft), rattails are the most common benthic fish of the deep (however, two genera are known to prefer the midwater). Rattails may be solitary or they may form large schools, as with the roundnose grenadiers. The benthic species are attracted to structural oases, such as
hydrothermal vent
Hydrothermal vent
A hydrothermal vent is a fissure in a planet's surface from which geothermally heated water issues. Hydrothermal vents are commonly found near volcanically active places, areas where tectonic plates are moving apart, ocean basins, and hotspots. Hydrothermal vents exist because the earth is both...
s,
cold seep
Cold seep
A cold seep is an area of the ocean floor where hydrogen sulfide, methane and other hydrocarbon-rich fluid seepage occurs, often in the form of a brine pool...
s, and
shipwreck
Shipwreck
A shipwreck is what remains of a ship that has wrecked, either sunk or beached. Whatever the cause, a sunken ship or a wrecked ship is a physical example of the event: this explains why the two concepts are often overlapping in English....
s. Rattails are thought to be generalists, feeding on smaller fish, pelagic crustaceans such as
shrimp
Shrimp
Shrimp are swimming, decapod crustaceans classified in the infraorder Caridea, found widely around the world in both fresh and salt water. Adult shrimp are filter feeding benthic animals living close to the bottom. They can live in schools and can swim rapidly backwards. Shrimp are an important...
and amphipods,
cumacea
Cumacea
Cumacea is an order of small marine crustaceans, occasionally called hooded shrimp. Their unique appearance and uniform body plan makes them easy to distinguish from other crustaceans.-Anatomy:...
ns and less often
cephalopod
Cephalopod
A cephalopod is any member of the molluscan class Cephalopoda . These exclusively marine animals are characterized by bilateral body symmetry, a prominent head, and a set of arms or tentacles modified from the primitive molluscan foot...
s and
lanternfish
Lanternfish
Cooper Lanternfishes are small mesopelagic fish of the large family Myctophidae. One of two families in the order Myctophiformes, the Myctophidae are represented by 246 species in 33 genera, and are found in oceans worldwide. They are aptly named after their conspicuous use of bioluminescence...
. As well as being important apex predators in the benthic habitat, some species are also notable as scavengers.
As few rattail
larva
Larva
A larva is a distinct juvenile form many animals undergo before metamorphosis into adults. Animals with indirect development such as insects, amphibians, or cnidarians typically have a larval phase of their life cycle...
e have been recovered, little is known of their life history. They are known to produce a large number (over 100,000) of tiny (1–2 mm (0.0393700787401575–0.078740157480315 in) in diameter) eggs made buoyant by
lipid
Lipid
Lipids constitute a broad group of naturally occurring molecules that include fats, waxes, sterols, fat-soluble vitamins , monoglycerides, diglycerides, triglycerides, phospholipids, and others...
droplets. The eggs are presumed to float up to the
thermocline
Thermocline
A thermocline is a thin but distinct layer in a large body of fluid , in which temperature changes more rapidly with depth than it does in the layers above or below...
(the interface between warmer surface waters and cold, deeper waters) where they develop. The juveniles remain in shallower waters, gradually migrating to greater depths with age.
Spawning may or may not be tied to the seasons, depending on the species. At least one species,
Coryphaenoides armatus
, is thought to be semelparous; that is, the adults die after spawning. Non-semelparous species may live to 56 years or more. The Macrouridae in general are thought to have low resilience; commercially exploited species may be overfished and this could soon lead to a collapse of rattail fisheries.
Family Macrouridae
Subfamily Bathygadinae

Genus Bathygadus

Bathygadus

Bathygadus is a genus of rattails of the family Macrouridae.- Species :* Bathygadus antrodes * Bathygadus bowersi * Codheaded rattail, Bathygadus cottoides Günther, 1878...


(13 species)
Genus Gadomus

Gadomus

Gadomus is a genus of rattails of the family Macrouridae.- Species :* Filamentous rattail, Gadomus aoteanus McCann & McKnight, 1980* Doublethread grenadier, Gadomus arcuatus...


(13 species)

Subfamily Macrourinae

Genus Albatrossia (monotypic

Monotypic

In biology, a monotypic taxon is a taxonomic group with only one biological type. The term's usage differs slightly between botany and zoology. The term monotypic has a separate use in conservation biology, monotypic habitat, regarding species habitat conversion eliminating biodiversity and...


)
Genus Asthenomacrurus

Asthenomacrurus

Asthenomacrurus is a genus of rattails of the family Macrouridae.-Species:* Fragile grenadier, Asthenomacrurus fragilis * Asthenomacrurus victoris Sazonov & Shcherbachev, 1982...


(2 species)
Genus Caelorinchus

Caelorinchus

Caelorinchus is a genus of rattails currently with 114 described species.-Species:* Surgeon grenadier, Caelorinchus acanthiger* Caelorinchus acantholepis* Aconcagua grenadier, Caelorinchus aconcagua* Caelorinchus acutirostris...


(114 species)
Genus Cetonurichthys
Genus Cetonurus
Genus Coryphaenoides

Coryphaenoides

Coryphaenoides is a genus of rattails of the family Macrouridae.- Species :* Pacific grenadier, Coryphaenoides acrolepis - * Coryphaenoides affinis - * Coryphaenoides alateralis - * Coryphaenoides altipinnis -...



Genus Cynomacrurus
Genus Echinomacrurus
Genus Haplomacrourus
Genus Hymenocephalus

Hymenocephalus

Hymenocephalus is a genus of rattails currently with 24 described species.- Species :* Hymenocephalus adelscotti* Hymenocephalus antraeus* Hymenocephalus aterrimus* Hymenocephalus barbatulus* Hymenocephalus billsam...


(23 species)
Genus Hyomacrurus
Genus Kumba

Kumba (genus)

Kumba is a genus of rattails currently with eight described species.-Species:*Kumba calvifrons*Kumba dentoni*Kumba gymnorhynchus*Kumba hebetata*Kumba japonica*Kumba maculisquama*Kumba musorstom*Kumba punctulata...


(8 species)
Genus Kuronezumia
Genus Lepidorhynchus
Genus Lucigadus

Lucigadus

Lucigadus is a genus of rattails of the family Macrouridae.-Species:* Lucigadus acrolophus Iwamoto & Merrett, 1997* Lucigadus lucifer * Lucigadus microlepis...



Genus Macrosmia
Genus Macrourus

Macrourus

Macrourus is a genus of rattails of the family Macrouridae.-Species:* Onion-eye grenadier, Macrourus berglax Lacepède, 1801* Ridge scaled rattail, Macrourus carinatus * Bigeye grenadier, Macrourus holotrachys Günther, 1878...



Genus Malacocephalus
Genus Mataeocephalus
Genus Mesobius
Genus Nezumia

Nezumia

Nezumia is a large genus of rattails of the family Macrouridae. It has 51 described species at present.-Species:* Common Atlantic grenadier, Nezumia aequalis * Nezumia africana...



Genus Odontomacrurus
Genus Paracetonurus
Genus Pseudocetonurus
Genus Pseudonezumia
Genus Sphagemacrurus
Genus Trachonurus
Genus Ventrifossa

Ventrifossa

Ventrifossa is a genus of rattails currently with 24 described species.-Species:*Arrowtooth grenadier Ventrifossa atherodon*Hawaiian grenadier Ventrifossa ctenomelas*Plainfin grenadier Ventrifossa divergens*Ventrifossa fusca...




Subfamily Macrouroidinae

Genus Macrouroides
Genus Squalogadus

Subfamily Trachyrincinae