 Rain gutter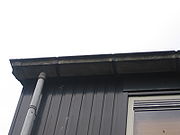 A
rain gutter
is a narrow channel, or trough, forming the component of a
roof
Roof
A roof is the covering on the uppermost part of a building. A roof protects the building and its contents from the effects of weather. Structures that require roofs range from a letter box to a cathedral or stadium, dwellings being the most numerous....
system which collects and diverts rainwater shed by the roof.
A rain gutter may be a:
Roof integral trough along the lower edge of the roof slope which is fashioned from the roof covering and flashing materials.
Discrete trough of metal, or other material that is suspended beyond the roof edge and below the projected slope of the roof.
Wall integral structure beneath the roof edge, traditionally constructed of masonry, fashioned as the crowning element of a wall.
The main purpose of a rain gutter is to protect a building's foundation by channeling water away from its base. They also help to reduce erosion, prevent leaks in basements and crawlspaces, protect painted surfaces by reducing exposure to water, and provide a means to collect rainwater for later use.
Rain gutters can be constructed from a variety of materials, including
cast iron
Cast iron
Cast iron is derived from pig iron, and while it usually refers to gray iron, it also identifies a large group of ferrous alloys which solidify with a eutectic. The color of a fractured surface can be used to identify an alloy. White cast iron is named after its white surface when fractured, due...
,
lead
Lead
Lead is a main-group element in the carbon group with the symbol Pb and atomic number 82. Lead is a soft, malleable poor metal. It is also counted as one of the heavy metals. Metallic lead has a bluish-white color after being freshly cut, but it soon tarnishes to a dull grayish color when exposed...
,
zinc
Zinc
Zinc , or spelter , is a metallic chemical element; it has the symbol Zn and atomic number 30. It is the first element in group 12 of the periodic table. Zinc is, in some respects, chemically similar to magnesium, because its ion is of similar size and its only common oxidation state is +2...
, galvanised steel, painted
steel
Steel
Steel is an alloy that consists mostly of iron and has a carbon content between 0.2% and 2.1% by weight, depending on the grade. Carbon is the most common alloying material for iron, but various other alloying elements are used, such as manganese, chromium, vanadium, and tungsten...
,
copper
Copper
Copper is a chemical element with the symbol Cu and atomic number 29. It is a ductile metal with very high thermal and electrical conductivity. Pure copper is soft and malleable; an exposed surface has a reddish-orange tarnish...
, painted aluminium,
PVC
Polyvinyl chloride
Polyvinyl chloride, commonly abbreviated PVC, is a thermoplastic polymer. It is a vinyl polymer constructed of repeating vinyl groups having one hydrogen replaced by chloride. Polyvinyl chloride is the third most widely produced plastic, after polyethylene and polypropylene. PVC is widely used in...
(and other plastics),
concrete
Concrete
Concrete is a composite construction material, composed of cement and other cementitious materials such as fly ash and slag cement, aggregate , water and chemical admixtures.The word concrete comes from the Latin word...
,
stone
Rock (geology)
In geology, rock or stone is a naturally occurring solid aggregate of minerals and/or mineraloids.The Earth's outer solid layer, the lithosphere, is made of rock. In general rocks are of three types, namely, igneous, sedimentary, and metamorphic...
, and
wood
Wood
Wood is a hard, fibrous tissue found in many trees. It has been used for hundreds of thousands of years for both fuel and as a construction material. It is an organic material, a natural composite of cellulose fibers embedded in a matrix of lignin which resists compression...
.
Water collected by a rain gutter is fed, usually via a
downspout
Downspout
A downspout, downpipe, roof drain pipe, or leader is a vertical pipe for carrying rainwater from a rain gutter to ground level...
(traditionally called a
leader
or
conductor
), from the roof edge to the base of the building where it is either discharged or collected. A collection system strategy for water carried from rain gutters may include a rain barrel or a
cistern
Cistern
A cistern is a waterproof receptacle for holding liquids, usually water. Cisterns are often built to catch and store rainwater. Cisterns are distinguished from wells by their waterproof linings...
.
Types of gutters

Different styles of gutter, known as profiles, are produced.
A
Box gutter
Box gutter
A box gutter, parallel gutter, or trough gutter is a rain gutter on a roof usually rectangular in shape; it may be lined with metal, asphalt, or roofing felt, and may be concealed behind a parapet or the eaves, or in a roof valley....
is a deep gutter which is concealed within the structure of the roof.
Cold forming technology exists to allow
continuous
gutters to be created, on site, in long individual lengths suitable to roof edge conditions, thereby reducing joints along the length of the gutter. These mostly joint free gutters are referred to as "seamless", and available in various shapes, sizes, and finishes.
Rain gutters can be equipped with gutter screens, louvers or solid hoods to allow water from the roof to flow through, while reducing passage of roof debris into the gutter.
Precautions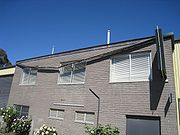 Clogged gutters can cause water leakage into the house as the water backs up. Clogged gutters can also lead to stagnant water build up which allows mosquitoes to breed and also allow grasses and weeds to grow in the gutter.
In popular culture
The episode of Ask This Old House on WETA-TV

WETA-TV

WETA-TV is a Public Broadcasting Service member public televisionstation for the Washington, D.C., area. Its studios are in nearby Arlington, Virginia...


, that teaches viewers to install a fiberglass bathtub and shower enclosure, also teaches how to fix a leaky rain gutter.
In The Sopranos

The Sopranos

The Sopranos is an American television drama series created by David Chase that revolves around the New Jersey-based Italian-American mobster Tony Soprano and the difficulties he faces as he tries to balance the often conflicting requirements of his home life and the criminal organization he heads...


episode, "The Telltale Moozadell", A.J. Soprano

Anthony Soprano, Jr.

Anthony John "A.J." Soprano, Jr. , played by Robert Iler, is a fictional character on the HBO TV series The Sopranos. Usually just called "A.J.", he is the son of Carmela and Tony Soprano. He is a prototypical underachiever and is a constant source of stress and anxiety for his parents...


and his friends are caught vandalizing their high school. As punishment, Tony and Carmela ground A.J. for a month with no television, DVD

DVD

A DVD is an optical disc storage media format, invented and developed by Philips, Sony, Toshiba, and Panasonic in 1995. DVDs offer higher storage capacity than Compact Discs while having the same dimensions....


s, computer or Nintendo

Nintendo

is a multinational corporation located in Kyoto, Japan. Founded on September 23, 1889 by Fusajiro Yamauchi, it produced handmade hanafuda cards. By 1963, the company had tried several small niche businesses, such as a cab company and a love hotel....


, and force A.J. to do household chores, beginning with cleaning out the rain gutters. Tony and Carmela are slightly appalled when A.J. doesn't even know what a rain gutter is.
External links