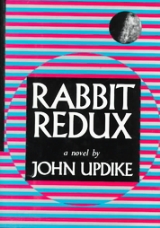 Rabbit Redux
Rabbit Redux
is a 1971 novel by
John Updike
John Updike
John Hoyer Updike was an American novelist, poet, short story writer, art critic, and literary critic....
. It is the second book in his "Rabbit" series, beginning with
Rabbit, Run
Rabbit, Run
Rabbit, Run is a 1960 novel by John Updike.The novel depicts five months in the life of a 26-year-old former high school basketball player named Harry 'Rabbit' Angstrom, and his attempts to escape the constraints of his life...
and followed by
Rabbit Is Rich
Rabbit Is Rich
Rabbit Is Rich is a 1981 novel by John Updike. It is the third novel of the four-part series which begins with Rabbit, Run and Rabbit Redux, and concludes with Rabbit At Rest. There is also a related 2001 novella, Rabbit Remembered...
,
Rabbit At Rest
Rabbit At Rest
Rabbit at Rest is a 1990 novel by John Updike. It is the fourth and final novel in a series beginning with Rabbit, Run; Rabbit Redux; and Rabbit is Rich. There is also a related 2001 novella, Rabbit Remembered...
, and the related 2001 novella,
Rabbit Remembered
Rabbit Remembered
Rabbit Remembered is a 2001 novella by John Updike, and a sequel to his "Rabbit" series. It first appeared in his collection of short fiction titled Licks of Love....
.
Plot summary
Rabbit Redux
finds the former high-school
basketball
Basketball
Basketball is a team sport in which two teams of five players try to score points by throwing or "shooting" a ball through the top of a basketball hoop while following a set of rules...
star, Harry "Rabbit" Angstrom, working a dead-end job and approaching middle age in the downtrodden and fictional city of Brewer,
Pennsylvania
Pennsylvania
The Commonwealth of Pennsylvania is a U.S. state that is located in the Northeastern and Mid-Atlantic regions of the United States. The state borders Delaware and Maryland to the south, West Virginia to the southwest, Ohio to the west, New York and Ontario, Canada, to the north, and New Jersey to...
, the place of his birth. When his wife leaves him for another man, Harry and his twelve-year-old son are at a loss, and the chaotic state of the nation circa 1969 finds its way into Harry's home.
Updike's recurring themes of guilt, sex, and death are joined in
Redux
by racism when Harry plays host to an African-American named Skeeter, a cynical, drug-dealing Vietnam vet who engages Harry in debates about the war and race relations. Jill, a wealthy white teenager fleeing suburban
Connecticut
Connecticut
Connecticut is a state in the New England region of the northeastern United States. It is bordered by Rhode Island to the east, Massachusetts to the north, and the state of New York to the west and the south .Connecticut is named for the Connecticut River, the major U.S. river that approximately...
, enthralls both Harry and his son, and the four of them make a scandalous household emblematic of the
Summer of Love
Summer of Love
The Summer of Love was a social phenomenon that occurred during the summer of 1967, when as many as 100,000 people converged on the Haight-Ashbury neighborhood of San Francisco, creating a cultural and political rebellion...
's most confusing implications, culminating in a house fire that kills Jill. Harry and his wife are reconciled at book's end.
Redux
Redux means "brought back, restored" (from the
Latin
Latin
Latin is an Italic language originally spoken in Latium and Ancient Rome. It, along with most European languages, is a descendant of the ancient Proto-Indo-European language. Although it is considered a dead language, a number of scholars and members of the Christian clergy speak it fluently, and...
reducere - bring back). Other works of literature using the same word in the title include
John Dryden
John Dryden
John Dryden was an influential English poet, literary critic, translator, and playwright who dominated the literary life of Restoration England to such a point that the period came to be known in literary circles as the Age of Dryden.Walter Scott called him "Glorious John." He was made Poet...
's
Astraea Redux
Astraea Redux
Astraea Redux, written by John Dryden in 1660, is a full-blown royalist panegyric in which Dryden welcomes the new regime of King Charles II. It is a vivid emotional display that overshadows the cautious Heroique Stanzas that Dryden composed for Oliver Cromwell's death...
(1662), "a poem on the happy restoration and return of His Sacred Majesty" and
Anthony Trollope
Anthony Trollope
Anthony Trollope was one of the most successful, prolific and respected English novelists of the Victorian era. Some of his best-loved works, collectively known as the Chronicles of Barsetshire, revolve around the imaginary county of Barsetshire...
's
Phineas Redux
Phineas Redux
Phineas Redux is a novel by Anthony Trollope, first published in 1873 as a serial in The Graphic. It is the fourth of the "Palliser" series of novels and the sequel to the second book of the series, Phineas Finn.-Synopsis:...
(1873).
Rabbit Redux
led to a redux in popularity of the word redux. In
Rabbit at Rest
, Rabbit notices:
Updike himself pronounced the word "ray-dooks."
Links