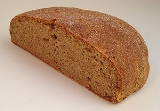 Potato bread
Potato bread
is a form of
bread
Bread
Bread is a staple food prepared by cooking a dough of flour and water and often additional ingredients. Doughs are usually baked, but in some cuisines breads are steamed , fried , or baked on an unoiled frying pan . It may be leavened or unleavened...
in which
potato
Potato
The potato is a starchy, tuberous crop from the perennial Solanum tuberosum of the Solanaceae family . The word potato may refer to the plant itself as well as the edible tuber. In the region of the Andes, there are some other closely related cultivated potato species...
replaces a portion of the regular wheat flour. It is cooked in a variety of methods, including by baking it on a hot griddle or pan, or in an oven. It may be leavened or unleavened, and may have a variety of other ingredients baked into it. The ratio of potato to wheat flour varies significantly from recipe to recipe, with some recipes having a majority of potato, and others having a majority of wheat flour. Some recipes call for mashed potatoes, with others calling for dehydrated potato flakes. It is available as a commercial product in many countries, with similar variations in ingredients, cooking method, and other variables.
Varieties
Germany

Germany

Germany , officially the Federal Republic of Germany , is a federal parliamentary republic in Europe. The country consists of 16 states while the capital and largest city is Berlin. Germany covers an area of 357,021 km2 and has a largely temperate seasonal climate...


:
Kartoffelbrot
is a potato bread that may contain
spelt
Spelt
Spelt is a hexaploid species of wheat. Spelt was an important staple in parts of Europe from the Bronze Age to medieval times; it now survives as a relict crop in Central Europe and northern Spain and has found a new market as a health food. Spelt is sometimes considered a subspecies of the...
and
rye
Rye
Rye is a grass grown extensively as a grain and as a forage crop. It is a member of the wheat tribe and is closely related to barley and wheat. Rye grain is used for flour, rye bread, rye beer, some whiskeys, some vodkas, and animal fodder...
flour.
Ireland

Ireland

Ireland is an island to the northwest of continental Europe. It is the third-largest island in Europe and the twentieth-largest island on Earth...


:
Pratie Oaten
uses a fine oatmeal instead of flour for more texture.
Apple Potato bread
is a speciality of
Armagh
Armagh
Armagh is a large settlement in Northern Ireland, and the county town of County Armagh. It is a site of historical importance for both Celtic paganism and Christianity and is the seat, for both the Roman Catholic Church and the Church of Ireland, of the Archbishop of Armagh...
,
Northern Ireland
Northern Ireland
Northern Ireland is one of the four countries of the United Kingdom. Situated in the north-east of the island of Ireland, it shares a border with the Republic of Ireland to the south and west...
which is famous for growing apples. It is a potato bread wrapped,
pasty
Pasty
A pasty , sometimes known as a pastie or British pasty in the United States, is a filled pastry case, associated in particular with Cornwall in Great Britain. It is made by placing the uncooked filling on a flat pastry circle, and folding it to wrap the filling, crimping the edge at the side or top...
-like, around a sweet filling of apples.
Potato farls
are square slices (usually around 0.5-1 cm in thickness) of soft potato bread, lightly powdered with flour and are common in
Ulster
Ulster
Ulster is one of the four provinces of Ireland, located in the north of the island. In ancient Ireland, it was one of the fifths ruled by a "king of over-kings" . Following the Norman invasion of Ireland, the ancient kingdoms were shired into a number of counties for administrative and judicial...
, especially Northern Ireland. They are traditionally used as one of the distinguishing items of food in an Ulster Fry, where they are shallow-fried on both sides for a short time and served with Soda farls cooked in the same way. They can also be grilled and buttered, or eaten with a variety of toppings.
Peru

Peru

Peru , officially the Republic of Peru , is a country in western South America. It is bordered on the north by Ecuador and Colombia, on the east by Brazil, on the southeast by Bolivia, on the south by Chile, and on the west by the Pacific Ocean....


:
Papa-pan
: A recent spike in wheat prices has led to an increased use of potatoes in Peru. "Potato bread is being given to school children, prisoners and the military, in the hope the trend will catch on." (NYT, 4/15/08).
Ukraine

Ukraine

Ukraine is a country in Eastern Europe. It has an area of 603,628 km², making it the second largest contiguous country on the European continent, after Russia...


:
Okrągły chleb kartoflany
is a light and airy potato bread.
United States

United States

The United States of America is a federal constitutional republic comprising fifty states and a federal district...


:
Commercial Product
: potato bread is commercially available in the United States as a light and airy bread very similar to normal mass-produced white bread, but with a yellow tint, and a light potato flavor.
Cherokee Sweet Potato Bread
is a variation on potato bread that uses
sweet potato
Sweet potato
The sweet potato is a dicotyledonous plant that belongs to the family Convolvulaceae. Its large, starchy, sweet-tasting, tuberous roots are an important root vegetable. The young leaves and shoots are sometimes eaten as greens. Of the approximately 50 genera and more than 1,000 species of...
es.
Alternative names
Potato bread goes by many regional names, including
fadge
,
slims
,
potato cake
,
potato farls
, and
Tatie Bread
in Ireland, and
Tawty
or
Tattie Scone
Tattie scone
A tattie scone is a regional variant of the savoury griddle scone which is especially popular in Scotland and The Isle of Man. Many variations of recipe exist. They generally include liberal quantities of boiled potatoes and salt....
in Scotland.
External links