 Post box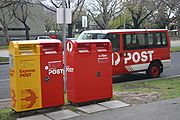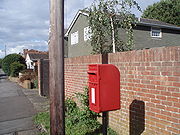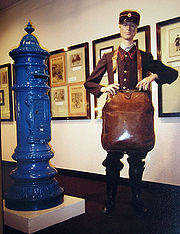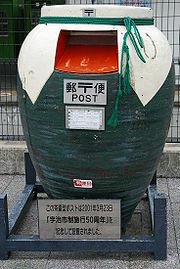 A
post box
is a physical
box
Box
Box describes a variety of containers and receptacles for permanent use as storage, or for temporary use often for transporting contents. The word derives from the Greek πύξος , "box, boxwood"....
into which members of the public can deposit outgoing
mail
Mail
Mail, or post, is a system for transporting letters and other tangible objects: written documents, typically enclosed in envelopes, and also small packages are delivered to destinations around the world. Anything sent through the postal system is called mail or post.In principle, a postal service...
intended for collection by the agents of a country's postal service. The term
post box
can also refer to a private
letter box
Letter box
A letter box, letterbox, letter plate, letter hole, mail slot, or mailbox is a receptacle for receiving incoming mail at a private residence or business...
for incoming mail.
Varieties of post boxes (for outgoing mail) include:
History of post boxes

Europe
In 1653, the first post boxes are believed to have been installed in Paris. By 1829, post boxes were in use throughout France.
In the British Isles the first pillar post boxes were erected in Jersey in 1852. Roadside wall boxes first appeared in 1857 as a cheaper alternative to pillar boxes, especially in rural districts. In 1853 the first pillar box in Britain was installed at Botchergate, Carlisle. In 1856 Richard Redgrave of the Department of Science and Art designed an ornate pillar box for use in London and other large cities. In 1859 the design was improved, and this became the first National Standard pillar box. Green was adopted as the standard colour for the early Victorian post boxes. Between 1866 and 1879 the hexagonal Penfold post box became the standard design for pillar boxes and it was during this period that red was first adopted as the standard colour. The first boxes to be painted red were in London in July 1874, although it would be nearly 10 years before all the boxes had been repainted.
The first public letter boxes (post boxes) in Russia appeared in 1848 in St. Petersburg. They were made of wood and iron. Because these boxes were lightweight and easy to steal, they disappeared frequently; later boxes were made of cast iron and could weigh up to 45 kilograms.
Asia
The post box arrived in the late 19th century
Hong Kong
Hong Kong
Hong Kong is one of two Special Administrative Regions of the People's Republic of China , the other being Macau. A city-state situated on China's south coast and enclosed by the Pearl River Delta and South China Sea, it is renowned for its expansive skyline and deep natural harbour...
and were made of wood. In the 1890s, metal pillar box appeared in Hong Kong and remained in use till the late 1990s. From the 1890s to 1997 the boxes were painted red and after 1997 were painted green.
North America
The
United States Post Office Department
United States Post Office Department
The Post Office Department was the name of the United States Postal Service when it was a Cabinet department. It was headed by the Postmaster General....
began installing public mail collection boxes in the 1850s outside post offices and on street corners in large cities. Collection boxes were initially mounted on lamp-posts. As mail volume grew, the Post Office Department gradually replaced these small boxes with larger models. The four-footed, free-standing
U.S. Mail
collection box was first suggested in 1894, following the successful use of such designs in Canada, and quickly became a fixture on U.S. city street corners. Unlike Canadian mailboxes, which were painted red, U.S. mail collection boxes were originally painted a dark green to avoid confusion with emergency and fire equipment, then to red and blue in the 1950s, and finally, all-blue with contrasting lettering. The coming of the automobile also influenced U.S. mailbox design, and in the late 1930s, an extension chute or 'snorkel' to drive-up curbside collection boxes was adopted.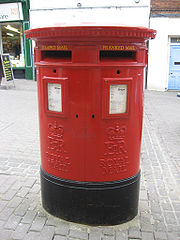 Types of post boxes
Some postal operators have different types of post boxes for different types of mail, such as, regular post,
air mail
Airmail
Airmail is mail that is transported by aircraft. It typically arrives more quickly than surface mail, and usually costs more to send...
and
express mail
Express mail
In most postal systems express mail refers to an accelerated delivery service for which the customer pays a surcharge and receives faster delivery. Express mail is a service for domestic mail and is governed by a country's own postal administration...
, for local addresses (defined by a range of
postal code
Postal code
A postal code is a series of letters and/or digits appended to a postal address for the purpose of sorting mail. Once postal codes were introduced, other applications became possible.In February 2005, 117 of the 190 member countries of the Universal Postal Union had postal code systems...
s) and out-of-town addresses, or for post bearing postage stamps and post bearing a
postage meter
Postage meter
A postage meter is a mechanical device used to create and apply physical evidence of postage to mailed matter. Postage meters are regulated by a country's postal authority; for example, in the United States, the United States Postal Service specifies the rules for the creation, support, and use...
indicator.
Some countries have different coloured post boxes; in countries such as
Australia
Australia
Australia , officially the Commonwealth of Australia, is a country in the Southern Hemisphere comprising the mainland of the Australian continent, the island of Tasmania, and numerous smaller islands in the Indian and Pacific Oceans. It is the world's sixth-largest country by total area...
,
Portugal
Portugal
Portugal , officially the Portuguese Republic is a country situated in southwestern Europe on the Iberian Peninsula. Portugal is the westernmost country of Europe, and is bordered by the Atlantic Ocean to the West and South and by Spain to the North and East. The Atlantic archipelagos of the...
, and
Russia
Russia
Russia or , officially known as both Russia and the Russian Federation , is a country in northern Eurasia. It is a federal semi-presidential republic, comprising 83 federal subjects...
, the colour indicates which type of mail a box is to be used for, such as 1st and 2nd class post. However, in
Germany
Germany
Germany , officially the Federal Republic of Germany , is a federal parliamentary republic in Europe. The country consists of 16 states while the capital and largest city is Berlin. Germany covers an area of 357,021 km2 and has a largely temperate seasonal climate...
and parts of
Sweden
Sweden
Sweden , officially the Kingdom of Sweden , is a Nordic country on the Scandinavian Peninsula in Northern Europe. Sweden borders with Norway and Finland and is connected to Denmark by a bridge-tunnel across the Öresund....
, because of
postal deregulation
Deregulation
Deregulation is the removal or simplification of government rules and regulations that constrain the operation of market forces.Deregulation is the removal or simplification of government rules and regulations that constrain the operation of market forces.Deregulation is the removal or...
, the different colours are for the different postal services. Other nations use a particular colour to indicate common political or historical ties.
Post boxes or mailboxes located outdoors are designed to keep mail secure and protected from weather. Some boxes have a rounded or slanted top or a down turned entry slot to protect mail from rain or snow. Locks are fitted for security, so mail can be retrieved only by official postal employees, and the box will ordinarily be constructed so as to resist damage from vandalism, forcible entry, or other causes. Bright colours are often used to increase visibility and prevent accidents and injuries. Entry openings are designed to allow the free deposit of mail, yet prevent retrieval via the access slot by unauthorised persons.
Clearance
Post boxes are emptied ("cleared") at times usually listed on the box in a TOC,
Times of Collection
, plate affixed to the box. In metropolitan areas, this might be once or twice a day. Busy boxes might be cleared at other times to avoid overflowing, and also to spread the work for the sorters. Extra clearances are made in the period leading up to Christmas, to prevent boxes becoming clogged with mail.
Since 2005, most
Royal Mail
Royal Mail
Royal Mail is the government-owned postal service in the United Kingdom. Royal Mail Holdings plc owns Royal Mail Group Limited, which in turn operates the brands Royal Mail and Parcelforce Worldwide...
post boxes have had the time of only the last collection of the day listed on the box, with no indication of whether the box is cleared at other times earlier in the day. The reason given for this by the Royal Mail is that they needed to increase the type size of the wording on the "plate" listing the collection times to improve legibility for those with poor sight and that consequently there was insufficient room for listing all collection times throughout the day. Some post boxes may indicate the next collection time by a metal 'tab' or dial that can be changed while the box is open. The tab displays a day or number, each number corresponding to a different time shown on the plate.
Terrorism and political vandalism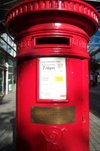 During 1939 a number of bombs were put in post boxes by the
IRA
Irish Republican Army (1922–1969)
The original Irish Republican Army fought a guerrilla war against British rule in Ireland in the Irish War of Independence 1919–1921. Following the signing of the Anglo-Irish Treaty on 6 December 1921, the IRA in the 26 counties that were to become the Irish Free State split between supporters and...
as part of their S-Plan campaign. When the Provisional IRA blew up the Arndale shopping centre in the
1996 Manchester bombing
1996 Manchester bombing
The 1996 Manchester bombing was an attack carried out by the Provisional Irish Republican Army on 15 June 1996 in Manchester, England. The bomb, placed in a van on Corporation Street in city centre, targeted the city's infrastructure and economy and caused widespread damage, estimated by...
one of the few things to survived unscathed was a Victorian pillar box dating from 1887 (A type A Jubilee pillar).
In 1952, a number of post boxes were
attacked in Scotland
Pillar Box War
The Pillar Box War refers to a number of politically motivated acts of vandalism against post boxes in Scotland during the early 1950s in a dispute over the correct title of the new British monarch, Queen Elizabeth II.-Background:...
in a dispute over the title adopted by the British monarch which was displayed in
cypher
Royal Cypher
In modern heraldry, a royal cypher is a monogram-like device of a country's reigning sovereign, typically consisting of the initials of the monarch's name and title, sometimes interwoven and often surmounted by a crown. In the case where such a cypher is used by an emperor or empress, it is called...
on the boxes. This included at least one which was damaged in the Inch housing estate in Edinburgh with a home made explosive device. The issue in question was the fact that Queen Elizabeth I had not been the queen of Scotland, and so Scotland couldn't have a Queen Elizabeth II. The compromise was to put the Scottish crown on Scottish pillar boxes, without any reference to the particular reigning monarch. One such example can still be seen today in Hong Kong at Statue Square.
In the United States of America, nearly 7,000 USPS collection boxes were removed following the aftermath of the September 11, 2001 terrorist attack and the
2001 anthrax attacks
2001 anthrax attacks
The 2001 anthrax attacks in the United States, also known as Amerithrax from its Federal Bureau of Investigation case name, occurred over the course of several weeks beginning on Tuesday, September 18, 2001, one week after the September 11 attacks. Letters containing anthrax spores were mailed to...
in which letters containing anthrax spores were placed in public collection boxes. Since that time, a decrease in first-class mail volume and the onset of online bill payment processing has resulted in lower demand for collection box service in the U.S.
In
Northern Ireland
Northern Ireland
Northern Ireland is one of the four countries of the United Kingdom. Situated in the north-east of the island of Ireland, it shares a border with the Republic of Ireland to the south and west...
several red Royal Mail post boxes were painted green by Irish Republicans in early 2009, in order to resemble
An Post
An Post
An Post is the State-owned provider of postal services in the Republic of Ireland. An Post provides a universal postal service to all parts of the country as a member of the Universal Postal Union...
's post boxes in the
Republic of Ireland
Republic of Ireland
Ireland , described as the Republic of Ireland , is a sovereign state in Europe occupying approximately five-sixths of the island of the same name. Its capital is Dublin. Ireland, which had a population of 4.58 million in 2011, is a constitutional republic governed as a parliamentary democracy,...
.
In Britain the disposal of hypodermic needles into post boxes is a modern problem. This raises concerns among employees about AIDS/HIV and other infectious diseases and has caused Royal Mail (UK) to issue metal needle-proof gauntlets for their employees in high risk areas to protect those employees from infection.
Colours
Symbols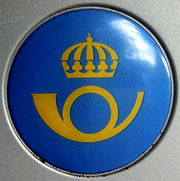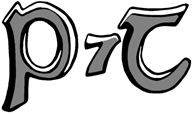 See also
External links