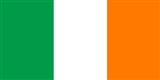 Irish Free State
The
Irish Free State
(1922–1937) was the state established as a
Dominion
Dominion
A dominion, often Dominion, refers to one of a group of autonomous polities that were nominally under British sovereignty, constituting the British Empire and British Commonwealth, beginning in the latter part of the 19th century. They have included Canada, Australia, New Zealand, Newfoundland,...
on 6 December 1922 under the
Anglo-Irish Treaty
Anglo-Irish Treaty
The Anglo-Irish Treaty , officially called the Articles of Agreement for a Treaty Between Great Britain and Ireland, was a treaty between the Government of the United Kingdom of Great Britain and Ireland and representatives of the secessionist Irish Republic that concluded the Irish War of...
, signed by the British government and Irish representatives exactly twelve months beforehand. On the day the Irish Free State was established, it comprised the entire
island of Ireland
Ireland
Ireland is an island to the northwest of continental Europe. It is the third-largest island in Europe and the twentieth-largest island on Earth...
, but
Northern Ireland
Northern Ireland
Northern Ireland is one of the four countries of the United Kingdom. Situated in the north-east of the island of Ireland, it shares a border with the Republic of Ireland to the south and west...
almost immediately exercised its right under the Treaty to opt out of the new state. The Irish Free State effectively replaced the self-proclaimed
Irish Republic
Irish Republic
The Irish Republic was a revolutionary state that declared its independence from Great Britain in January 1919. It established a legislature , a government , a court system and a police force...
(itself established on 21 January 1919).
1922 Arthur Griffith is elected President of the Irish Free State.
1922 General election in the Irish Free State: a large majority goes to the pro-Treaty Sinn Féin.
1922 The Irish Civil War begins with the shelling of the Four Courts in Dublin by Free State forces.
1922 Michael Collins, Commander-in-Chief of the Irish Free State Army is shot dead during an Anti-Treaty ambush at Béal na mBláth, County Cork, during the Irish Civil War.
1922 Author and Irish Republican Army member Robert Erskine Childers is executed by an Irish Free State firing squad for illegally carrying a revolver.
1922 One year to the day after the signing of the Anglo-Irish Treaty, the Irish Free State comes into existence.
1931 The British Parliament enacts the Statute of Westminster 1931, establishing legislative equality between the self-governing dominions of the Commonwealth of Australia, the Dominion of Canada, the Irish Free State, Dominion of Newfoundland, the Dominion of New Zealand, and the Union of South Africa.
1937 The Irish Free State is replaced by a new state called Ireland with the adoption of a new constitution.
1949 The twenty-six counties of the Irish Free State become the Republic of Ireland.