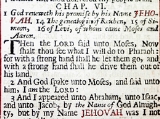 Jehovah
Jehovah
is an
anglicized
Anglicisation
Anglicisation, or anglicization , is the process of converting verbal or written elements of any other language into a form that is more comprehensible to an English speaker, or, more generally, of altering something such that it becomes English in form or character.The term most often refers to...
representation of
Hebrew
Hebrew language
Hebrew is a Semitic language of the Afroasiatic language family. Culturally, is it considered by Jews and other religious groups as the language of the Jewish people, though other Jewish languages had originated among diaspora Jews, and the Hebrew language is also used by non-Jewish groups, such...
, a vocalization of the
Tetragrammaton
Tetragrammaton
The term Tetragrammaton refers to the name of the God of Israel YHWH used in the Hebrew Bible.-Hebrew Bible:...
(YHWH), the proper name of the God of Israel in the
Hebrew Bible
Hebrew Bible
The Hebrew Bible is a term used by biblical scholars outside of Judaism to refer to the Tanakh , a canonical collection of Jewish texts, and the common textual antecedent of the several canonical editions of the Christian Old Testament...
.
appears 6,518 times in the traditional
Masoretic Text
Masoretic Text
The Masoretic Text is the authoritative Hebrew text of the Jewish Bible and is regarded as Judaism's official version of the Tanakh. While the Masoretic Text defines the books of the Jewish canon, it also defines the precise letter-text of these biblical books, with their vocalization and...
, in addition to 305 instances of (Jehovih). The earliest available
Latin
Latin
Latin is an Italic language originally spoken in Latium and Ancient Rome. It, along with most European languages, is a descendant of the ancient Proto-Indo-European language. Although it is considered a dead language, a number of scholars and members of the Christian clergy speak it fluently, and...
text to use a vocalization similar to Jehovah dates from the 13th century.
Most scholars believe "Jehovah" to be a late (ca.