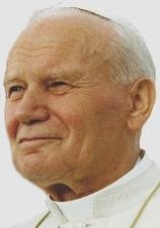 Pope John Paul II
Blessed Pope John Paul II
, born
Karol Józef Wojtyła
(ˈkarɔl ˈjuzɛf vɔjˈtɨwa; 18 May 1920 – 2 April 2005), reigned as
Pope
Pope
The Pope is the Bishop of Rome, a position that makes him the leader of the worldwide Catholic Church . In the Catholic Church, the Pope is regarded as the successor of Saint Peter, the Apostle...
of the Catholic Church and Sovereign of
Vatican City
Vatican City
Vatican City , or Vatican City State, in Italian officially Stato della Città del Vaticano , which translates literally as State of the City of the Vatican, is a landlocked sovereign city-state whose territory consists of a walled enclave within the city of Rome, Italy. It has an area of...
from 16 October 1978 until his death on 2 April 2005, at of age. His was the second-longest documented pontificate, which lasted ; only
Pope Pius IX
Pope Pius IX
Blessed Pope Pius IX , born Giovanni Maria Mastai-Ferretti, was the longest-reigning elected Pope in the history of the Catholic Church, serving from 16 June 1846 until his death, a period of nearly 32 years. During his pontificate, he convened the First Vatican Council in 1869, which decreed papal...
(1846–1878) who served 31 years, has reigned longer.
1978 Pope John Paul II is elected after the October 1978 Papal conclave.
1978 As Bishop of Rome Pope John Paul II takes possession of his Cathedral Church, the Basilica of St. John Lateran.
1979 Pope John Paul II first official visit to his native Poland, becoming the first Pope to visit a Communist country.
1979 Pope John Paul II becomes the first pope to set foot on Irish soil with his pastoral visit to the Republic of Ireland.
1981 Mehmet Ali Ağca attempts to assassinate Pope John Paul II in St. Peter's Square in Rome. The Pope is rushed to the Agostino Gemelli University Polyclinic to undergo emergency surgery and survives.
1982 During a procession outside the shrine of the Virgin Mary in Fátima, Portugal, security guards overpower Juan Fernandez Krohn before he can attack Pope John Paul II with a bayonet. Krohn, an ultraconservative Spanish priest opposed to the Vatican II reforms, believed that the Pope had to be killed for being an "agent of Moscow".
1984 103 Korean Martyrs are canonized by Pope John Paul II in Seoul
1987 Pope John Paul II beatifies Edith Stein, a Jewish-born Carmelite nun who was gassed in the Nazi concentration camp at Auschwitz.
1998 During a historic visit to Cuba, Pope John Paul II demands the release of political prisoners and political reforms while condemning US attempts to isolate the country.
1998 Pope John Paul II asks God for forgiveness for the inactivity and silence of some Roman Catholics during the Holocaust.
"This people draws its origin from Abraham, our father in faith The very people that received from God the commandment Thou shalt not kill itself experienced in a special measure what is meant by killing. It is not permissible for anyone to pass by this inscription with indifference."

Before the Hebrew inscription commemorating the Jews killed at the Auschwitz concentration camp. (1979)
My dear ones, I will not make a comparative analysis. I will only say that it is what costs that constitutes value. It is not, in fact, possible to be truly free without an honest and profound relationship with values. We do not want a Poland which costs us nothing.

Speech made before Solidarity members whilst visiting Poland for the third time (1983)
"The Jewish religion is not extrinsic to us but in a certain way intrinsic to our own religion. With Judaism, therefore, we have a relationship which we do not have with any other religion. You are our dearly beloved brothers, and, in a certain way, it can be said that you are our elder brothers."

Visiting a Jewish synagogue in Rome. (1986)
"All human activity takes place within a culture and interacts with culture. For an adequate formation of a culture, the involvement of the whole man is required, whereby he exercises his creativity, intelligence, and knowledge of the world and of people. Furthermore, he displays his capacity for self-control, personal sacrifice, solidarity and readiness to promote the common good."

Centesimus Annus address (1991-05-05)
"Man is called to a fullness of life which far exceeds the dimensions of his earthly existence, because it consists in sharing the very life of God. The loftiness of this supernatural vocation reveals the greatness and the inestimable value of human life even in its temporal phase."

Evangelium vitae, Introduction, (1995)
"You applaud, even though you don't understand me."

Quipped by the pope during a mass in Central Park, New York City after he recited a prayer in Polish to the applauding English-speaking crowd (October, 1995)
"Never again war. Never again hatred and intolerance."

Where: Bosnian capital, Sarajevo. (1997-04-12)