 Pig roast
A
pig roast
or
hog roast
is an event or gathering which involves the
barbecuing
Barbecue
Barbecue or barbeque , used chiefly in the United States, Canada, the United Kingdom, New Zealand and Australia is a method and apparatus for cooking meat, poultry and occasionally fish with the heat and hot smoke of a fire, smoking wood, or hot coals of...
of a whole hog (the castrated male pig or boar, bred for consumption at about 12 months old). Pig roasts in the mainland American Deep South are often referred to as a
Pig pickin'
Pig pickin'
A pig pickin is a type of party or gathering held primarily in the American South which involves the barbecuing of a whole hog . Females, or gilts, are used as well...
, although roasts are also a common occurrence in
Cuba
Cuba
The Republic of Cuba is an island nation in the Caribbean. The nation of Cuba consists of the main island of Cuba, the Isla de la Juventud, and several archipelagos. Havana is the largest city in Cuba and the country's capital. Santiago de Cuba is the second largest city...
as well as the non-mainland US state of
Hawaii
Hawaii
Hawaii is the newest of the 50 U.S. states , and is the only U.S. state made up entirely of islands. It is the northernmost island group in Polynesia, occupying most of an archipelago in the central Pacific Ocean, southwest of the continental United States, southeast of Japan, and northeast of...
, with roasts being done in the mainland states by descendants of other areas.
Traditions
Many families traditionally have a pig roast for Thanksgiving or Christmas, in Miami and Tampa pig roasts are often held on
Christmas Eve
Christmas Eve
Christmas Eve refers to the evening or entire day preceding Christmas Day, a widely celebrated festival commemorating the birth of Jesus of Nazareth that takes place on December 25...
by Cuban families whereas families from Hawaii often hold a roast on memorial day.
Pig roast (
lechon asado
) is a part of Puerto Rico's national dish and is usually served with
arroz con gandules
Arroz con gandules
Arroz con gandules is a combination of rice, pigeon peas and pork, cooked in the same pot with Puerto Rican-style sofrito. This is the signature dish of Puerto Rican culture and also has become very popular throughout Latin America and the Caribbean....
. In
Puerto Rico
Puerto Rico
Puerto Rico , officially the Commonwealth of Puerto Rico , is an unincorporated territory of the United States, located in the northeastern Caribbean, east of the Dominican Republic and west of both the United States Virgin Islands and the British Virgin Islands.Puerto Rico comprises an...
, pig roasts occur year round, but happen in greater frequency as part of New Year's Eve celebrations and especially Christmas.
In the
Philippines
Philippines
The Philippines , officially known as the Republic of the Philippines , is a country in Southeast Asia in the western Pacific Ocean. To its north across the Luzon Strait lies Taiwan. West across the South China Sea sits Vietnam...
, the roasted pig is referred to as
lechon baboy
. It is traditionally prepared for Christmas celebrations, but is also commonplace at birthday parties, weddings, Debuts, and family reunions.
In
Indonesia
Indonesia
Indonesia , officially the Republic of Indonesia , is a country in Southeast Asia and Oceania. Indonesia is an archipelago comprising approximately 13,000 islands. It has 33 provinces with over 238 million people, and is the world's fourth most populous country. Indonesia is a republic, with an...
pig roast is called
babi guling
,
babi panggang
or
babi bakar
and it is rarely found since Indonesia is a
muslim
Muslim
A Muslim, also spelled Moslem, is an adherent of Islam, a monotheistic, Abrahamic religion based on the Quran, which Muslims consider the verbatim word of God as revealed to prophet Muhammad. "Muslim" is the Arabic term for "submitter" .Muslims believe that God is one and incomparable...
majority country, except in non-muslim majority provinces, such as Hindu
Bali
Bali
Bali is an Indonesian island located in the westernmost end of the Lesser Sunda Islands, lying between Java to the west and Lombok to the east...
and Christian
Batak
Batak (Indonesia)
Batak is a collective term used to identify a number of ethnic groups predominantly found in North Sumatra, Indonesia. The term is used to include the Toba, Karo, Pakpak, Simalungun, Angkola and Mandailing, each of which are distinct but related groups with distinct, albeit related, languages and...
lands in
North Sumatra
North Sumatra
North Sumatra is a province of Indonesia on the Sumatra island. Its capital is Medan. It is the most populous Indonesian province outside of Java. It is slightly larger than Sri Lanka in area.- Geography and population :...
,
Minahasa
Minahasa
The Minahasa are an ethnic group located in the North Sulawesi province of Indonesia, formerly known as North Celebes...
people of
North Sulawesi
North Sulawesi
North Sulawesi is a province of Indonesia. It is on the island of Sulawesi, and borders the province of Gorontalo to the west . The islands of Sangihe and Talaud form the northern part of the province, which border Davao del Sur in the Philippines.The capital and largest city in North Sulawesi is...
,
Toraja
Toraja
The Toraja are an ethnic group indigenous to a mountainous region of South Sulawesi, Indonesia. Their population is approximately 650,000, of which 450,000 still live in the regency of Tana Toraja . Most of the population is Christian, and others are Muslim or have local animist beliefs known as aluk...
in
South Sulawesi
South Sulawesi
South Sulawesi is a province of Indonesia, located on the western southern peninsula of Sulawesi Island. The province is bordered by Central Sulawesi province to the north, South East Sulawesi province to the east and West Sulawesi province to the west...
,
Papua
Papua
Papua was the name, as provided to the Portuguese commander Jorge de Meneses while sheltering there in 1526, of the people living on Waigeo, one of the Raja Ampat Islands west of the Vogelkop Peninsula, now part of the West Papua province of Indonesia. The Spanish pilot Martin de Uriarte in the...
, and also among
Chinese Indonesian
Chinese Indonesian
Chinese Indonesians, also called the Indonesian Chinese, are an overseas Chinese group whose ancestors emigrated from China to Indonesia, formerly a colony of the Netherlands known as the Dutch East Indies...
. In Bali babi guling usually served with
lawar
Lawar (food)
Lawar is a dish created from mixture of vegetables, coconut and minced meat mixed with rich herbs and spices, originated from Bali, Indonesia. This dish is easily can be found in restaurants and warungs in Bali. Some type of lawar usually added the meat blood mixed with spices to add taste...
and steamed rice, it is popular dish in Balinese restaurant and
warung
Warung
A warung is a type of small family-owned business — often a casual shop, usually café — in Indonesia and Malaysia...
s. In Batak people tradition, babi guling is a prerequisite in wedding offering for the bride family. In Papua pigs and yams is roasted in heated stones filled in the hole dug on the ground and covered with leaves, this cooking method is called
bakar batu
(burning the stone), and it is an important cultural and social event among Papuan people.
In various Chinese communities (especially in Southern China), a pig roast known as siu yuk is purchased for the sake of special family affairs, business openings, or as a ritualistic spiritual offering. For example, a tradition is to offer one or several whole roast pigs to the
Jade Emperor
Jade Emperor
The Jade Emperor in Chinese folk culture, is the ruler of Heaven and all realms of existence below including that of Man and Hell, according to a version of Taoist mythology. He is one of the most important gods of the Chinese traditional religion pantheon...
to celebrate a Chinese film's opening with a roast pig; the pig is sacrificed to ward off evils in return to pray for the film's success. One garnish used to make the dish look more appealing is a circular slice of pineapple and cherry and is often placed in a red box for luck.
In the UK, the tradition of pig roasting, which is more commonly known in the UK as a Hog Roast, is fundamental to many occasions, particularly parties and celebrations. It is usually an outdoor event, and a staple meal on many show events. The tradition is either to roast on a spit, turning the pig under a flame, or in a large oven in a roasting pan, roasting pigs over 200 lbs in weight is common in the UK. The pig is roasted usually in cider and bay leaves, with salt rubbed in to the scored skin to make the 'crackling'.
Cooking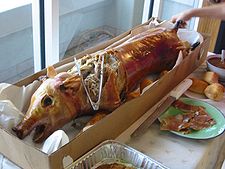 A hog/pig, often around 80-120 pounds dressed weight, is split in half and spread onto a large
charcoal
Charcoal
Charcoal is the dark grey residue consisting of carbon, and any remaining ash, obtained by removing water and other volatile constituents from animal and vegetation substances. Charcoal is usually produced by slow pyrolysis, the heating of wood or other substances in the absence of oxygen...
or
propane
Propane
Propane is a three-carbon alkane with the molecular formula , normally a gas, but compressible to a transportable liquid. A by-product of natural gas processing and petroleum refining, it is commonly used as a fuel for engines, oxy-gas torches, barbecues, portable stoves, and residential central...
grill
Grill (cooking)
A barbecue grill is a device for cooking food by applying heat directly from below. There are several varieties of such grills, with most falling into one of two categories: gas-fueled and charcoal. There is a great debate over the merits of charcoal or gas for use as the cooking method between...
. The style of grills used are as varied as the methods of producing them, some being homemade while others are custom made.
In a Hawaii-style pig roast, a large pit is typically dug into the ground and lined with banana leaves, as
lava
Lava
Lava refers both to molten rock expelled by a volcano during an eruption and the resulting rock after solidification and cooling. This molten rock is formed in the interior of some planets, including Earth, and some of their satellites. When first erupted from a volcanic vent, lava is a liquid at...
rocks are heated over an open flame until they are very hot. The heated rocks are placed into the pit, and a seasoned pig is placed inside and covered with additional banana leaves, which serve as insulation and for flavor.
In an American Cuban-style pig roast, a roasting box is commonly fashioned above ground out of concrete blocks and steel mesh. Another popular method is to use a pig roasting box, the oldest and best known brand of which is "La Caja China." The
cooking
Cooking
Cooking is the process of preparing food by use of heat. Cooking techniques and ingredients vary widely across the world, reflecting unique environmental, economic, and cultural traditions. Cooks themselves also vary widely in skill and training...
process is communal and usually done by men; the host is helped by friends or family. It usually takes four to eight hours to cook the pig completely; the pig is often started "meat-side" down, and then is flipped one time once the hog has stopped dripping rendered fat. When the cooking is complete, the meat should ideally be tender to the point of falling off of the bone. The meat is then either chopped or pulled or is picked off the roasted pig by the guests.
In the Philippines, the pig is typically stuffed with spices, placed on a
bamboo
Bamboo
Bamboo is a group of perennial evergreens in the true grass family Poaceae, subfamily Bambusoideae, tribe Bambuseae. Giant bamboos are the largest members of the grass family....
spit, and roasted over hot coals.
In Puerto Rico, pig roast is prepared in
adobo mojado
Adobo
Adobo is the immersion of raw food into a preparation, in the form of a stock , of different components, including paprika , oregano, salt, garlic, and vinegar — mixed according to the place of origin and the food with which it is intended to be used—primarily to preserve and enhance the flavor of...
(wet seasoning), it contains crushed garlic,
black pepper
Black pepper
Black pepper is a flowering vine in the family Piperaceae, cultivated for its fruit, which is usually dried and used as a spice and seasoning. The fruit, known as a peppercorn when dried, is approximately in diameter, dark red when fully mature, and, like all drupes, contains a single seed...
, salt, orégano brujo,
olive oil
Olive oil
Olive oil is an oil obtained from the olive , a traditional tree crop of the Mediterranean Basin. It is commonly used in cooking, cosmetics, pharmaceuticals, and soaps and as a fuel for traditional oil lamps...
, and
wine vinegar
Vinegar
Vinegar is a liquid substance consisting mainly of acetic acid and water, the acetic acid being produced through the fermentation of ethanol by acetic acid bacteria. Commercial vinegar is produced either by fast or slow fermentation processes. Slow methods generally are used with traditional...
.