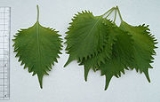 Perilla
Perilla
is the common name of the
herb
Herb
Except in botanical usage, an herb is "any plant with leaves, seeds, or flowers used for flavoring, food, medicine, or perfume" or "a part of such a plant as used in cooking"...
s of the genus
Perilla
of the mint family,
Lamiaceae
Lamiaceae
The mints, taxonomically known as Lamiaceae or Labiatae, are a family of flowering plants. They have traditionally been considered closely related to Verbenaceae, but in the 1990s, phylogenetic studies suggested that many genera classified in Verbenaceae belong instead in Lamiaceae...
. In mild
climate
Climate
Climate encompasses the statistics of temperature, humidity, atmospheric pressure, wind, rainfall, atmospheric particle count and other meteorological elemental measurements in a given region over long periods...
s, the plant reseeds itself. There are both green-leafed and purple-leafed varieties, which are generally recognized as separate species by botanists. The leaves resemble
stinging nettle
Stinging nettle
Stinging nettle or common nettle, Urtica dioica, is a herbaceous perennial flowering plant, native to Europe, Asia, northern Africa, and North America, and is the best-known member of the nettle genus Urtica...
leaves, but are slightly rounder in shape. Its essential oils provide for a strong taste whose intensity might be compared to that of mint or
fennel
Fennel
Fennel is a plant species in the genus Foeniculum . It is a member of the family Apiaceae . It is a hardy, perennial, umbelliferous herb, with yellow flowers and feathery leaves...
. It is considered rich in minerals and vitamins, has anti-inflammatory properties, and is thought to help preserve and sterilize other foods. Like
basil
Basil
Basil, or Sweet Basil, is a common name for the culinary herb Ocimum basilicum , of the family Lamiaceae , sometimes known as Saint Joseph's Wort in some English-speaking countries....
and
coleus
Coleus
Solenostemon is a genus of perennial plants, native to tropical Africa, Asia, Australia, the East Indies, the Malay Archipelago, and the Philippines...
, it is a member of the mint family.
Ecology and naturalization
Perilla frutescens
Perilla frutescens
Perilla frutescens is an edible herb and ornamental plant in the Lamiaceae family. Its common name is perilla; it is also called beefsteak plant, Chinese basil, wild basil, purple mint, rattlesnake weed, or summer coleus.Perilla is a perennial herb and can grow to 3-5 feet tall...
has been widely naturalized in the United States and part of Canada, from Texas and Florida north to Connecticut and into Ontario, and west to Nebraska. It can be weedy or invasive in some of these regions.
China
Perilla is called
zisu
in Chinese and is traditionally used in Chinese medicine, and has been shown to stimulate
interferon
Interferon
Interferons are proteins made and released by host cells in response to the presence of pathogens—such as viruses, bacteria, or parasites—or tumor cells. They allow communication between cells to trigger the protective defenses of the immune system that eradicate pathogens or tumors.IFNs belong to...
activity
http://www.freepatentsonline.com/4419349.html
and thus, the body's
immune system
Immune system
An immune system is a system of biological structures and processes within an organism that protects against disease by identifying and killing pathogens and tumor cells. It detects a wide variety of agents, from viruses to parasitic worms, and needs to distinguish them from the organism's own...
. It is used to ease the symptoms of the common cold. It is fried in oil with garlic or ginger in the wok, and eaten as a dish with meals.
Japan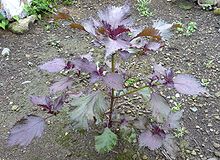 The
Japanese
Japanese language
is a language spoken by over 130 million people in Japan and in Japanese emigrant communities. It is a member of the Japonic language family, which has a number of proposed relationships with other languages, none of which has gained wide acceptance among historical linguists .Japanese is an...
name for perilla is . The Japanese call the green type ,
aoba
("green leaf"),
ōba
(
corruption
Corruption (grammar)
Corruption or bastardisation is a way of referring to certain changes in a language and their prescriptive evaluation. The most common way that a word can be said to be corrupted is the change of its spelling through errors and gradual changes in comprehension, transcription, and hearing. This is...
of
aoba
) or
aoshiso
, and often eat it with
sashimi
Sashimi
Sashimi is a Japanese delicacy. It consists of very fresh raw meat, most commonly fish, sliced into thin pieces.-Origin:The word sashimi means "pierced body", i.e...
(sliced raw fish) or cut into thin strips in salads, spaghetti, and meat and fish dishes. It is also used as a flavorful herb in a variety of dishes, even as a
pizza
Pizza
Pizza is an oven-baked, flat, disc-shaped bread typically topped with a tomato sauce, cheese and various toppings.Originating in Italy, from the Neapolitan cuisine, the dish has become popular in many parts of the world. An establishment that makes and sells pizzas is called a "pizzeria"...
topping (initially it was used in place of
basil
Basil
Basil, or Sweet Basil, is a common name for the culinary herb Ocimum basilicum , of the family Lamiaceae , sometimes known as Saint Joseph's Wort in some English-speaking countries....
). In the summer of 2009, Pepsi Japan released a new seasonal flavored beverage, Pepsi Shiso.
http://www.japanprobe.com/2009/05/27/pepsi-shiso/
The purple type is called , and is used to dye
umeboshi
Umeboshi
Umeboshi are pickled ume fruits common in Japan. Ume is a species of fruit-bearing tree in the genus Prunus, which is often called a plum but is actually more closely related to the apricot. Umeboshi are a popular kind of tsukemono and are extremely sour and salty...
(pickled
ume
Ume
Prunus mume, with the common names including Chinese plum and Japanese apricot, is an Asian tree species classified in the Armeniaca section of the genus Prunus. The flower, long a beloved subject in the traditional painting of East Asia, is usually translated as plum blossom. This distinct tree...
) red or combined with
ume
paste in
sushi
Sushi
is a Japanese food consisting of cooked vinegared rice combined with other ingredients . Neta and forms of sushi presentation vary, but the ingredient which all sushi have in common is shari...
to make
umeshiso maki
. It can also be used to make a sweet, red juice to enjoy during summer.
An
inflorescence
Inflorescence
An inflorescence is a group or cluster of flowers arranged on a stem that is composed of a main branch or a complicated arrangement of branches. Strictly, it is the part of the shoot of seed plants where flowers are formed and which is accordingly modified...
of
shiso
is called
hojiso
(
ear shiso
Ear (botany)
An ear is the grain-bearing tip part of the stem of a cereal plant, such as wheat or maize. It can also refer to "a prominent lobe in some leaves".The ear is a spike, consisting of a central stem on which grows tightly packed rows of flowers...
). Its young leaves and flower buds are used for pickling in Japan and Taiwan.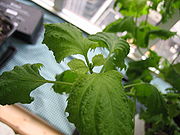 Korea
The plant's Korean name is
deulkkae
or
tŭlkkae
. The same word is also used when referring to its seed, which has many uses in Korean cuisine, just as the leaves (
ggaennip
) do. The literal translations of
deulkkae
("wild sesame") and
ggaennip
("sesame leaf") are in spite of perilla's not being closely related to
sesame
Sesame
Sesame is a flowering plant in the genus Sesamum. Numerous wild relatives occur in Africa and a smaller number in India. It is widely naturalized in tropical regions around the world and is cultivated for its edible seeds, which grow in pods....
, and Korean cookbooks translated into English sometimes use these translations. Cans of pickled
ggaennip
can be found in Korean shops all over the world, with some ground red pepper between every two leaves in the can. The leaves' essential oils provide for their strong taste. Fresh leaves have an aroma reminiscent of apples and mint, and are eaten in salad dishes. The flavor is distinct from Japanese perilla, and the leaf appearance is different as well – larger, rounder, flatter, with a less serrated edge, and often a violet coloring on the reverse side.
Perilla oil
Perilla oil
Perilla oil is obtained from the seeds of herbs of the genus Perilla, usually from the species Perilla frutescens. The seeds contain 35 to 45 percent oil which is obtained by pressing. Perilla oil is used along with synthetic resins in the production of varnishes...
(
deulgireum
) is extracted from the seeds; the cake can be used as animal food. Perilla oil has a rich taste and scent slightly resembling dark
sesame oil
Sesame oil
Sesame oil is an edible vegetable oil derived from sesame seeds. Besides being used as a cooking oil in South India, it is often used as a flavor enhancer in Chinese, Japanese, Korean, and to a lesser extent Southeast Asian cuisine.The oil from the nutrient rich seed is popular in alternative...
(
chamgireum
). Perilla seed can be cooked with meals, roasted, crushed to intensify its taste and/or mixed with sesame and salt.
Laos
The purple leaves, called
pak maengda
(ຜັກແມງດາ), are strong in fragrance, but not ruffled. Lao also used them for Lao rice vermicelli,
kao phoon
(ເຂົ້າປຸ້ນ), which is very similar to the Vietnamese
bún
. They are used as part of the dish for their fragrance.
Vietnam
Vietnamese cuisine
Cuisine of Vietnam
Vietnamese cuisine is a style of cooking derived from Vietnam. Fish sauce and paste, soy paste, rice, fresh herbs, fruits and vegetables are commonly used. Vietnamese recipes utilize a diverse range of herbs, including lemongrass, mint, Vietnamese mint, long coriander and Thai basil leaves...
uses a variety similar to the Japanese
hojiso
, but with greenish bronze on the top face and purple on the opposite face. The leaves are smaller and have a much stronger fragrance than
hojiso
. In Vietnamese, it is called , derived from the characters whose standard pronunciation in Vietnamese is . It is usually eaten as a garnish in rice vermicelli dishes called and a number of stews and simmered dishes.
South Asia
In
Nepal
Nepal
Nepal , officially the Federal Democratic Republic of Nepal, is a landlocked sovereign state located in South Asia. It is located in the Himalayas and bordered to the north by the People's Republic of China, and to the south, east, and west by the Republic of India...
, Kumaun and parts of
India
India
India , officially the Republic of India , is a country in South Asia. It is the seventh-largest country by geographical area, the second-most populous country with over 1.2 billion people, and the most populous democracy in the world...
, it is called
silam
(सिलाम) and Bhangira. Its seeds are roasted and ground with salt, chillies and tomatoes to make a savoury dip/side dish or chutney.
Chemistry
The essential oil extracted from the leaves of perilla by
steam distillation
Steam distillation
Steam distillation is a special type of distillation for temperature sensitive materials like natural aromatic compounds....
consists of a variety of chemical compounds, which may vary depending on species. The most abundant, comprising about 50–60% of the oil, is
perillaldehyde
Perillaldehyde
Perillaldehyde, or perilla aldehyde, is a natural organic compound found most abundantly in the annual herb perilla, but also in a wide variety of other plants and essential oils...
which is most responsible for the aroma and taste of perilla. Other
terpene
Terpene
Terpenes are a large and diverse class of organic compounds, produced by a variety of plants, particularly conifers, though also by some insects such as termites or swallowtail butterflies, which emit terpenes from their osmeterium. They are often strong smelling and thus may have had a protective...
s, such as
limonene
Limonene
Limonene is a colourless liquid hydrocarbon classified as a cyclic terpene. The more common D isomer possesses a strong smell of oranges. It is used in chemical synthesis as a precursor to carvone and as a renewably-based solvent in cleaning products....
,
caryophyllene
Caryophyllene
Caryophyllene , or -β-caryophyllene, is a natural bicyclic sesquiterpene that is a constituent of many essential oils, especially clove oil, the oil from the stems and flowers of Syzygium aromaticum , the essential oil of hemp Cannabis sativa, rosemary Rosmarinus oficinalis, and hops...
, and
farnesene
Farnesene
The term farnesene refers to a set of six closely related chemical compounds which all are sesquiterpenes. α-Farnesene and β-farnesene are isomers, differing by the location of one double bond. α-Farnesene is 3,7,11-trimethyl-1,3,6,10-dodecatetraene and β-farnesene is...
, are common, as well.
Of the known
chemotype
Chemotype
Introduced by Pierre Franchomme in 1975 and formalized in the European Union in 2006 with the adoption of the regulation REACH, a chemotype is a chemically distinct entity in a plant or microorganism, with differences in the composition of the secondary metabolites...
s of perilla, PA (main component: perillaldehyde) is the only one used for culinary purposes. Other chemotypes are PK (
perilla ketone
), EK (eschscholzia ketone), PL (perillene), PP (phenylpropanoids:
myristicin
Myristicin
Myristicin is a phenylpropene, a natural organic compound present in small amounts in the essential oil of nutmeg and to a lesser extent in other spices such as parsley and dill.It is insoluble in water, but soluble in ethanol and acetone.-Uses:...
,
dillapiole
Dillapiole
Dillapiole is an organic chemical compound and essential oil commonly extracted from dill weed, though can be found in a variety of other plants.This compound is closely related to apiole having a methoxy group positioned differently on the benzene ring ....
,
elemicin
Elemicin
Elemicin is a phenylpropene, a natural organic compound, and is a constituent of the essential oil of nutmeg.Elemicin is also a minor constituent of the oleoresin and essential oil of Manila elemi...
), C (
citral
Citral
Citral, or 3,7-dimethyl-2,6-octadienal or lemonal, is either of, or a mixture of, a pair of terpenoids with the molecular formula C10H16O. The two compounds are double bond isomers. The E-isomer is known as geranial or citral A...
) and a type rich in rosefuran.
Perilla ketone is toxic to some animals. When cattle and horses consume purple mint (of the PK chemotype) while grazing in fields in which it grows, the perilla ketone causes
pulmonary edema
Pulmonary edema
Pulmonary edema , or oedema , is fluid accumulation in the air spaces and parenchyma of the lungs. It leads to impaired gas exchange and may cause respiratory failure...
, leading to a condition sometimes called perilla mint toxicosis.
Perilla oil
Perilla oil
Perilla oil is obtained from the seeds of herbs of the genus Perilla, usually from the species Perilla frutescens. The seeds contain 35 to 45 percent oil which is obtained by pressing. Perilla oil is used along with synthetic resins in the production of varnishes...
is obtained by pressing the seeds of perilla, which contain 35 to 45% oil. In parts of Asia, perilla oil used as an edible oil is valued more for its medicinal benefit than its flavor. Perilla oil is a very rich source of the
omega-3 fatty acid
Omega-3 fatty acid
N−3 fatty acids are essential unsaturated fatty acids with a double bond starting after the third carbon atom from the end of the carbon chain....
alpha-linolenic acid
Alpha-linolenic acid
α-Linolenic acid is an organic compound found in many common vegetable oils. In terms of its structure, it is named all-cis-9,12,15-octadecatrienoic acid. In physiological literature, it is given the name 18:3 ....
. As a
drying oil
Drying oil
A drying oil is an oil that hardens to a tough, solid film after a period of exposure to air. The oil hardens through a chemical reaction in which the components crosslink by the action of oxygen . Drying oils are a key component of oil paint and some varnishes...
similar to
tung oil
Tung oil
Tung oil or China wood oil is a drying oil obtained by pressing the seed from the nut of the tung tree . As a drying oil, tung oil hardens upon exposure to air. The resulting coating is transparent plastic-like and is exploited in most of its applications, which include wood finishing and the...
or
linseed oil
Linseed oil
Linseed oil, also known as flaxseed oil, is a clear to yellowish oil obtained from the dried ripe seeds of the flax plant . The oil is obtained by cold pressing, sometimes followed by solvent extraction...
, perilla oil has been used for paints, varnishes,
linoleum
Linoleum
Linoleum is a floor covering made from renewable materials such as solidified linseed oil , pine rosin, ground cork dust, wood flour, and mineral fillers such as calcium carbonate, most commonly on a burlap or canvas backing; pigments are often added to the materials.The finest linoleum floors,...
,
printing ink
Ink
Ink is a liquid or paste that contains pigments and/or dyes and is used to color a surface to produce an image, text, or design. Ink is used for drawing and/or writing with a pen, brush, or quill...
,
lacquer
Lacquer
In a general sense, lacquer is a somewhat imprecise term for a clear or coloured varnish that dries by solvent evaporation and often a curing process as well that produces a hard, durable finish, in any sheen level from ultra matte to high gloss and that can be further polished as required...
s, and for protective
waterproof coatings
Durable Water Repellent
DWR is a coating added to fabrics at the factory to make them water-resistant . Most factory-applied treatments are fluoropolymer based. Durable water repellents are commonly used in conjunction with waterproof breathable fabrics such as Gore-Tex to prevent the outer layer of fabric from becoming...
on cloth. Perilla oil can also be used for fuel.
The
oxime
Oxime
An oxime is a chemical compound belonging to the imines, with the general formula R1R2C=NOH, where R1 is an organic side chain and R2 may be hydrogen, forming an aldoxime, or another organic group, forming a ketoxime. O-substituted oximes form a closely related family of compounds...
of perillaldehyde (perillartin) is used as an artificial sweetener in Japan, as it is about 2,000 times sweeter than
sucrose
Sucrose
Sucrose is the organic compound commonly known as table sugar and sometimes called saccharose. A white, odorless, crystalline powder with a sweet taste, it is best known for its role in human nutrition. The molecule is a disaccharide composed of glucose and fructose with the molecular formula...
.