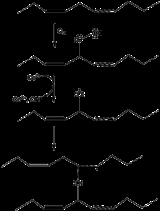 Drying oil
A
drying oil
is an
oil
Oil
An oil is any substance that is liquid at ambient temperatures and does not mix with water but may mix with other oils and organic solvents. This general definition includes vegetable oils, volatile essential oils, petrochemical oils, and synthetic oils....
that hardens to a tough, solid film after a period of exposure to air. The oil hardens through a chemical reaction in which the components crosslink by the action of
oxygen
Oxygen
Oxygen is the element with atomic number 8 and represented by the symbol O. Its name derives from the Greek roots ὀξύς and -γενής , because at the time of naming, it was mistakenly thought that all acids required oxygen in their composition...
(not through the
evaporation
Evaporation
Evaporation is a type of vaporization of a liquid that occurs only on the surface of a liquid. The other type of vaporization is boiling, which, instead, occurs on the entire mass of the liquid....
of water or other
solvent
Solvent
A solvent is a liquid, solid, or gas that dissolves another solid, liquid, or gaseous solute, resulting in a solution that is soluble in a certain volume of solvent at a specified temperature...
s). Drying oils are a key component of
oil paint
Oil paint
Oil paint is a type of slow-drying paint that consists of particles of pigment suspended in a drying oil, commonly linseed oil. The viscosity of the paint may be modified by the addition of a solvent such as turpentine or white spirit, and varnish may be added to increase the glossiness of the...
and some
varnish
Varnish
Varnish is a transparent, hard, protective finish or film primarily used in wood finishing but also for other materials. Varnish is traditionally a combination of a drying oil, a resin, and a thinner or solvent. Varnish finishes are usually glossy but may be designed to produce satin or semi-gloss...
es. Some commonly used drying oils include
linseed (flax seed) oil
Linseed oil
Linseed oil, also known as flaxseed oil, is a clear to yellowish oil obtained from the dried ripe seeds of the flax plant . The oil is obtained by cold pressing, sometimes followed by solvent extraction...
,
tung oil
Tung oil
Tung oil or China wood oil is a drying oil obtained by pressing the seed from the nut of the tung tree . As a drying oil, tung oil hardens upon exposure to air. The resulting coating is transparent plastic-like and is exploited in most of its applications, which include wood finishing and the...
,
poppy seed oil
Poppyseed oil
Poppyseed oil is an edible oil from poppy seeds . The oil has culinary and pharmaceutical uses, as well as long established uses in the making of paints, varnishes, and soaps.Poppy seeds yield 45–50% oil...
,
perilla oil
Perilla oil
Perilla oil is obtained from the seeds of herbs of the genus Perilla, usually from the species Perilla frutescens. The seeds contain 35 to 45 percent oil which is obtained by pressing. Perilla oil is used along with synthetic resins in the production of varnishes...
, and
walnut oil
Walnut oil
Walnut oil is oil extracted from English walnuts . It is about 50% linoleic acid, an essential omega-6 fatty acid. Walnut oil is also a good source of omega-3 fatty acids which are also essential to human nutrition....
. Their use has declined over the past several decades, as they have been replaced by
alkyd
Alkyd
An alkyd is a polyester modified by the addition of fatty acids and other components. They are derived from polyols and a dicarboxylic acid or carboxylic acid anhydride. The term alkyd is a modification of the original name "alcid", reflecting the fact that they are derived from alcohol and...
resins and other binders.
Since oxidation is the key to curing in these oils, those that are susceptible to chemical drying are often unsuitable for cooking, and are also highly susceptible to becoming
rancid
Rancidification
Rancidification is the chemical decomposition of fats, oils and other lipids . When these processes occur in food, undesirable odors and flavors can result. In some cases, however, the flavors can be desirable . In processed meats, these flavors are collectively known as "warmed over flavor"...
due to autoxidation, the process by which fatty foods develop off-flavors.