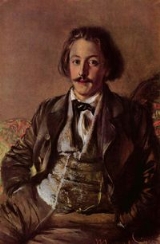 Paul Johann Ludwig von Heyse
Paul Johann Ludwig von Heyse
(15 March 1830 – 2 April 1914) was a distinguished German writer and translator. A member of two important literary societies, the
Tunnel über der Spree
Tunnel über der Spree
Der Tunnel über der Spree was a German literary society based in Berlin, founded on 3 December 1827 by Moritz Gottlieb Saphir. Most active between 1840 and 1860, it acquired 214 members and influenced literary life in Berlin for more than seventy years....
in Berlin and
Die Krokodile
Die Krokodile
Die Krokodile was a small poets' society in Munich which existed from 1856 to the 1870s.- Background and beginnings :King Ludwig I had constructed the Glyptothek and the Pinakothek to house art collections. Part of his intention was to attract intellectual luminaries to Munich, with little result...
in Munich, he wrote novels, poetry, 177 short stories, and about sixty dramas. The sum of Heyse's many and varied productions made him a dominant figure among German men of letters. He was awarded the Nobel Prize for Literature in 1910 "as a tribute to the consummate artistry, permeated with idealism, which he has demonstrated during his long productive career as a lyric poet, dramatist, novelist and writer of world-renowned short stories." Wirsen, one of the Nobel judges, said that "Germany has not had a greater literary genius since Goethe." Heyse is the third oldest laureate in literature, after
Doris Lessing
Doris Lessing
Doris May Lessing CH is a British writer. Her novels include The Grass is Singing, The Golden Notebook, and five novels collectively known as Canopus in Argos....
and
Theodor Mommsen
Theodor Mommsen
Christian Matthias Theodor Mommsen was a German classical scholar, historian, jurist, journalist, politician, archaeologist, and writer generally regarded as the greatest classicist of the 19th century. His work regarding Roman history is still of fundamental importance for contemporary research...
.
Berlin (1830-54)
Paul Heyse was born on 15 March 1830 in Heiliggeist Strasse, Berlin. His father,
Karl Wilhelm Ludwig Heyse
Karl Wilhelm Ludwig Heyse
Karl Wilhelm Ludwig Heyse was a German philologist, son of Johann Christian August Heyse, father of the novelist Paul Johann Ludwig von Heyse, born at Oldenburg. He studied Greek and Latin and became assistant professor of philosophy in Berlin in 1829...
, was a professor of classical philology who had been the tutor of both
Wilhelm von Humboldt
Wilhelm von Humboldt
Friedrich Wilhelm Christian Karl Ferdinand Freiherr von Humboldt was a German philosopher, government functionary, diplomat, and founder of Humboldt Universität. He is especially remembered as a linguist who made important contributions to the philosophy of language and to the theory and practice...
's youngest son (1815–17) and
Felix Mendelssohn
Felix Mendelssohn
Jakob Ludwig Felix Mendelssohn Barthóldy , use the form 'Mendelssohn' and not 'Mendelssohn Bartholdy'. The Grove Dictionary of Music and Musicians gives ' Felix Mendelssohn' as the entry, with 'Mendelssohn' used in the body text...
(1819–27). The mother, Julie Heyse, came from the wealthy and art-loving family of the Prussian court jeweller Jakob Salomon (who took the surname Saaling after his conversion to Christianity) and was a cousin of Lea Mendelssohn, the composer's mother.
Heyse attended the renamed Friedrich-Wilhelms-Gymnasium until 1847. He was later remembered as a model student. His family connections gained him early entry to the artistic circles of Berlin, where he made the acquaintance of
Emanuel Geibel
Emanuel Geibel
Emanuel von Geibel , German poet and playwright, was born at Lübeck, the son of a pastor in the city.He was originally intended for his father's profession and studied at Bonn and Berlin, but his real interests lay not in theology but in classical and romance philology. In 1838 he accepted a...
, a man fifteen years his elder who was to become his literary mentor and lifelong friend, and who introduced him to his future father-in-law, the art historian and writer
Franz Kugler
Franz Kugler
Franz Theodor Kugler was a cultural administrator for the Prussian state and art historian...
.
After leaving school Heyse began studying classical philology. He met
Jacob Burckhardt
Jacob Burckhardt
Carl Jacob Christoph Burckhardt was a historian of art and culture, and an influential figure in the historiography of each field. He is known as one of the major progenitors of cultural history, albeit in a form very different from how cultural history is conceived and studied in academia today...
, Adolph Menzel,
Theodor Fontane
Theodor Fontane
Theodor Fontane was a German novelist and poet, regarded by many as the most important 19th-century German-language realist writer.-Youth:Fontane was born in Neuruppin into a Huguenot family. At the age of sixteen he was apprenticed to an apothecary, his father's profession. He became an...
and
Theodor Storm
Theodor Storm
Hans Theodor Woldsen Storm , commonly known as Theodor Storm, was a German writer.-Life:Storm was born in Husum, at the west coast of Schleswig than an independent duchy and ruled by the king of Denmark...
, and in 1849 joined the
Tunnel über der Spree
Tunnel über der Spree
Der Tunnel über der Spree was a German literary society based in Berlin, founded on 3 December 1827 by Moritz Gottlieb Saphir. Most active between 1840 and 1860, it acquired 214 members and influenced literary life in Berlin for more than seventy years....
literary group.
Frühlingsanfang 1848
, the first of Heyse's poems to see print, expressed his enthusiasm for the recent Revolution. After a brief excursion to see the student militias he returned home without joining them, apparently out of consideration for the concerns of his parents and friends.
Having studied for two years at the University of Berlin he left for
Bonn
Bonn
Bonn is the 19th largest city in Germany. Located in the Cologne/Bonn Region, about 25 kilometres south of Cologne on the river Rhine in the State of North Rhine-Westphalia, it was the capital of West Germany from 1949 to 1990 and the official seat of government of united Germany from 1990 to 1999....
in April 1849 in order to study art history and Romance languages. In 1850 he finally resolved on a career as a writer and began a dissertation under the supervision of Friedrich Diez, a pioneer of Romance philology in Germany; but when it was discovered he was conducting an affair with the wife of one of his professors he was sent back to Berlin. Heyse's first book,
Der Jungbrunnen
(a collection of tales and poetry) was published anonymously by his father that same year. About the same time, Heyse received from the publisher
Alexander Duncker
Alexander Duncker
Alexander Friedrich Wilhelm Duncker was a German publisher and bookseller.-Life and Family:He was descended from a successful Berlin family of booksellers, the son of Carl Friedrich Wilhelm Duncker and Fanny Duncker...
a manuscript by the then-unknown
Theodor Storm
Theodor Storm
Hans Theodor Woldsen Storm , commonly known as Theodor Storm, was a German writer.-Life:Storm was born in Husum, at the west coast of Schleswig than an independent duchy and ruled by the king of Denmark...
. Heyse's enthusiastic critique of
Sommergeschichten und Lieder
laid the foundations of their future friendship.
In 1851, Heyse won a contest held by the members of the "Tunnel" for the ballad
Das Tal von Espigno
. His first short story, "Marion" (1852), was similarly honoured, and it was followed by the
Spanische Liederbuch
, translations by Geibel and Heyse, a book of songs which was to be a favourite with composers. Throughout his career Heyse worked as a translator, above all of Italian literature (Leopardi,
Giusti
Giuseppe Giusti
Giuseppe Giusti was an Italian poet.-Biography:Giusti was born at Monsummano Terme, a small town of the Valdinievole, now in the province of Pistoia....
).
Several members of the "Tunnel" began to find its formalities and public nature distasteful, and a smaller circle, the
Rütli
Rütli (literary group)
Der Rütli was a German literary group, named after the famous Swiss meadow. It was founded on 9 December 1852 by members of the Tunnel über der Spree as "a kind of subsidiary tunnel" with a more intimate atmosphere, in contrast to the ceremonial and public nature of...
, was formed in December 1852: it included Kugler, Lepel, Fontane, Storm, and Heyse.
In May 1852 Heyse was awarded a doctorate for his work on the
troubadour
Troubadour
A troubadour was a composer and performer of Old Occitan lyric poetry during the High Middle Ages . Since the word "troubadour" is etymologically masculine, a female troubadour is usually called a trobairitz....
s, and a Prussian scholarship allowed him to depart for Italy to look for old Provençal manuscripts. He made friends with
Arnold Böcklin
Arnold Böcklin
Arnold Böcklin was a Swiss symbolist painter.-Life and art:He was born at Basel. His father, Christian Frederick Böcklin , was descended from an old family of Schaffhausen, and engaged in the silk trade. His mother, Ursula Lippe, was a native of the same city...
and Joseph Victor von Scheffel but was banned from the Vatican library after being discovered copying passages from unpublished manuscripts. He returned to Germany in 1853, where, with the Italian landscape still fresh in his mind, he wrote the works which first made him famous: the tragedy
Francesca von Rimini
; his most famous short story, "L'Arrabbiata" ("The Fury", 1853, published in 1855); and the
Lieder aus Sorrent
("Songs of Sorrento", 1852/53). Much of his new writing appeared in the
Argo
, the yearbook of the
Rütli
writers.
Munich (1854-1914)
Emanuel Geibel persuaded the King of Bavaria,
Maximilian II
Maximilian II of Bavaria
Maximilian II of Bavaria was king of Bavaria from 1848 until 1864. He was son of Ludwig I of Bavaria and Therese of Saxe-Hildburghausen.-Crown Prince:...
, to grant Heyse a titular professorship in Munich. Heyse was thus appointed professor of Romance philology, although he never taught at that city's university. After his marriage on 15 May to Margarete Kugler he arrived in Munich on 25 May 1854. At his first audience with the King, Heyse presented his verse tales,
Hermen
, and began a productive life as one of the
Nordlichtern
("northern lights": Geibel, Heyse and Riehl) and establishing another literary society,
Die Krokodile
, which included
Felix Dahn
Felix Dahn
Felix Ludwig Julius Dahn was a German lawyer, author and historian.-Biography:Julius Sophus Felix Dahn was born in Hamburg as the oldest son of Friedrich and Constanze Dahn who were notable actors at the city's theatre. The family had both German and French roots...
, Wilhelm Hertz,
Hermann Lingg
Hermann Lingg
Hermann Lingg was a German poet who also wrote plays and short stories. His cousin, Maximilian von Lingg, was Bishop of Augsburg....
, Franz von Kobell, the cultural historian
Wilhelm Heinrich Riehl
Wilhelm Heinrich Riehl
Wilhelm Heinrich Riehl was a German journalist, novelist and folklorist.Riehl was born in Biebrich in the Duchy of Nassau and died in Munich....
, Friedrich Bodenstedt, and the travel writer and art patron
Adolf Friedrich von Schack
Adolf Friedrich von Schack
Adolf Friedrich, Graf von Schack was a German poet and historian of literature.-Background:He was born at Brüsewitz near Schwerin. Having studied jurisprudence at the universities of Bonn, Heidelberg and Berlin, he entered the Mecklenburg state service and was subsequently attached to the...
. In December Heyse began a long correspondence with
Eduard Mörike
Eduard Mörike
Eduard Friedrich Mörike was a German Romantic poet.-Biography:Mörike was born in Ludwigsburg. His father was Karl Friedrich Mörike , a district medical councilor; his mother was Charlotte Bayer...
.
On 22 August 1855 Heyse's first son, Franz, was born. Heyse would have four children by his first marriage: Franz (1855–1919), Julie or Lulu (Frau Baumgarten, 1857–1928), Ernst (1859–1871) and Clara (Frau Layriz, 1861–1931). In 1859, obligations to the Kugler family led Heyse to take up a position as editor of the
Literaturblatt zum deutschen Kunstblatt
, and he declined a tempting offer from the Grand Duke Carl Alexander von Weimar which would have involved moving to
Thuringia
Thuringia
The Free State of Thuringia is a state of Germany, located in the central part of the country.It has an area of and 2.29 million inhabitants, making it the sixth smallest by area and the fifth smallest by population of Germany's sixteen states....
.
On 30 September 1862, his wife Margarete died in Meran of a lung illness. He completed the historical drama,
Ludwig der Bayer
— a Bavarian period piece which Maximilian II had long been eager to see — but its theatrical production was a failure. Nevertheless Heyse worked throughout the 1860s on new plays, eventually achieving his greatest success with
Kolberg
(1865).
He married Anna Schubart in 1867. Over the next three decades, Heyse continued to write prolifically. Despite a number of bereavements his life was uneventful, and his fame grew steadily until he was a world-famous figure. He was a very early opponent of
naturalism
Naturalism (literature)
Naturalism was a literary movement taking place from the 1880s to 1940s that used detailed realism to suggest that social conditions, heredity, and environment had inescapable force in shaping human character...
, making critical references to it in print long before its influence could be felt in Germany. Younger critics who favoured naturalism made attacks on his writings, to which he replied in
Merlin
(1892): but their influence on the public was negligible. He was dubbed
Dichterfürst
, prince of poetry, and he worked tirelessly to promote international understanding within Europe. In 1900, he was named an honorary citizen of Munich, and several special publications honoured his 70th birthday; and in 1910, he was made a member of the nobility, before being awarded the Nobel Prize for Literature on 10 December. He could not attend the ceremony, and was represented in Sweden by Count von Pückler.
His last published works were
Letzten Novellen
and
Italienischen Volksmärchen
(1914). He died on 2 April 1914, several months before the outbreak of
World War I
World War I
World War I , which was predominantly called the World War or the Great War from its occurrence until 1939, and the First World War or World War I thereafter, was a major war centred in Europe that began on 28 July 1914 and lasted until 11 November 1918...
, and was buried in the old section of the Waldfriedhof (Nr. 43-W-27).
A street in Munich, "Paul-Heyse Strasse" is named after him. It crosses Schwanthaler Strasse and it is near the Theresienwieser, the site of Munich's annual Bierfest.
External links