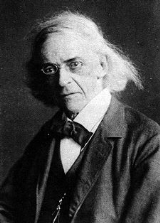 Theodor Mommsen
Christian Matthias Theodor Mommsen
(30 November 1817 – 1 November 1903) was a German
classical scholar
Classics
Classics is the branch of the Humanities comprising the languages, literature, philosophy, history, art, archaeology and other culture of the ancient Mediterranean world ; especially Ancient Greece and Ancient Rome during Classical Antiquity Classics (sometimes encompassing Classical Studies or...
,
historian
Historian
A historian is a person who studies and writes about the past and is regarded as an authority on it. Historians are concerned with the continuous, methodical narrative and research of past events as relating to the human race; as well as the study of all history in time. If the individual is...
,
jurist
Jurist
A jurist or jurisconsult is a professional who studies, develops, applies, or otherwise deals with the law. The term is widely used in American English, but in the United Kingdom and many Commonwealth countries it has only historical and specialist usage...
,
journalist
Journalist
A journalist collects and distributes news and other information. A journalist's work is referred to as journalism.A reporter is a type of journalist who researchs, writes, and reports on information to be presented in mass media, including print media , electronic media , and digital media A...
,
politician
Politician
A politician, political leader, or political figure is an individual who is involved in influencing public policy and decision making...
, archaeologist, and writer generally regarded as the greatest classicist of the 19th century. His work regarding Roman history is still of fundamental importance for contemporary research. He received the
Nobel Prize in Literature
Nobel Prize in Literature
Since 1901, the Nobel Prize in Literature has been awarded annually to an author from any country who has, in the words from the will of Alfred Nobel, produced "in the field of literature the most outstanding work in an ideal direction"...
in 1902, and was also a prominent German politician, as a member of the Prussian and German parliaments.