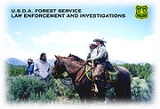 Patrol
A
patrol
is commonly a group of personnel, such as
police
Police
The police is a personification of the state designated to put in practice the enforced law, protect property and reduce civil disorder in civilian matters. Their powers include the legitimized use of force...
officers or soldiers, that are assigned to monitor a specific geographic area.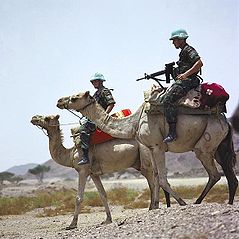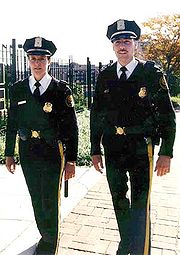 Military
In
military tactics
Military tactics
Military tactics, the science and art of organizing an army or an air force, are the techniques for using weapons or military units in combination for engaging and defeating an enemy in battle. Changes in philosophy and technology over time have been reflected in changes to military tactics. In...
, a
patrol
is a small tactical unit sent out from a larger unit by land, sea or air for the purpose of combat,
reconnaissance
Reconnaissance
Reconnaissance is the military term for exploring beyond the area occupied by friendly forces to gain information about enemy forces or features of the environment....
, or a combination of both. The basic task of a patrol is to follow a known route at regular intervals looking out for anything out of the ordinary — which if found will be reported or dealt with as appropriate.
Patrol
can refer to
reconnaissance

Reconnaissance

Reconnaissance is the military term for exploring beyond the area occupied by friendly forces to gain information about enemy forces or features of the environment....


patrols,
which sent to investigate some feature of interest, or to
fighting patrols
(US
combat patrol
), sent to find and engage the enemy. A
patrol
can also mean a small
cavalry
Cavalry
Cavalry or horsemen were soldiers or warriors who fought mounted on horseback. Cavalry were historically the third oldest and the most mobile of the combat arms...
or
armoured
Armoured warfare
Armoured warfare or tank warfare is the use of armoured fighting vehicles in modern warfare. It is a major component of modern methods of war....
unit, subordinate to a
troop
Troop
A troop is a military unit, originally a small force of cavalry, subordinate to a squadron and headed by the troop leader. In many armies a troop is the equivalent unit to the infantry section or platoon...
or
platoon
Platoon
A platoon is a military unit typically composed of two to four sections or squads and containing 16 to 50 soldiers. Platoons are organized into a company, which typically consists of three, four or five platoons. A platoon is typically the smallest military unit led by a commissioned officer—the...
. A patrol usually comprises a
section
Section (military unit)
A section is a small military unit in some armies. In many armies, it is a squad of seven to twelve soldiers. However in France and armies based on the French model, it is the sub-division of a company .-Australian Army:...
or
squad
Squad
In military terminology, a squad is a small military unit led by a non-commissioned officer that is subordinate to an infantry platoon. In countries following the British Army tradition this organization is referred to as a section...
of mounted
trooper
Trooper (rank)
Trooper from the French "troupier" is the equivalent rank to private in a regiment with a cavalry tradition in the British Army and many other Commonwealth armies, including those of Australia, Canada, South Africa and New Zealand. Today, most cavalry units operate in the armoured role, equipped...
s, or two
AFVs
Armoured fighting vehicle
An armoured fighting vehicle is a combat vehicle, protected by strong armour and armed with weapons. AFVs can be wheeled or tracked....
(often
tank
Tank
A tank is a tracked, armoured fighting vehicle designed for front-line combat which combines operational mobility, tactical offensive, and defensive capabilities...
s).
Law enforcement
In non-military
law enforcement
Law enforcement agency
In North American English, a law enforcement agency is a government agency responsible for the enforcement of the laws.Outside North America, such organizations are called police services. In North America, some of these services are called police while others have other names In North American...
,
patrol officers
are uniformed police officers assigned to monitor specified geographic areas — that is, to move through their areas at regular intervals looking out for any signs of problems of any kind. They are the officers most commonly encountered by the public, as their duties include responding to calls for service, making arrests, resolving disputes, taking crime reports, and conducting traffic enforcement, and other crime prevention measures. A patrol officer is often the first to arrive on the scene of any incident; what such an officer does or fails to do at the scene can greatly influence the outcome of any subsequent investigation. The patrol officer, as the person who is in the field daily, is often closest to potential crime and may have developed contacts who can provide information.
The Philadelphia Foot Patrol Experiment, a randomized control trial conducted by
Temple University
Temple University
Temple University is a comprehensive public research university in Philadelphia, Pennsylvania, United States. Originally founded in 1884 by Dr. Russell Conwell, Temple University is among the nation's largest providers of professional education and prepares the largest body of professional...
, has shown that foot patrols reduce crime. With the resources to patrol 60 locations, researchers identified the highest violent crime corners in the city, using data from 2006 to 2008. Police commanders designed 120 foot patrol areas around these corners, and stratified randomization was used to assign pairs of foot patrols with similar crime rates as either a comparison or a target area. Officers generally patrolled in pairs with two pairs assigned to each foot patrol. After three months, relative to the comparison areas, violent crime decreased 23%.
Official records of police activities during the intervention period reveal the following in the target areas:
Drug‐related incident detections increased 15%
Pedestrian stops increased 64%
Vehicle stops increased 7%
Arrests increased 13%
An emerging trend within patrol is the supplement of basic police patrol with that of private security agencies. The privatization of police is explored in
James Pastor's
James F. Pastor
Dr. James F. Pastor, Ph.D., J.D is an expert in terrorism, security, public safety and police matters. Dr. Pastor is an Associate Professor of Public Safety at Calumet College of St...
book
The Privatization of Police in America: An Analysis and Case Study
.
Etymology
From French patrouiller from Old French patouiller ("'to paddle, paw about, patrol'") from patte ("'a paw'")
Schools
Some
elementary school
Elementary school
An elementary school or primary school is an institution where children receive the first stage of compulsory education known as elementary or primary education. Elementary school is the preferred term in some countries, particularly those in North America, where the terms grade school and grammar...
s use the term
patrol
to refer to students who are selected to monitor
safety
Safety
Safety is the state of being "safe" , the condition of being protected against physical, social, spiritual, financial, political, emotional, occupational, psychological, educational or other types or consequences of failure, damage, error, accidents, harm or any other event which could be...
in the
classroom
Classroom
A classroom is a room in which teaching or learning activities can take place. Classrooms are found in educational institutions of all kinds, including public and private schools, corporations, and religious and humanitarian organizations...
or to those students who assist
crossing guard
Crossing guard
A crossing guard , a school crossing patrol officer , school crossing supervisor or school road patrol is a traffic management specialist who is normally stationed on busy roadways to aid pedestrians...
s with safety of children crossing busy
street
Street
A street is a paved public thoroughfare in a built environment. It is a public parcel of land adjoining buildings in an urban context, on which people may freely assemble, interact, and move about. A street can be as simple as a level patch of dirt, but is more often paved with a hard, durable...
s. Another common term for this use of patrol is
hall monitor
Hall monitor
A hall monitor is a student volunteer in American schools who is charged with maintaining order in the school's corridors. They may be either students who are chosen for the position because they are responsible, or that may be chosen on a rota from all available students...
.
Scouting
In
Scouting
Scouting
Scouting, also known as the Scout Movement, is a worldwide youth movement with the stated aim of supporting young people in their physical, mental and spiritual development, that they may play constructive roles in society....
, a patrol is six to eight youth under the leadership of one Patrol leader and an Assistant Patrol Leader. This is the basic unit of a scout troop. The
Patrol method
is an essential characteristic of Scouting by which it differs from all other organizations, using the natural dynamics of the
gang
for an educational purpose.