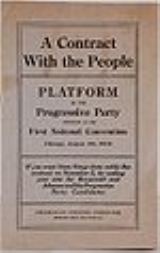 Party platform
A
party platform
, or
platform
sometimes also referred to as a
manifesto
Manifesto
A manifesto is a public declaration of principles and intentions, often political in nature. Manifestos relating to religious belief are generally referred to as creeds. Manifestos may also be life stance-related.-Etymology:...
, is a list of the actions which a
political party
Political party
A political party is a political organization that typically seeks to influence government policy, usually by nominating their own candidates and trying to seat them in political office. Parties participate in electoral campaigns, educational outreach or protest actions...
, individual candidate, or other organization supports in order to appeal to the general public for the purpose of having said peoples' candidates voted into political
office
Office
An office is generally a room or other area in which people work, but may also denote a position within an organization with specific duties attached to it ; the latter is in fact an earlier usage, office as place originally referring to the location of one's duty. When used as an adjective, the...
or the professed opinion(s) proposed as part of
law
Law
Law is a system of rules and guidelines which are enforced through social institutions to govern behavior, wherever possible. It shapes politics, economics and society in numerous ways and serves as a social mediator of relations between people. Contract law regulates everything from buying a bus...
(s) or otherwise made into social policies. This often takes the form of a list of support for, or opposition to, socially relevant, urgent, controversial, or complicated topics or issues. Individual topics, and a party's, person's, or organization's opinion on them are often called the "planks" of their platform in reference to a basic
stage
Stage
- acting :Stage , a space for the performance of theatrical productions* Theatre, a branch of the performing arts, often referred to as "the stage"* The Stage, a weekly British theatre newspaper...
made out of boards or
planks of wood
Plank (wood)
A plank is a piece of timber, flat, elongated and rectangular, with parallel faces, higher or longer than wide, used in the construction of ships, houses, bridges, etc......
, similar to what can be assembled for
public speaking
Public speaking
Public speaking is the process of speaking to a group of people in a structured, deliberate manner intended to inform, influence, or entertain the listeners...
or debates to be held on.
Famous political platforms

See also
Election promise

Election promise

An election promise is a promise made to the public by a politician who is trying to win an election. They have long been a central element of elections and remain so today...



Government platform

Government platform

A government platform is a political platform of a government. A new government, when entering office, lists their objectives to be accomplished while in office....



List of democracy and elections-related topics
Mandate (politics)

Mandate (politics)

In politics, a mandate is the authority granted by a constituency to act as its representative.The concept of a government having a legitimate mandate to govern via the fair winning of a democratic election is a central idea of democracy...



Multi-tendency

Multi-tendency

Multi-tendency when used in regards to a political organization, especially a left-wing or anarchist one, means that the organization recognizes or at least tolerates members who are affiliated with or identify with a variety of ideologies within the broad stance of the organization...



Party line (politics)

Party line (politics)

In politics, the line or the party line is an idiom for a political party or social movement's canon agenda, as well as specific ideological elements specific to the organization's partisanship. The common phrase toeing the party line describes a person who speaks in a manner that conforms to his...



External links
Platforms of U.S. political parties, 1840-present from the American Presidency Project at the University of California, Santa Barbara

University of California, Santa Barbara

The University of California, Santa Barbara, commonly known as UCSB or UC Santa Barbara, is a public research university and one of the 10 general campuses of the University of California system. The main campus is located on a site in Goleta, California, from Santa Barbara and northwest of Los...