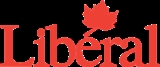 Liberal Party of Canada
The
Liberal Party of Canada
, colloquially known as the
Grits
, is the oldest federally registered party in
Canada
Canada
Canada is a North American country consisting of ten provinces and three territories. Located in the northern part of the continent, it extends from the Atlantic Ocean in the east to the Pacific Ocean in the west, and northward into the Arctic Ocean...
. In the conventional
political spectrum
Political spectrum
A political spectrum is a way of modeling different political positions by placing them upon one or more geometric axes symbolizing independent political dimensions....
, the party sits between the
centre
Centrism
In politics, centrism is the ideal or the practice of promoting policies that lie different from the standard political left and political right. Most commonly, this is visualized as part of the one-dimensional political spectrum of left-right politics, with centrism landing in the middle between...
and the
centre-left
Centre-left
Centre-left is a political term that describes individuals, political parties or organisations such as think tanks whose ideology lies between the centre and the left on the left-right spectrum...
. Historically the Liberal Party has positioned itself to the left of the
Conservative Party
Conservative Party of Canada
The Conservative Party of Canada , is a political party in Canada which was formed by the merger of the Canadian Alliance and the Progressive Conservative Party of Canada in 2003. It is positioned on the right of the Canadian political spectrum...
and to the right of the
New Democratic Party
New Democratic Party
The New Democratic Party , commonly referred to as the NDP, is a federal social-democratic political party in Canada. The interim leader of the NDP is Nycole Turmel who was appointed to the position due to the illness of Jack Layton, who died on August 22, 2011. The provincial wings of the NDP in...
(NDP). The party dominated federal politics for much of Canada's history, holding power for almost 69 years in the 20th century, more than any other party in a
developed country
Developed country
A developed country is a country that has a high level of development according to some criteria. Which criteria, and which countries are classified as being developed, is a contentious issue...
.