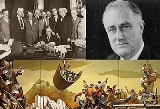 New Deal
The New Deal was a series of economic programs implemented in the
United States
United States
The United States of America is a federal constitutional republic comprising fifty states and a federal district...
between 1933 and 1936. They were passed by the
U.S. Congress
United States Congress
The United States Congress is the bicameral legislature of the federal government of the United States, consisting of the Senate and the House of Representatives. The Congress meets in the United States Capitol in Washington, D.C....
during the first term of President
Franklin D. Roosevelt
Franklin D. Roosevelt
Franklin Delano Roosevelt , also known by his initials, FDR, was the 32nd President of the United States and a central figure in world events during the mid-20th century, leading the United States during a time of worldwide economic crisis and world war...
. The programs were Roosevelt's responses to the
Great Depression
Great Depression in the United States
The Great Depression began with the Wall Street Crash of October, 1929 and rapidly spread worldwide. The market crash marked the beginning of a decade of high unemployment, poverty, low profits, deflation, plunging farm incomes, and lost opportunities for economic growth and personal advancement...
, and focused on what historians call the "3 Rs": Relief, Recovery, and Reform. That is, Relief for the unemployed and poor; Recovery of the economy to normal levels; and Reform of the financial system to prevent a repeat depression.
I pledge you, I pledge myself, to a new deal for the American people.

Franklin D. Roosevelt, accepting the Democratic nomination for President - July 2, 1932.
Fascism was really the basis for the New Deal. It was Benito Mussolini|Mussolini's success in Italy, with his government-directed economy, that led the early New Dealers to say "But Mussolini keeps the trains running on time."

Ronald Reagan in May 17, 1976 Time Magazine.