 Palazzo Barbarigo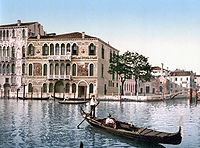 Palazzo Barbarigo
is a palace in
Venice
Venice
Venice is a city in northern Italy which is renowned for the beauty of its setting, its architecture and its artworks. It is the capital of the Veneto region...
,
Italy
Italy
Italy , officially the Italian Republic languages]] under the European Charter for Regional or Minority Languages. In each of these, Italy's official name is as follows:;;;;;;;;), is a unitary parliamentary republic in South-Central Europe. To the north it borders France, Switzerland, Austria and...
, situated on the
Grand Canal
Grand Canal of Venice
The Grand Canal is a canal in Venice, Italy. It forms one of the major water-traffic corridors in the city...
of the city. It was originally built in the 16th century. Today it is one of the more opulent palazzi on the canal, distinguished by its
mosaic
Mosaic
Mosaic is the art of creating images with an assemblage of small pieces of colored glass, stone, or other materials. It may be a technique of decorative art, an aspect of interior decoration, or of cultural and spiritual significance as in a cathedral...
s of
Murano
Murano
Murano is a series of islands linked by bridges in the Venetian Lagoon, northern Italy. It lies about 1.5 km north of Venice and measures about across with a population of just over 5,000 . It is famous for its glass making, particularly lampworking...
glass
Glass
Glass is an amorphous solid material. Glasses are typically brittle and optically transparent.The most familiar type of glass, used for centuries in windows and drinking vessels, is soda-lime glass, composed of about 75% silica plus Na2O, CaO, and several minor additives...
applied in 1886. At the time it was owned by the proprietors of one of the glass factories, who took their cue from the exterior mosaics on the facade of
St Mark's Basilica
St Mark's Basilica
The Patriarchal Cathedral Basilica of Saint Mark is the cathedral church of the Roman Catholic Archdiocese of Venice, northern Italy. It is the most famous of the city's churches and one of the best known examples of Byzantine architecture...
.
The palazzo follows the Renaissance pattern of design on three floors: an open
loggia
Loggia
Loggia is the name given to an architectural feature, originally of Minoan design. They are often a gallery or corridor at ground level, sometimes higher, on the facade of a building and open to the air on one side, where it is supported by columns or pierced openings in the wall...
gives access to the canal surmounted by a
Piano nobile
Piano nobile
The piano nobile is the principal floor of a large house, usually built in one of the styles of classical renaissance architecture...
with open loggias and decorated columns, with a "
secondo piano nobile
" (secondary floor) above. The comparatively modern mosaics probably cover original windows, and obliviate the original design.
When the mosaics were executed, the then new owners were decried by their more
aristocrat
Aristocracy (class)
The aristocracy are people considered to be in the highest social class in a society which has or once had a political system of Aristocracy. Aristocrats possess hereditary titles granted by a monarch, which once granted them feudal or legal privileges, or deriving, as in Ancient Greece and India,...
ic neighbours as
nouveaux riches
, and their taste garish and out of keeping with the genteel decay of the neighbouring buildings. However, it should be remembered that many of the
Renaissance
Renaissance
The Renaissance was a cultural movement that spanned roughly the 14th to the 17th century, beginning in Italy in the Late Middle Ages and later spreading to the rest of Europe. The term is also used more loosely to refer to the historical era, but since the changes of the Renaissance were not...
palazzi on the canal were once too covered in
polychrome
Polychrome
Polychrome is one of the terms used to describe the use of multiple colors in one entity. It has also been defined as "The practice of decorating architectural elements, sculpture, etc., in a variety of colors." Polychromatic light is composed of a number of different wavelengths...
and
gilt
Gilding
The term gilding covers a number of decorative techniques for applying fine gold leaf or powder to solid surfaces such as wood, stone, or metal to give a thin coating of gold. A gilded object is described as "gilt"...
decorations, with elaborate
plaster
Plaster
Plaster is a building material used for coating walls and ceilings. Plaster starts as a dry powder similar to mortar or cement and like those materials it is mixed with water to form a paste which liberates heat and then hardens. Unlike mortar and cement, plaster remains quite soft after setting,...
and
stucco
Stucco
Stucco or render is a material made of an aggregate, a binder, and water. Stucco is applied wet and hardens to a very dense solid. It is used as decorative coating for walls and ceilings and as a sculptural and artistic material in architecture...
work adding to their splendour.
Part of the Palazzo Barbarigo is today a showroom and shop of
Murano glass
Murano glass
Murano glass is a famous product of the Venetian island of Murano. Located off the shore of Venice, Italy, Murano has been a commercial port as far back as the 7th century. By the 10th century, the city had become well known for its glassmakers, who created unique Murano glass...
.
In the 20s Palazzo Barbarigo was the headquarters of
Pauly & C. - Compagnia Venezia Murano
Pauly & C. - Compagnia Venezia Murano
Pauly & C. - Compagnia Venezia Murano is a Venetian company that produces glass art, most notably Roman murrine, mosaics and chandeliers.The company was formed in 1919 by a merger of Pauly & C and the Compagnia di Venezia e Murano...
, the oldest of actually brands of venetian glass factory. Pauly was founded in 1866.
External links