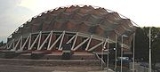 Palacio de los Deportes
Palacio de los Deportes
is an indoor
arena
Arena
An arena is an enclosed area, often circular or oval-shaped, designed to showcase theater, musical performances, or sporting events. It is composed of a large open space surrounded on most or all sides by tiered seating for spectators. The key feature of an arena is that the event space is the...
, located in
Mexico City
Mexico City
Mexico City is the Federal District , capital of Mexico and seat of the federal powers of the Mexican Union. It is a federal entity within Mexico which is not part of any one of the 31 Mexican states but belongs to the federation as a whole...
, Mexico, within the sports complex
Magdalena Mixhuca Sports City
Magdalena Mixhuca Sports City
The Magdalena Mixhuca Sports City is an Olympic Park which was used during the 1968 Summer Olympics. Found in the area of Mexico City known as the Magdalena mixhuca, the Park continues to serve as a venue for cultural, social, and sport events such as events of worship...
, near the
Mexico City International Airport
Mexico City International Airport
Benito Juárez International Airport , in Venustiano Carranza, one of the sixteen boroughs into which Mexico's Federal District is divided, is a commercial airport that serves Mexico City, the capital of Mexico...
and the Foro Sol, in which sports and artistic events are also celebrated. It is operated by
Grupo CIE
Grupo CIE
Grupo CIE is a Mexican entertainment company. It is leader of Latin American entertainment sector, focusing especially on the markets of Hispanic and Portuguese language, including the Latin market of the United States...
. The arena seats 17,800, for football and the overall capacity is approximately 20,000.
It hosted the
1968 Mexico City
1968 Summer Olympics
The 1968 Summer Olympics, officially known as the Games of the XIX Olympiad, were an international multi-sport event held in Mexico City, Mexico in October 1968. The 1968 Games were the first Olympic Games hosted by a developing country, and the first Games hosted by a Spanish-speaking country...
Olympic Games
Olympic Games
The Olympic Games is a major international event featuring summer and winter sports, in which thousands of athletes participate in a variety of competitions. The Olympic Games have come to be regarded as the world's foremost sports competition where more than 200 nations participate...
for the competitions of
basketball
Basketball at the 1968 Summer Olympics
-Group B:October 13October 14October 15October 16October 18October 19October 20-Medal bracket:-Classification brackets:5th–8th Place9th–12th Place...
and can be used to host
volleyball
Volleyball
Volleyball is a team sport in which two teams of six players are separated by a net. Each team tries to score points by grounding a ball on the other team's court under organized rules.The complete rules are extensive...
and
basketball
Basketball
Basketball is a team sport in which two teams of five players try to score points by throwing or "shooting" a ball through the top of a basketball hoop while following a set of rules...
matches. It was the home of the
CBA
Continental Basketball Association
The Continental Basketball Association was a professional men's basketball league in the United States, which has been on hiatus since the 2009 season.- History :...
Mexico City Aztecas
Mexico City Aztecas
The Mexico City Aztecas team was an experiment by the Continental Basketball Association in fielding a team outside the United States and Canada. It played one season, the 1994-95 season.-History:...
in 1994 and 1995, and the
Mexico Toros
Mexico Toros
The Mexico Toros were an indoor soccer team based in Mexico City that played in the Continental Indoor Soccer League. They played only one season in 1995. Their home arena was Palacio de los Deportes.-Year-by-year:...
of the
CISL
Continental Indoor Soccer League
The Continental Indoor Soccer League was an indoor soccer league that played from 1993 to 1997.-History:When the Major Soccer League folded in the summer of 1992, two of its former teams joined a group of hockey and basketball arena owners led by Ron Weinstein who wanted to create a league to...
in 1995.
Another common use is to host big expositions and rock concerts; for example,
Guns N' Roses
Guns N' Roses
Guns N' Roses is an American hard rock band, formed in Hollywood, Los Angeles, California, in 1985. The band has released six studio albums, three EPs, and one live album...
played 4 sold out shows between 1992-1993,
Metallica
Metallica
Metallica is an American heavy metal band from Los Angeles, California. Formed in 1981 when James Hetfield responded to an advertisement that drummer Lars Ulrich had posted in a local newspaper. The current line-up features long-time lead guitarist Kirk Hammett and bassist Robert Trujillo ...
played five nights in 1993 (which were released on their live box set
Live Shit: Binge & Purge
Live Shit: Binge & Purge
-San Diego:Recorded at the San Diego Sports Arena, San Diego, California on January 13 and 14, 1992.-VHS one/DVD one:#"20 Min. MetalliMovie"#"The Ecstasy of Gold"#"Enter Sandman"#"Creeping Death"#"Harvester of Sorrow"#"Welcome Home...
),
Pearl Jam
Pearl Jam
Pearl Jam is an American rock band that formed in Seattle, Washington, in 1990. Since its inception, the band's line-up has included Eddie Vedder , Jeff Ament , Stone Gossard , and Mike McCready...
played 3 sold out shows in 2003 (and two more in 2005) and
KISS
KISS (band)
Kiss is an American rock band formed in New York City in January 1973. Well-known for its members' face paint and flamboyant stage outfits, the group rose to prominence in the mid to late 1970s on the basis of their elaborate live performances, which featured fire breathing, blood spitting,...
performed 3 sold out shows in 1997. In 2006 and 2007 it hosted the Los Premios MTV Latinoamérica. Also, in 2010 the German band
Rammstein
Rammstein
Rammstein is a German Neue Deutsche Härte band from Berlin, formed in 1994. The band consists of members Till Lindemann , Richard Z. Kruspe , Paul H. Landers , Oliver "Ollie" Riedel , Christoph "Doom" Schneider and Christian "Flake" Lorenz...
played two sold out nights at the arena to a collective crowd of over 40,000 fans after a ten year absence from the Americas. There is a smaller venue or pavilion in the parking lot where events such as expositions and concerts from smaller musical acts such as
Red Hot Chili Peppers
Red Hot Chili Peppers
Red Hot Chili Peppers is an American rock band, formed in Los Angeles in 1983. The group's musical style primarily consists of rock with an emphasis on funk, as well as elements from other genres such as punk, hip hop and psychedelic rock...
are held at.
On October 15th and 16th 2011 WWE taped their flagship show WWE RAW SuperShow and WWE Smackdown at this venue.
1968 Summer Olympics
The Sports Palace—located 14 miles (22.5 km) from the Olympic Village and 6.5 from downtown Mexico City in the Magdalena Mixhuca Sports City near the conflux of two expressways (
Miguel Alemán Viaduct
Viaducto Miguel Alemán
Viaducto Miguel Alemán is a crosscutting freeway, opened in September 1950, that runs east-west across the middle of Mexico City. In the center of the road is a river encased in cement to control flooding...
and Río Churubusco Avenue)—was constructed specifically for the Olympic basketball competition. Built between October 15, 1966 and September, 1968, it is circular in design with a
square-patterned dome spanning 380 feet (115.8 m) and enclosing an area of 6.7 acres (27,114 m²). The dome consists of hyperbolic paraboloids of tubular aluminum covered with waterproof copper-sheathed plywood and supported by huge steel arches. The Sports Palace seats 22,370—including 7,370 in removable seats. There is parking space for 3,864 vehicles.
Designed by architects
Félix Candela
Félix Candela
Félix Candela Outeriño was a Spanish architect known for his significant role in the development of Mexican architecture and structural engineering. Candela's major contribution to architecture was the development of thin shells made out of reinforced concrete...
, A. Peyri and E. Castañeda Tamborell, the structure has three floors, which house complete facilities for athletes, judges, officials, organizers, as well as services for radio, television and the press. A mezzanine provides access to the boxes and middle and upper stands. The Sports Palace was designed for a wide variety of programming: boxing, wrestling, weightlifting, fencing, etc., as well as for exhibitions, and tournaments that require more space, such as volleyball, basketball, ice hockey, cycling, athletic meets, equestrian shows, dances, circuses, conventions and expositions.
Reference