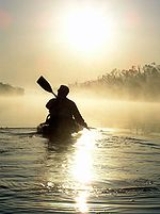 Paddle
A
paddle
is a tool used for pushing against
liquid
Liquid
Liquid is one of the three classical states of matter . Like a gas, a liquid is able to flow and take the shape of a container. Some liquids resist compression, while others can be compressed. Unlike a gas, a liquid does not disperse to fill every space of a container, and maintains a fairly...
s, either as a form of
propulsion
Marine propulsion
Marine propulsion is the mechanism or system used to generate thrust to move a ship or boat across water. While paddles and sails are still used on some smaller boats, most modern ships are propelled by mechanical systems consisting a motor or engine turning a propeller, or less frequently, in jet...
in a
boat
Boat
A boat is a watercraft of any size designed to float or plane, to provide passage across water. Usually this water will be inland or in protected coastal areas. However, boats such as the whaleboat were designed to be operated from a ship in an offshore environment. In naval terms, a boat is a...
or as an implement for mixing.
Materials and designs
Paddles commonly used in
canoe
Canoe
A canoe or Canadian canoe is a small narrow boat, typically human-powered, though it may also be powered by sails or small electric or gas motors. Canoes are usually pointed at both bow and stern and are normally open on top, but can be decked over A canoe (North American English) or Canadian...
s consist of a
wood
Wood
Wood is a hard, fibrous tissue found in many trees. It has been used for hundreds of thousands of years for both fuel and as a construction material. It is an organic material, a natural composite of cellulose fibers embedded in a matrix of lignin which resists compression...
en, fibreglass, carbon fibre or
metal
Metal
A metal , is an element, compound, or alloy that is a good conductor of both electricity and heat. Metals are usually malleable and shiny, that is they reflect most of incident light...
rod (the
shaft
) with a handle on one end and a rigid sheet (the
blade
) on the other end. Paddles for use in
kayak
Kayak
A kayak is a small, relatively narrow, human-powered boat primarily designed to be manually propelled by means of a double blade paddle.The traditional kayak has a covered deck and one or more cockpits, each seating one paddler...
s are longer, with a blade on each end; they are handled from the middle of the shaft.
Kayak paddles having blades in the same plane (when viewed down the shaft) are called "un-feathered." Paddles with blades in different planes (such as in the image) are called "feathered". Feathered paddles are measured by the degree of feather, such as 30, 45, or even 90 degrees. The paddle in the image to the right is feathered around 15 degrees. Many modern paddles are made of two pieces which can be snapped together in either feathered or unfeathered settings. The shaft is normally straight but in some cases a 'crank' is added with the aim of making the paddle more comfortable and reducing the strain on the wrist. Because the kayak paddle is not supported by the boat, paddles made of lighter materials are desired; it is not uncommon for a kayak paddle to be two pounds (32 ounces) or less in weight and very expensive paddles can be as light as 22 ounces. In addition, weight savings are more desirable at the ends of the paddle rather than in the middle.
Cheaper kayak paddles have an aluminium shaft while more expensive ones use a lighter fibreglass or carbon fibre shaft. Some paddles have a smaller diameter shaft for people with smaller hands. Paddle length varies with a longer paddle being better suited for stronger people, taller people, and people using the paddle in a wider kayak. Some paddle makers have an online paddle size calculator. Blades vary in size and shape. A blade with a larger surface area may be desirable for a strong person with good shoulder joints, but tiring for a weaker person or a person with less than perfect shoulder joints. Some paddle makers offer blades in three sizes.
Because normal paddling involves alternately dipping and raising the paddle blades, the colour of the blades may affect the visibility of the kayaker to powerboats operators under limited visibility conditions. For this reason white or yellow blades may offer a safety advantage over black or blue blades. Of course, kayakers should wear a headlamp or have other lighting on their kayak under conditions of limited lighting. However, if a powerboat operator must look straight into a sun low in the sky to see a kayaker, the motion of brightly coloured paddle blades may be of more value than lighting on the kayak. There are specific navigation rules about colour, placement, and meaning of lights on vessels. Consult US Coast Guard or other maritime authority.
Highly reflective water resistant tape may be affixed to the paddle blades and boat to enhance visibility. The US Coast Guard approves SOLAS tape (Safety Of Life At Sea) for such use.
Use
The paddle is held with two hands, some distance apart from each other. For normal use, it is drawn through the water from front (
bow
Bow (ship)
The bow is a nautical term that refers to the forward part of the hull of a ship or boat, the point that is most forward when the vessel is underway. Both of the adjectives fore and forward mean towards the bow...
) to back (
stern
Stern
The stern is the rear or aft-most part of a ship or boat, technically defined as the area built up over the sternpost, extending upwards from the counter rail to the taffrail. The stern lies opposite of the bow, the foremost part of a ship. Originally, the term only referred to the aft port section...
) to drive the boat forwards. The two blades of a kayak paddle are dipped alternately on either side of the kayak. A paddle is distinguished from an
oar
Oar
An oar is an implement used for water-borne propulsion. Oars have a flat blade at one end. Oarsmen grasp the oar at the other end. The difference between oars and paddles are that paddles are held by the paddler, and are not connected with the vessel. Oars generally are connected to the vessel by...
in that the paddle is held in the user's hands and completely supported by the paddler, whereas an oar is primarily supported by the boat. Gloves may be worn to prevent blistering for long periods of paddling.
Other types
On mechanical
paddle steamer
Paddle steamer
A paddle steamer is a steamship or riverboat, powered by a steam engine, using paddle wheels to propel it through the water. In antiquity, Paddle wheelers followed the development of poles, oars and sails, where the first uses were wheelers driven by animals or humans...
s, the motorized paddling is not done with a mass of paddles or oars but by rotating one or a few paddle wheels (rather the inverse of a water mill).
Racing paddles also have special designs. They are generally less flat and are curved to catch more water which will enable racing paddlers to maximize the efficiency of their stroke.
Paddle shifters are special kinds of paddles since it is used in cars equipped with a
semi-automatic transmission
Semi-automatic transmission
A semi-automatic transmission is an automobile transmission that does not change gears automatically, but rather facilitates manual gear changes by dispensing with the need to press...
. They are operated back and forth.
External links