 Oskar Maria Graf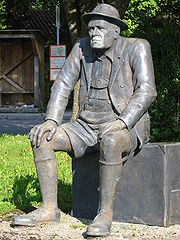 Oskar Maria Graf
was a
German
Germany
Germany , officially the Federal Republic of Germany , is a federal parliamentary republic in Europe. The country consists of 16 states while the capital and largest city is Berlin. Germany covers an area of 357,021 km2 and has a largely temperate seasonal climate...
author
Author
An author is broadly defined as "the person who originates or gives existence to anything" and that authorship determines responsibility for what is created. Narrowly defined, an author is the originator of any written work.-Legal significance:...
.
He wrote several socialist-anarchist novels and narratives about life in
Bavaria
Bavaria
Bavaria, formally the Free State of Bavaria is a state of Germany, located in the southeast of Germany. With an area of , it is the largest state by area, forming almost 20% of the total land area of Germany...
, mostly
autobiographical
Autobiography
An autobiography is a book about the life of a person, written by that person.-Origin of the term:...
.
In the beginning Graf wrote under his real name
Oskar Graf
. After 1918, he edited his works for newspapers under the
pseudonym
Pseudonym
A pseudonym is a name that a person assumes for a particular purpose and that differs from his or her original orthonym...
,
Oskar Graf-Berg
; for the works he regarded as "worth being read", he selected the name Oskar Maria Graf.
Life
Graf was born in
Berg
Berg, Upper Bavaria
Berg is a municipality in the district of Starnberg in Bavaria, Germany.It is most famous for the royal Castle Berg....
,
Kingdom of Bavaria
Kingdom of Bavaria
The Kingdom of Bavaria was a German state that existed from 1806 to 1918. The Bavarian Elector Maximilian IV Joseph of the House of Wittelsbach became the first King of Bavaria in 1806 as Maximilian I Joseph. The monarchy would remain held by the Wittelsbachs until the kingdom's dissolution in 1918...
, as the ninth child of master baker Max Graf and his wife Therese (née Heimrath), a farmer's daughter. Beginning in 1900, he went to the public school in Aufkirchen — part of the community of Berg — located in the picturesque landscape around
Lake Starnberg
Lake Starnberg
Lake Starnberg , 25 kilometers southwest of Munich in southern Bavaria, is Germany's fifth largest freshwater lake and, due to its large average depth, the second richest in water...
near
Munich
Munich
Munich The city's motto is "" . Before 2006, it was "Weltstadt mit Herz" . Its native name, , is derived from the Old High German Munichen, meaning "by the monks' place". The city's name derives from the monks of the Benedictine order who founded the city; hence the monk depicted on the city's coat...
. After his father died in 1906, he learned the profession of baker and worked for his brother Max, who had taken over their father's bakery.
In 1911, hoping for an existence as a poet, he fled to Munich to escape his brother's maltreatment of him. He joined
Bohemian
Bohemian
A Bohemian is a resident of the former Kingdom of Bohemia, either in a narrow sense as the region of Bohemia proper or in a wider meaning as the whole country, now known as the Czech Republic. The word "Bohemian" was used to denote the Czech people as well as the Czech language before the word...
circles and survived with little jobs such as
post office
Post office
A post office is a facility forming part of a postal system for the posting, receipt, sorting, handling, transmission or delivery of mail.Post offices offer mail-related services such as post office boxes, postage and packaging supplies...
helper or lift boy. In 1912 and 1913, he traveled as a
vagabond
Vagabond (person)
A vagabond is a drifter and an itinerant wanderer who roams wherever they please, following the whim of the moment. Vagabonds may lack residence, a job, and even citizenship....
in
Ticino
Ticino
Canton Ticino or Ticino is the southernmost canton of Switzerland. Named after the Ticino river, it is the only canton in which Italian is the sole official language...
and in
northern Italy
Northern Italy
Northern Italy is a wide cultural, historical and geographical definition, without any administrative usage, used to indicate the northern part of the Italian state, also referred as Settentrione or Alta Italia...
.
On December 1, 1914, he was drafted for military service. A year later, in 1915, the magazine Die Freie Straße (in English: "Free road" or "Free street") published one of his tales for the first time. In 1916, Graf was nearly sentenced to jail for refusing a command. However, after 10 days of a
hunger strike
Hunger strike
A hunger strike is a method of non-violent resistance or pressure in which participants fast as an act of political protest, or to provoke feelings of guilt in others, usually with the objective to achieve a specific goal, such as a policy change. Most hunger strikers will take liquids but not...
, he was taken to a
psychiatric hospital
Psychiatric hospital
Psychiatric hospitals, also known as mental hospitals, are hospitals specializing in the treatment of serious mental disorders. Psychiatric hospitals vary widely in their size and grading. Some hospitals may specialise only in short-term or outpatient therapy for low-risk patients...
and dismissed from the military.
On May 26, 1917, he married Karoline Bretting. One year later, their daughter Annemarie, called Annamirl, (June 13, 1918–2008) was born. In the beginning of the same year, Oskar Maria Graf was arrested for participating in an ammunition worker's strike. He also met the woman who later became his second wife, Mirjam Sachs, sister of
Manfred George
Manfred George
Manfred George, born Manfred Georg Cohn, later shortened to Manfred Georg, was a German journalist, author and translator. He left Germany after the Nazis came to power, living in several different European countries and eventually emigrating penniless to the United States in 1939...
and cousin of
Nelly Sachs
Nelly Sachs
Nelly Sachs was a Jewish German poet and playwright whose experiences resulting from the rise of the Nazis in World War II Europe transformed her into a poignant spokeswoman for the grief and yearnings of her fellow Jews...
. In 1919, Graf was arrested again for participating in revolutionary movements in Munich—compare with
Bavarian Soviet Republic
Bavarian Soviet Republic
The Bavarian Soviet Republic, also known as the Munich Soviet Republic was, as part of the German Revolution of 1918–1919, the short-lived attempt to establish a socialist state in form of a council republic in the Free State of Bavaria. It sought independence from the also recently proclaimed...
.
In 1920, he was active as a dramaturg at the working class theater Die neue Bühne ("The New Stage"), until in 1927, he realized a literary breakthrough with his autobiographical oeuvre Wir sind Gefangene ("We are prisoners"), which allowed him to live as a freelance author.
On February 17, 1933, he traveled to
Vienna
Vienna
Vienna is the capital and largest city of the Republic of Austria and one of the nine states of Austria. Vienna is Austria's primary city, with a population of about 1.723 million , and is by far the largest city in Austria, as well as its cultural, economic, and political centre...
to lecture, a trip which began his voluntary
exile
Exile
Exile means to be away from one's home , while either being explicitly refused permission to return and/or being threatened with imprisonment or death upon return...
. Graf's books were not destroyed during the Nazi
book burning
Book burning
Book burning, biblioclasm or libricide is the practice of destroying, often ceremoniously, books or other written material and media. In modern times, other forms of media, such as phonograph records, video tapes, and CDs have also been ceremoniously burned, torched, or shredded...
then taking place, rather were recommended reading. As a result, on May 12, 1933, he published in the Vienna Arbeiterzeitung ("Worker's Newspaper") his famous anti-Nazi appeal, Verbrennt mich! ("Burn me!"). He felt abused by Nazis because of misunderstood
völkisch
Völkisch movement
The volkisch movement is the German interpretation of the populist movement, with a romantic focus on folklore and the "organic"...
content.
A year later, in 1934, his books were prohibited in Germany. On February 16, he emigrated to
Brno
Brno
Brno by population and area is the second largest city in the Czech Republic, the largest Moravian city, and the historical capital city of the Margraviate of Moravia. Brno is the administrative centre of the South Moravian Region where it forms a separate district Brno-City District...
in
Czechoslovakia
Czechoslovakia
Czechoslovakia or Czecho-Slovakia was a sovereign state in Central Europe which existed from October 1918, when it declared its independence from the Austro-Hungarian Empire, until 1992...
. On March 24, Graf was expatriated by the Third Reich. He left Brno to take part in the First Congress of Socialist Writers in Moscow.
In 1938, he left Europe without his wife and child via the
Netherlands
Netherlands
The Netherlands is a constituent country of the Kingdom of the Netherlands, located mainly in North-West Europe and with several islands in the Caribbean. Mainland Netherlands borders the North Sea to the north and west, Belgium to the south, and Germany to the east, and shares maritime borders...
, arriving in the
United States
United States
The United States of America is a federal constitutional republic comprising fifty states and a federal district...
, where he settled in
New York City
New York City
New York is the most populous city in the United States and the center of the New York Metropolitan Area, one of the most populous metropolitan areas in the world. New York exerts a significant impact upon global commerce, finance, media, art, fashion, research, technology, education, and...
in July. Mirjam Sachs followed him, but his wife and child remained in Germany. In October 1938, he was appointed president of the German American Writers Association. In 1942, he founded with
Wieland Herzfelde
Wieland Herzfelde
Wieland Herzfelde was a German publisher and writer. He is particularly known for his links with German avant-garde art and Marxist thought, and was the brother of the photo montage artist John Heartfield, with whom he often worked.-Life:His parents were Franz Held, a writer, and Alice Stolzenberg...
and other emigrated German writers a publishing house (Aurora-Verlag, New-York, succeeding Malik-Verlag. His first wife agreed to a divorce in 1944, allowing Graf and Sachs to get married.
In 1958, Graf received his United States citizenship and he set out on a journey to Europe for the first time after
World War II
World War II
World War II, or the Second World War , was a global conflict lasting from 1939 to 1945, involving most of the world's nations—including all of the great powers—eventually forming two opposing military alliances: the Allies and the Axis...
.
In 1960, "in recognition of his uncompromising spiritual attitude," he was awarded the
honorary degree
Honorary degree
An honorary degree or a degree honoris causa is an academic degree for which a university has waived the usual requirements, such as matriculation, residence, study, and the passing of examinations...
of doctor by
Wayne State University
Wayne State University
Wayne State University is a public research university located in Detroit, Michigan, United States, in the city's Midtown Cultural Center Historic District. Founded in 1868, WSU consists of 13 schools and colleges offering more than 400 major subject areas to over 32,000 graduate and...
in Detroit. In 1962, he was awarded the Honorary Prize of Munich "in appreciation of his important literary works".
Graf died in 1967 in New York. A year after his death, his urn was buried in the cemetery "Alter Bogenhausener Friedhof" in Munich.
Works
German Publications
Die Revolutionäre (1918), Gedichte
Amen und Anfang (1919), Gedichte
Frühzeit (1922), Jugenderlebnisse
Ua-Pua (1921), Indianerdichtungen
Zur freundlichen Erinnerung (1922), soziale Novellen
Bayrisches Lesebücherl (1924), Kulturbilder
Die Traumdeuter (1924), Erzählungen
Die Chronik von Flechting (1925), Roman
Finsternis (1926), sechs Dorfgeschichten
Wunderbare Menschen (1927), Chronik und Autobiographie
Wir sind Gefangene (1927), Autobiographisches ISBN 3-423-01612-4
Licht und Schatten (1927), soziale Märchen
Bayrisches Dekameron (1928), Erzählungen ISBN 3-548-60345-9
Die Heimsuchung (1925), Roman
Im Winkel des Lebens (1927), Erzählungen
Kalendergeschichten (1929) Geschichten aus Stadt und Land ISBN 3-423-11434-7
Notizbuch des Provinzschriftstellers Oskar Maria Graf (1932), Satire ISBN 3-935877-49-8
Bolwieser (1931), Roman; Neuausgabe 1964 unter dem Titel Die Ehe des Herrn Bolwieser ISBN 3-442-72253-5
Einer gegen alle (1932), Roman
Dorfbanditen (1932), Jugenderinnerungen
Der harte Handel (1935), Bauernroman ISBN 3-423-11480-0
Der Abgrund (1936), Roman (überarbeiteten Fassung "Die gezählten Jahre"(1976)
Anton Sittinger (originally Sittinger bleibt obenauf) (1937), Roman ISBN 3-423-12453-9
Der Quasterl (1938), Dorf- und Jugendgeschichten
Das Leben meiner Mutter (1940 in englischer Sprache, 1946 in deutscher Fassung) ISBN 3-423-10044-3
Unruhe um einen Friedfertigen (1947), Roman, New York, Aurora-Verlag ISBN 3-471-77264-2
Mitmenschen (1948), Erzählungen
Die Eroberung der Welt (1949), Roman; Neuauflage 1959 unter dem Titel Die Erben des Untergangs ISBN 3-423-11880-6
Menschen aus meiner Jugend auf dem Dorfe (1953), Erzählungen
Der ewige Kalender (1954), Gedichte
Die Flucht ins Mittelmäßige (1959), Roman
An manchen Tagen. Reden, Gedanken und Zeitbetrachtungen (1961)
Der große Bauernspiegel (1962), Erzählungen
Größtenteils schimpflich (1962), Jugenderinnerungen
Altmodische Gedichte eines Dutzendmenschen (1962)
Er nannte sich Banscho (1964), Roman
Gelächter von außen. Aus meinem Leben 1918-1933 (1966)
Reise in die Sowjetunion 1934 (1974)
External links