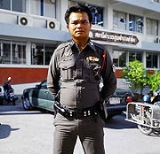 Nonverbal communication
Nonverbal communication
is usually understood as the process of
communication
Communication
Communication is the activity of conveying meaningful information. Communication requires a sender, a message, and an intended recipient, although the receiver need not be present or aware of the sender's intent to communicate at the time of communication; thus communication can occur across vast...
through sending and receiving
word
Word
In language, a word is the smallest free form that may be uttered in isolation with semantic or pragmatic content . This contrasts with a morpheme, which is the smallest unit of meaning but will not necessarily stand on its own...
less (mostly visual) messages. Messages can be communicated through gestures and touch (
Haptic communication
Haptic communication
Haptic communication is the means by which people and other animals communicate via touching. Touch, or the haptic sense, is extremely important for humans; as well as providing information about surfaces and textures it is a component of nonverbal communication in interpersonal relationships, and...
), by
body language
Body language
Body language is a form of non-verbal communication, which consists of body posture, gestures, facial expressions, and eye movements. Humans send and interpret such signals almost entirely subconsciously....
or
posture
Human position
Human positions refers to the different positions that the human body can take.There are several synonyms that refer to the human position, often used interchangeably, but having specific flavors....
, by
facial expression
Facial expression
A facial expression one or more motions or positions of the muscles in the skin. These movements convey the emotional state of the individual to observers. Facial expressions are a form of nonverbal communication. They are a primary means of conveying social information among humans, but also occur...
and
eye contact
Eye contact
Eye contact is a meeting of the eyes between two individuals.In human beings, eye contact is a form of nonverbal communication and is thought to have a large influence on social behavior. Coined in the early to mid-1960s, the term has come in the West to often define the act as a meaningful and...
. Meaning can also be communicated through object or
artifacts
Artifact (archaeology)
An artifact or artefact is "something made or given shape by man, such as a tool or a work of art, esp an object of archaeological interest"...
(such as
clothing
Clothing
Clothing refers to any covering for the human body that is worn. The wearing of clothing is exclusively a human characteristic and is a feature of nearly all human societies...
, hairstyles or
architecture
Architecture
Architecture is both the process and product of planning, designing and construction. Architectural works, in the material form of buildings, are often perceived as cultural and political symbols and as works of art...
).
Speech
Speech
Speech is the human faculty of speaking.It may also refer to:* Public speaking, the process of speaking to a group of people* Manner of articulation, how the body parts involved in making speech are manipulated...
contains nonverbal elements known as
paralanguage
Paralanguage
Paralanguage refers to the non-verbal elements of communication used to modify meaning and convey emotion. Paralanguage may be expressed consciously or unconsciously, and it includes the pitch, volume, and, in some cases, intonation of speech. Sometimes the definition is restricted to...
, including
voice
Voice
Voice may refer to:* Human voice* Voice control or voice activation* Writer's voice* Voice acting* Voice vote* Voice message-In film:* Voice , a 2005 South Korean film* The Voice , a 2010 Turkish horror film directed by Ümit Ünal...
quality,
rate
Rate
In mathematics, a rate is a ratio between two measurements, often with different units. If the unit or quantity in respect of which something is changing is not specified, usually the rate is per unit time. However, a rate of change can be specified per unit time, or per unit of length or mass or...
,
pitch
Pitch
Pitch may refer to:* Pitch , a viscous substance produced by plants or formed from petroleum* Pitch * sales pitch** elevator pitch, a very short sales pitch such as that made during an elevator ride* Pitch accent-Music and acoustics:...
,
volume
Volume
Volume is the quantity of three-dimensional space enclosed by some closed boundary, for example, the space that a substance or shape occupies or contains....
, and speaking style, as well as
prosodic
Prosody (linguistics)
In linguistics, prosody is the rhythm, stress, and intonation of speech. Prosody may reflect various features of the speaker or the utterance: the emotional state of the speaker; the form of the utterance ; the presence of irony or sarcasm; emphasis, contrast, and focus; or other elements of...
features such as
rhythm
Rhythm
Rhythm may be generally defined as a "movement marked by the regulated succession of strong and weak elements, or of opposite or different conditions." This general meaning of regular recurrence or pattern in time may be applied to a wide variety of cyclical natural phenomena having a periodicity or...
,
intonation
Intonation (linguistics)
In linguistics, intonation is variation of pitch while speaking which is not used to distinguish words. It contrasts with tone, in which pitch variation does distinguish words. Intonation, rhythm, and stress are the three main elements of linguistic prosody...
and
stress
Stress (linguistics)
In linguistics, stress is the relative emphasis that may be given to certain syllables in a word, or to certain words in a phrase or sentence. The term is also used for similar patterns of phonetic prominence inside syllables. The word accent is sometimes also used with this sense.The stress placed...
.