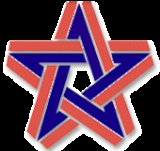 National Renewal (Chile)
National Renewal
(
Spanish
Spanish language
Spanish , also known as Castilian , is a Romance language in the Ibero-Romance group that evolved from several languages and dialects in central-northern Iberia around the 9th century and gradually spread with the expansion of the Kingdom of Castile into central and southern Iberia during the...
: "Renovación Nacional"), is a
liberal conservative
Liberal conservatism
Liberal conservatism also known as progressive conservatism is a variant of political conservatism which incorporates liberal elements. As "conservatism" and "liberalism" have had different meanings over time and across countries, the term "liberal conservatism" has been used in quite different...
political party
Political party
A political party is a political organization that typically seeks to influence government policy, usually by nominating their own candidates and trying to seat them in political office. Parties participate in electoral campaigns, educational outreach or protest actions...
belonging to the
Chile
Chile
Chile ,officially the Republic of Chile , is a country in South America occupying a long, narrow coastal strip between the Andes mountains to the east and the Pacific Ocean to the west. It borders Peru to the north, Bolivia to the northeast, Argentina to the east, and the Drake Passage in the far...
an right-wing political coalition
Coalition for Change
Coalition for Change
The Coalition for Change is a presidential and parliamentary electoral coalition that groups the supporters of President Sebastián Piñera for the 2009-2010 Chilean election...
in conjunction with the Independent Democratic Union (UDI) and the Chile First movement (CH1). The party president is
Carlos Larraín
Carlos Larraín
Carlos Larraín is the President of National Renewal, the political party currently in power in Chile.-Biography:Carlos Larraín Peña received an LL.B. from the Pontificia Universidad Católica de Chile in 1967, and an M.A. from the Université catholique de Louvain in 1968.In 1994, he started Larrain...
, and its principal leaders are
Sebastián Piñera
Sebastián Piñera
Miguel Juan Sebastián Piñera Echenique is a Chilean businessman and politician. He was elected President of Chile in January 2010, taking office in March 2010.- Education :...
, president of Chile, and
Andrés Allamand
Andrés Allamand
Andrés Allamand Zavala , a Chilean politician, is the founder and one of the past leaders of Renovación Nacional, currently in power. He is of French, and Basque descent. On January 14, 2011 he was named Minister of Defense by president Sebastián Piñera. He was sworn in on January 16,...
.
History
National Renewal was formed in 1987 when three rightist organizations — the National Unity Movement (
Movimiento de Unidad Nacional
MUN), the National Labor Front (
Frente Nacional del Trabajo
FNT), and the Independent Democratic Union (
Unión Democráta Independiente
UDI) — joined together in preparation for the 1988 Plebiscite that would determine the continuity of rule of
Augusto Pinochet
Augusto Pinochet
Augusto José Ramón Pinochet Ugarte, more commonly known as Augusto Pinochet , was a Chilean army general and dictator who assumed power in a coup d'état on 11 September 1973...
who had been in power since the coup of 1973. The UDI soon broke away to run as a separate party due to its strong support for the plebiscite and a Pinochet candidacy, while the remaining National Renewal party indicated its preference for an open election or a candidate other than Pinochet. However, once Pinochet was proclaimed candidate, the overwhelming majority of National Renewal supported him.
The party was founded on April 29 with 351 founding members. In this way, National Renewal was the first political party to form in Chile after the lifting on the ban of political parties that had been established after the coup; by December of that year, 61,167 members, led by Andrés Allamand, had joined. The principal idea that the party proclaimed was to generate an environment of calm during the return of
democracy
Democracy
Democracy is generally defined as a form of government in which all adult citizens have an equal say in the decisions that affect their lives. Ideally, this includes equal participation in the proposal, development and passage of legislation into law...
. The party supported UDI candidate
Joaquín Lavín
Joaquín Lavín
Joaquín José Lavín Infante is a Chilean politician and economist. He is a member of the Independent Democrat Union party and former mayor of Santiago and Las Condes municipalities of capital Santiago...
as the sole Alliance candidate in the 1999/2000 presidential elections, who went on to obtain 47.5% of the votes in the first round, but was subsequently defeated in the second round by
Ricardo Lagos
Ricardo Lagos
Ricardo Froilán Lagos Escobar is a lawyer, economist and social democrat politician, who served as president of Chile from 2000 to 2006. He won the 1999-2000 presidential election by a narrow margin in a runoff over Independent Democrat Union candidate Joaquín Lavín...
.
During early 2005, the party initially supported Lavín to again run as the sole candidate of the Alliance in the presidential election of that year. However, in face of Lavin's declining opinion poll numbers,
Sebastián Piñera
Sebastián Piñera
Miguel Juan Sebastián Piñera Echenique is a Chilean businessman and politician. He was elected President of Chile in January 2010, taking office in March 2010.- Education :...
announced his candidacy as the National Renewal candidate thus ensuring that the Alliance have two candidates for the election. In the first round on 11 December, Piñera obtained 25.4% of the vote, which was enough to send him to the run-off on 15 January 2006 with
Michelle Bachelet
Michelle Bachelet
Verónica Michelle Bachelet Jeria is a Social Democrat politician who was President of Chile from 11 March 2006 to 11 March 2010. She was the first woman president of her country...
. With 46.5% of the vote, Piñera was defeated by Bachelet.
In the legislative
elections
Chilean parliamentary election, 2005
The 2005 Chilean parliamentary election took place on December 11, 2005, in conjunction with the presidential election. All of the 120 seats in the Chamber of Deputies were contested, while 20 out of 38 seats in the Senate were up for election . Deputies serve for a period of four years, while...
, also on 11 December 2005, the party won, as part of the
Alliance for Chile
Alliance for Chile
The Alliance for Chile , also known simply as The Alliance , was a coalition of right-wing Chilean political parties.The Alliance was replaced in 2009 by the Coalition for Change....
, 20 out of 120 seats in the Chamber of Deputies and currently holds 7 out of 38 seats in the Senate.
In the 2010 presidential election, Sebastian Piñera was elected president of Chile.
Presidents of National Renewal
National Renewal has had eight party presidents in its history:
Ricardo Rivadeneira (1987)
Sergio Onofre Jarpa

Sergio Onofre Jarpa

Sergio Onofre Jarpa Reyes is a Chilean politician who served as a member of the cabinet during the government of Augusto Pinochet.-Biography:Coming from a rural background, he studied agriculture at the University of Chile...


(1987-1990)
Andrés Allamand

Andrés Allamand

Andrés Allamand Zavala , a Chilean politician, is the founder and one of the past leaders of Renovación Nacional, currently in power. He is of French, and Basque descent. On January 14, 2011 he was named Minister of Defense by president Sebastián Piñera. He was sworn in on January 16,...


(1990-1999)
Alberto Espina (1999)
Alberto Cardemil (1999-2001)
Sebastián Piñera

Sebastián Piñera

Miguel Juan Sebastián Piñera Echenique is a Chilean businessman and politician. He was elected President of Chile in January 2010, taking office in March 2010.- Education :...


(2001-2004)
Sergio Diez (2004-2006)
Carlos Larraín

Carlos Larraín

Carlos Larraín is the President of National Renewal, the political party currently in power in Chile.-Biography:Carlos Larraín Peña received an LL.B. from the Pontificia Universidad Católica de Chile in 1967, and an M.A. from the Université catholique de Louvain in 1968.In 1994, he started Larrain...


(2006-)
External links