 National Register of Historic Places listings in Juneau, Alaska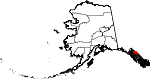 This is a list of the
National Register of Historic Places listings in Juneau, Alaska
.
This is intended to be a complete list of the properties and districts on the
National Register of Historic Places
National Register of Historic Places
The National Register of Historic Places is the United States government's official list of districts, sites, buildings, structures, and objects deemed worthy of preservation...
in
Juneau
Juneau, Alaska
The City and Borough of Juneau is a unified municipality located on the Gastineau Channel in the panhandle of the U.S. state of Alaska. It has been the capital of Alaska since 1906, when the government of the then-District of Alaska was moved from Sitka as dictated by the U.S. Congress in 1900...
,
Alaska
Alaska
Alaska is the largest state in the United States by area. It is situated in the northwest extremity of the North American continent, with Canada to the east, the Arctic Ocean to the north, and the Pacific Ocean to the west and south, with Russia further west across the Bering Strait...
,
United States
United States
The United States of America is a federal constitutional republic comprising fifty states and a federal district...
. The locations of National Register properties and districts for which the latitude and longitude coordinates are included below, may be seen in a Google map.
There are 22 properties and districts listed on the National Register in the city, including one
National Historic Landmark
National Historic Landmark
A National Historic Landmark is a building, site, structure, object, or district, that is officially recognized by the United States government for its historical significance...
.
Current listings
Landmark name
Image
Date listed
Location
Summary
1
Alaska Governor's Mansion

Alaska Governor's Mansion

The Alaska Governor's Mansion, located at 716 Calhoun Avenue in Juneau, Alaska, is the official residence of the Governor of Alaska and the governor's family. It was designed by James Knox Taylor...



716 Calhoun Street
58°18′10"N 134°24′53"W
2
Alaska Steam Laundry
174 South Franklin Street
58°18′1"N 134°24′12"W
3
Alaskan Hotel

Alaskan Hotel and Bar

The Alaskan Hotel and Bar is an historic establishment and oldest operating hotel in Juneau, Alaska. It is listed on the National Register of Historic Places....



167 South Franklin Street
58°18′1.65"N 134°24′18"W
4
Bergmann Hotel

Bergmann Hotel

The Bergmann Hotel is a hotel and bar operating in Juneau, Alaska. It is among the National Register of Historic Places listings in Juneau, Alaska on the National Register of Historic Places.-Marie Bergmann, and early history of the hotel:...



434 3rd Street
58°18′11"N 134°24′29"W
5
Chicken Ridge Historic District
Roughly along Seventh Street, Goldbelt Avenue, Dixon Street, and Basin Road
58°18′15"N 134°24′40"W
6
J. M. Davis House
202 Sixth Street
58°18′11"N 134°24′32"W
7
Fort Durham Site

Fort Durham

Fort Durham, also known as Fort Taku, Taku, Taco, and Tacouw and in legal terms as AHRS Site JUN 036 is an archaeological site near Taku Harbor, Alaska, within the limits of Juneau City and Borough...



Address Restricted
8
Frances House
137 Sixth Street
58°18′6"N 134°24′29"W
9
Fries Miners' Cabins
500 block of Kennedy Street
58°18′17"N 134°24′13"W
10
Ernest Gruening Cabin

Ernest Gruening

Ernest Henry Gruening was an American journalist and Democrat who was the Governor of the Alaska Territory from 1939 until 1953, and a United States Senator from Alaska from 1959 until 1969.-Early life:...



Mile 26 on the Glacier Highway

Alaska Route 7

Alaska Route 7 is a state highway in the Alaska Panhandle of the U.S. state of Alaska. It consists of four unconnected pieces, serving some of the Panhandle communities that the Alaska Marine Highway ferries stop at, and connecting to the Alaska Highway in Yukon via the Haines Highway.-Route...


northwest of Juneau
58°29′38"N 134°47′9"W
11
Holy Trinity Church

Holy Trinity Church (Juneau, Alaska)

Holy Trinity Church, also known as the Church of the Holy Trinity was an historic Carpenter Gothic style Episcopal church located at 325 Gold Street in Juneau, Alaska. Designed by architect George E. James in the Carpenter Gothic style, it was built by Foss and Olsen in 1896 to serve a mission...



325 Gold Street
58°18′10"N 134°24′16"W
12
Jualpa Mining Camp
1001 Basin Road
58°18′22"N 134°23′4"W
13
Juneau Downtown Historic District
Roughly Franklin Street from Second Street to south of Ewing Way, Second and First Streets from Franklin to Main Streets, and Front Street
58°18′0"N 134°24′15"W
14
Juneau Memorial Library
114 West Fourth Street
58°18′13"N 134°24′41"W
15
MacKinnon Apartments
236 Third Street
58°18′10"N 134°24′17"W
16
Mayflower School
St. Ann's and Savikko Streets, Douglas townsite

Douglas, Alaska

Douglas, Alaska is an area on Douglas Island in southeastern Alaska. Itoriginated in 1881 as a place providing services to miners of the nearby Treadwell gold mine, and was incorporated as a city in 1902. Douglas was once a larger town than neighboring Juneau, but dwindled in the early 1900s as...


, Douglas Island

Douglas Island

Douglas Island is a tidal island in the U.S. state of Alaska, just west of downtown Juneau and east of Admiralty Island. It is separated from mainland Juneau by the Gastineau Channel. The Juneau-Douglas Bridge, connecting the island with Juneau, provides a two lane road to and from the island and...



58°16′32"N 134°23′26"W
17
Point Retreat Light Station

Point Retreat Light

Point Retreat Light is a lighthouse located on the Mansfield Peninsula at the northern tip of Admiralty Island in southeastern Alaska, USA. It provides aid in navigation through the Lynn Canal.-Naming:...



On the Mansfield Peninsula at the northern end of Admiralty Island

Admiralty Island

Admiralty Island is an island in the Alexander Archipelago in Southeast Alaska, at . It is 145 km long and 56 km wide with an area of 4,264.1 km² , making it the seventh largest island in the United States and the 132nd largest island in the world. It is one of the...


, near the junction of Lynn Canal

Lynn Canal

Lynn Canal is an inlet into the mainland of southeast Alaska.Lynn Canal runs about from the inlets of the Chilkat River south to Chatham Strait and Stephens Passage...


and Stephens Passage

Stephens Passage

Stephens Passage is a channel in the Alexander Archipelago in the southeastern region of the U.S. state of Alaska. It runs between Admiralty Island to the west and the Alaska mainland and Douglas Island to the east, and is about 170 km long...



58°24′40"N 134°57′11"W
18
St. Nicholas Russian Orthodox Church

St. Nicholas Russian Orthodox Church (Juneau, Alaska)

The St. Nicholas Russian Orthodox Church in Juneau, Alaska was listed on the National Register of Historic Places in 1973.-External links:*...



326 Fifth Street
58°18′11.65"N 134°24′32.39"W
19
Sentinel Island Light Station

Sentinel Island Light

The Sentinel Island Light is a lighthouse in Alaska adjacent to Lynn Canal in Alaska.-Location:Sentinel Island Light is located at the northern entrance to the Favorite Channel, between the mainland and Lincoln and Shelter Islands...



Sentinel Island
58°32′46"N 134°55′13"W
20
Twin Glacier Camp
Along the Taku River

Taku River

The Taku River is a river running from British Columbia, Canada, to the northwestern coast of North America, at Juneau, Alaska. Its mouth coincides with the Alaska-British Columbia border...



58°29′26"N 133°56′21"W
21
Valentine Building
202 Front Street
58°18′5"N 134°24′15"W
Associated with Emery Valentine

Emery Valentine

Emery Valentine was an Alaskan politician and the sixth mayor of Juneau, Alaska, from 1908 to 1912 and from 1917 to 1919. He was also a miner, goldsmith, jeweller, assayer, gunsmith, watchmaker, architect, firefighter, and businessman.-Early life:Valentine was born in Dowagiac, Michigan...



22
Wickersham House

James Wickersham

James Wickersham was a district judge for Alaska, appointed by U.S. President William McKinley to the Third Judicial District in 1900. He resigned his post in 1908 and was subsequently elected as Alaska's delegate to Congress, serving until 1917 and then being re-elected in 1930...



213 Seventh Street
58°18′13"N 134°24′38"W
See also
National Register of Historic Places listings in Alaska