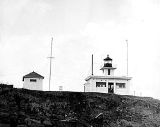 Point Retreat Light
Point Retreat Light
is a
lighthouse
Lighthouse
A lighthouse is a tower, building, or other type of structure designed to emit light from a system of lamps and lenses or, in older times, from a fire, and used as an aid to navigation for maritime pilots at sea or on inland waterways....
located on the Mansfield Peninsula at the northern tip of
Admiralty Island
Admiralty Island
Admiralty Island is an island in the Alexander Archipelago in Southeast Alaska, at . It is 145 km long and 56 km wide with an area of 4,264.1 km² , making it the seventh largest island in the United States and the 132nd largest island in the world. It is one of the...
in
southeastern Alaska
Alaska Panhandle
Southeast Alaska, sometimes referred to as the Alaska Panhandle, is the southeastern portion of the U.S. state of Alaska, which lies west of the northern half of the Canadian province of British Columbia. The majority of Southeast Alaska's area is part of the Tongass National Forest, the United...
, USA. It provides aid in navigation through the
Lynn Canal
Lynn Canal
Lynn Canal is an inlet into the mainland of southeast Alaska.Lynn Canal runs about from the inlets of the Chilkat River south to Chatham Strait and Stephens Passage...
.
Naming
Point Retreat was named by
Joseph Whidbey
Joseph Whidbey
Joseph Whidbey was a member of the Royal Navy who served on the Vancouver Expedition 1791–1795, and later achieved renown as a naval engineer. He is notable for having been the first European to discover and chart Admiralty Island in the Alexander Archipelago in 1794.Little is recorded of...
on July 19, 1794 because of his need to retreat from local Tlingit.
History
Point Retreat was set aside as a 1505 acres (6.1 km²) lighthouse reserve in 1901 by executive order of President
William McKinley
William McKinley
William McKinley, Jr. was the 25th President of the United States . He is best known for winning fiercely fought elections, while supporting the gold standard and high tariffs; he succeeded in forging a Republican coalition that for the most part dominated national politics until the 1930s...
, but the point had to wait for its lighthouse due to inadequate funding. Point Retreat was first lit in 1904 and displayed a fixed white light. The first
Point Retreat Lighthouse
was a six-foot-tall hexagonal wooden tower, topped by a hexagonal lantern room. In 1917, Point Retreat was stripped of its personnel and downgraded to a minor light until 1924, when a new combination lighthouse and fog signal was built. The lantern was removed in the 1950s and a solar powered 300 mm lens was installed on a post attached to the tower. In 1973 the light was again unmanned and downgraded to a minor light again. In 2003 the light was added to the
National Register of Historic Places
.
External links